A Lifelong Civil War Buff
| March 13th, 2020
Contributing passion and knowledge to Richmond's Civil War collections
---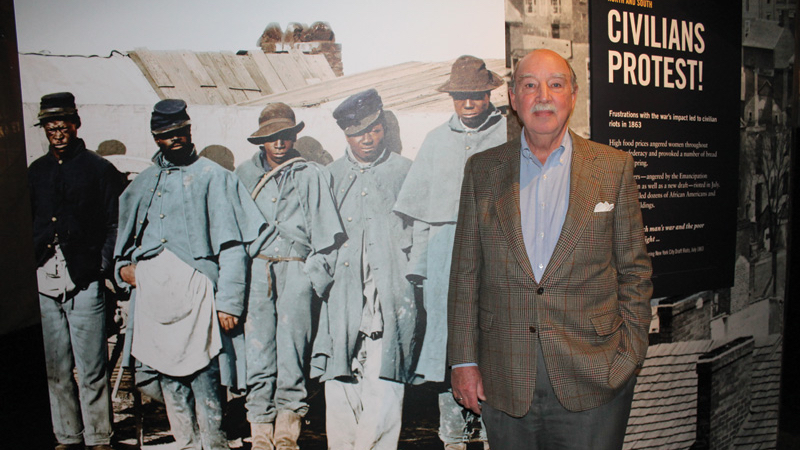 Waite Rawls III began playing with toy soldiers, both blue and gray, when he was 5, creating his own history of the Civil War. At 8, he began devouring books written by historians. At 9, he sought to join the Civil War roundtable in his hometown of Franklin, Virginia, normally reserved for adults. He was sent to Richmond to take a test, which he passed, and assumed his seat at the table.
Now 71, Rawls recently stepped down as president of the American Civil War Museum Foundation, headquartered in Richmond, with a branch in Appomattox. He will continue to serve as an adviser.
RICH COLLECTIONS
His influence on a museum that was verging on bankruptcy when he assumed the role in 2004 was life-saving. He successfully lobbied the state for funds to keep the doors open and rebranded the museum to offer broader, more inclusive exhibits like PTSD and women in combat. The result is what he termed "the preeminent center for the exploration of the Civil War."
"I'll give you an illustration," he said. "One day, the Smithsonian (cable) Channel was showcasing its collection. They have 15 Civil War uniforms. We've got 240. We've got almost half of all of the Confederate flags known to exist. Stonewall Jackson's widow gave us his stuff. J.E.B. Stuart's widow gave us his things … When the New York Times​ does a story on the Confederate flag, they get their resource material from us … My proudest accomplishment is saving this collection."
In Richmond, Rawls proudly pointed out items that, for him, bring the stories of the common soldier into focus. There's a pocket-size photo of a sweet young girl, discovered between the corpses of a Union and a Confederate soldier. There was no way to determine which soldier carried the picture.
A man informed Rawls that he recognized the child because her ghost haunted his home. Someone with the Smithsonian eventually wrote that she was familiar with the backdrop in the photo. The soldier likely drew his last breath thinking of his daughter back in Vermont.
There's a cloth hat with a bullet hole in the side, belonging to a War survivor known affectionately to the family that donated it as "Uncle Fred with the hole in his head."
FAITHFUL INTERPRETATIONS
But Rawls also insisted on an honest conversation about the central role slavery played in dividing the country, one not embraced by everyone. Two years ago, the Sons of Confederate Veterans opened a self-proclaimed National Confederate Museum in Tennessee writing that other museums ​have been taken over by the 'It's all about slavery' provocateurs."
Without directing his remarks at the 'Sons,' Rawls offered a different opinion.
"History is not about facts; history is about the interpretation of facts," he said. "And the interpretation of facts develops over time. Today, we cannot study the Confederacy without studying 40 percent of its population.
"Once, the Civil War was all about noble white Christians from the North fighting noble white Christians from the South. It was about generals and battles. But for the last 50 years, increasingly, it's not military anymore. You now talk about politics and economics and race … It's a fuller interpretation than all military, all white. The biggest challenge for my generation was to re-educate people to say African Americans and slavery had something to do with it and played a prominent role. Give us a solid 'A' if not an 'A-plus' on really addressing that."
The quest for a greater truth is personal for Rawls. Countless family members served in the Civil War. His great grandfather, Alexander Peace, was left for dead with a bullet hole in his gut following a skirmish outside Hanover. He was one of 50 men General Robert E. Lee assigned to protect the railroad there while he took his troops to Gettysburg. Peace was the only one not killed or captured.
A LATER-IN-LIFE PASSION
Given his unbridled interest in the war, it's a wonder that Rawls didn't study history at the Virginia Military Institute, his alma mater. Rather, investment banking was his game, one he played all over the world for three decades. His road-to-Damascus moment happened at a gate at London's Heathrow Airport, waiting to fly home to Chicago.
He'd purchased a paperback thriller and with great anticipation cracked it open.
"I got 50 or 60 pages into it," he recalled, "when it suddenly hit me that I'd already read this book. I told myself, 'I'm wasting my time reading these. Give me the history books again.' The first thing I did was read​ Lee's Lieutenants,​ one of the foundational books for Civil War history. I haven't looked back since."
CONTROVERSIAL MONUMENTS
Rawls sat in the museum lobby four days after Richmond City Council voted 6-2 to request authority from the state to decide the fate of its Confederate iconography. With Democrats in control, the assumption is that the law protecting the statues will be changed.
Rawls wants more monuments, not fewer, to include all factions who fought. But instead of token words on a plaque, he suggested adding something with a web page so that visitors learn more about who the people were and why they mattered so much.
Keeping the Community Informed
"Future generations have got to be better than ours; the debates you see about monuments are by people who haven't got a clue why those common soldiers are on a statue in front of a courthouse; or generals are on a horse in a city," he said. "It's an embarrassment to me that America thinks that all Confederate statues are about Jim Crow and white supremacy. For every Confederate statue in the South, there's two statues in the North.
"There were catalog companies you could order your statues from and you could specify you'd like a guy with a beard or clean-shaven, carrying a musket or a sword. The only difference in the statues was a belt plate. One would say 'U.S.' and one would say 'C.S.' At the bottom of the statue, they all had the same words. 'In memory of the boys from such-and-such town.'"
A company once sent a Yankee statue to a town in the South and sent a Confederate statue to a town up North, Rawls said.
"They're still there," he added, shaking his head. "If a little town in Alabama put up a statue on the same day a little town in Vermont put up the same statue from the same company with the same words at the bottom, it's difficult for me to think that the Southern people who put up that statue had different motivations than the Northern people who put up that statue."
---
Jim Ducibella was inducted into the Virginia Sports Hall of fame in 2010 after a 27-year career at The Virginian-Pilot in Norfolk. He is author of two books about golf, but his new motto is "There's more to life than balls, bats and clubs."