A More Inclusive VMFA
| January 8th, 2019
The Richmond-based museum has implemented multiple strategies to promote diversity and inclusion
---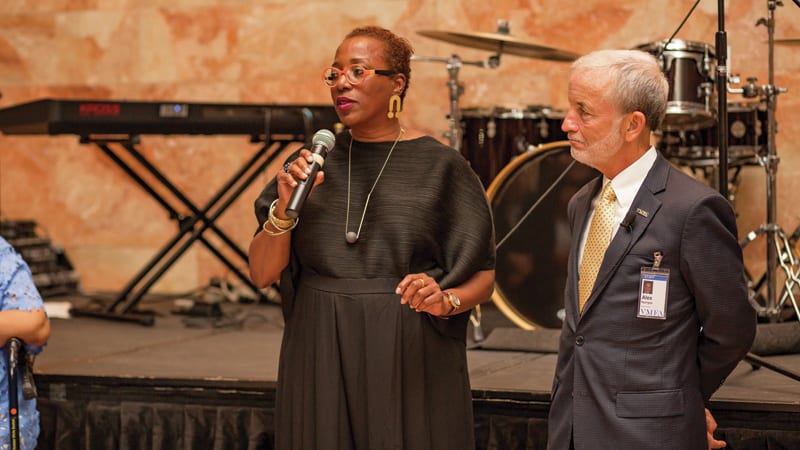 On a late summer evening at the Virginia Museum of Fine Arts (VMFA), artist Howardena Pindell briefly addressed 300 well-heeled guests at a reception and preview of the first major museum examination of her 50-year career at the intersection of art and activism.
Joining the soft-spoken Pindell in Marble Hall were her show's co-curators, Valerie Cassel Oliver and Naomi Beckwith. This exhibit of the renowned African-American artist was the first show assembled by Cassel Oliver, curator of modern and contemporary art, in tandem with Beckwith, Manilow senior curator at the Museum of Contemporary Art Chicago.
All three African-American women thanked VMFA's leadership for the exhibition, a long overdue recognition of Pindell's artistic contributions, and for other inclusionary steps taken or underway to reach a wider audience. Among their attentive listeners was the accomplished and affable Monroe E. Harris Jr., president of the board of trustees and the first African-American to hold such a position in the museum's 82-year history and the first black person in his role at any mainstream art institution in the nation.
That evening was more than a celebration of The Howardena Pindell: What Remains to Be Seen exhibition. It served as a toast to the museum's increasingly diverse milieu.
'THE RIGHT PEOPLE FOR THE RIGHT JOB'
"When I compare VMFA across the museum landscape, I think we are at the top of the field," said Alex Nyerges, VMFA director. "With our recent hires, as of Oct. 25, our senior management team will be 50 percent diverse. This is likely one of the highest percentages in the country. That said, diversity is not about hiring people of color – it's about hiring the right people for the right job. For us, diversity also means including everyone: of any age, ethnicity, gender as well as veterans and people with disabilities."
VMFA's evolution into a more inclusive museum began after its reopening in 2010 and the development of the 2016-2020 strategic plan dedicated to diversifying the visitor base, said Nyerges.
He credited Kimberly Wilson, deputy director for human resources, volunteers and community services, with "building the museum's employee population to reflect the community we serve and today's multicultural society." Wilson is among three African-American women on the senior management team, which includes Jan Hatchette, deputy director for communications, and Caprice Bragg, who assumed her role in October as vice president for board relations and strategic planning.
Three African-American women also hold leadership positions: Cassel Oliver; Paula Saylor-Robinson, director of audience development and community engagement; and Hazel Duncan, director of foundation finance and accounting.
CASTING A WIDE NET
"It's amazing what has happened over the past few years," said Harris. "The addition of the atrium, I think, marks a new period in the history of the museum. With that reconstruction and with Alex becoming the director, all those things came together and the stars just kind of lined up." Harris' goals include VMFA acquiring more works by African-Americans so that the museum becomes one of the leading art institutes for African-American art.
Earlier this year, VMFA added to its collection 34 artworks by African-American artists, acquired from the Atlanta-based Souls Grown Deep Foundation, which derives its name from a 1921 poem by Langston Hughes. Its mission includes increasing the representation of African-American artists from the South in leading art museums nationwide.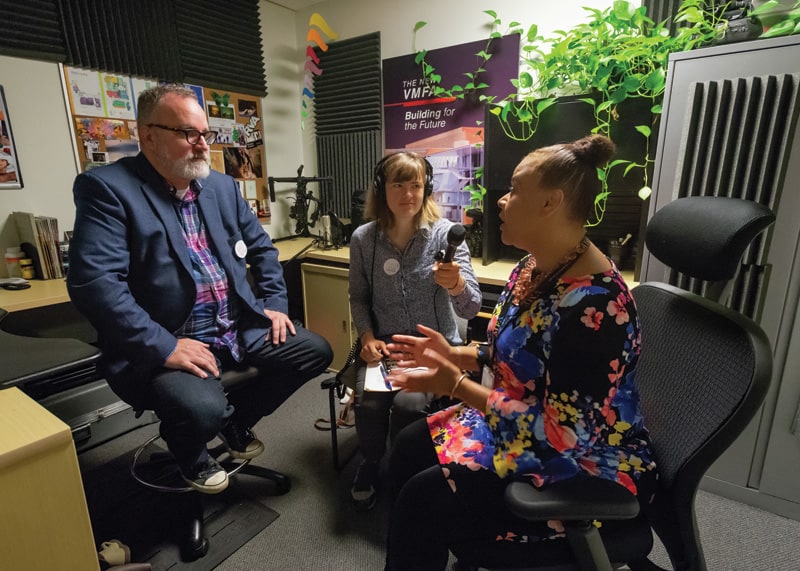 "What was once deemed as marginal now becomes valuable as institutions seek to become relevant to the whole of their communities," said Cassel Oliver, who joined the staff in 2017 to help the museum extend a welcoming hand in a substantial way. "I am already predisposed to opening the narrative around the history of art, so that is my goal here to do just that with new acquisitions and with positioning those working in conversation with our existing collection."
VMFA's Family Days, held several times a year, are a terrific example of ways VMFA welcomes Virginia's diverse population, said Hatchette. These museumwide events celebrate different cultures of the world such as Latin America, China and Africa and usually welcome thousands of visitors. The next Family Day is the annual ChinaFest, on Feb. 16 from 10 a.m. to 4:30 p.m.
Programming and outreach under Saylor-Robinson and her team "have been paramount in our diversity efforts," said Hatchette. They created an After Hours Saturday night program; added a DJ and host to some of the Friday night happy hours; attended a number of community festivals; met with area churches and community organizations; and recently worked with Out RVA, hosting a travel writers' conference. VMFA has also hosted GayRVA's Fourth Friday Happy Hour.
To deliver arts-based educational programming to audiences across the state, VMFA's state-of-the-art mobile museum and education studio has hit the road. Its first stop was Hurkamp Park in Fredericksburg in October. VMFA on the Road will "extend our reach so every Virginian will have access to authentic works of art and arts-based educational programming regardless of their location or economic power," said Hatchette.
For Harris, VMFA has an overall more welcoming feel than when he arrived in Richmond nearly 30 years ago. Diversity in staffing, board members, programming, exhibitions and art acquisitions make a difference, he said.
"Our membership is at the highest it's ever been. So we are doing something that is starting to catch on in the community. We have jazz on Thursdays and the place is packed. On Friday evenings, during the summer, the grounds are covered with all types of people, young, old and all ethnicities. It's fantastic and that's the way it should be."
Opening the museum doors – and keeping them open – has also helped with diversity, said Nyerges.
"Deciding to stay open for 365 days a year when we reopened the museum in 2010 was one of the most defining moments for me in terms for inclusivity and diversity, especially for faith groups," he said. "Before the reopening, the museum had been closed on all major holidays, including Christmas. But symbolically, and in real practice, being open on Christmas Day is a statement about inclusivity for people of all faiths. For many of those communities, the museum has become a beacon of acceptance."
---
Robin Farmer, an award-winning journalist with more than 25 years' experience, has worked as a staff writer for The Hartford Courant and the Richmond Times-Dispatch, where her work earned her a Knight-Wallace Fellowship at the University of Michigan, among other national honors.