A Trip to the Penny Candy Store
| August 2nd, 2022
A fond memory from the early 1950s
---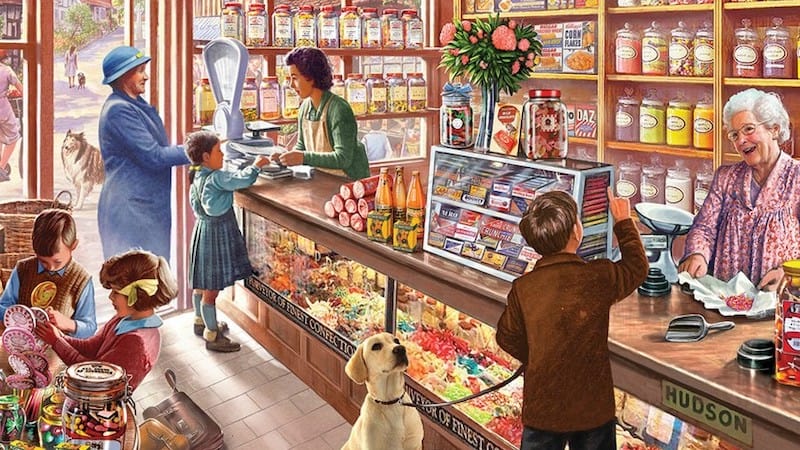 Baby boomer R. G. Begora recalls a youthful trip to the penny candy store, the woman who helped him choose, and fond recollections of the ways things used to be.
---
Since I was born in 1947, I am officially considered a baby boomer. I often think of times long ago that defined an era now past that will never return. I know that the experiences I had when I was a little boy will never come about again. And that is a shame that today's kids will never be able to experience the wonderful sights and sounds from my childhood. Growing up had so many different memories that I can remember in great detail. Some memories have been lost over time, but my fondest recollections are from the early '50s.
I recall visiting my aunt and uncle one summer for a few weeks. One day my aunt came up to me and placed eight cents in my hand. I was about 5 or 6 years old, and I really didn't know how to count money. But the exact amount is embedded in my memory as one nickel and three pennies. I can vividly picture the coins in my hand as if it was yesterday. It's amazing how the memory retains so much detail and yet, diminishes with other recollections.
My aunt told me to go next door to buy some candy at the candy store. I was thrilled at the opportunity to go off on my own with eight cents in my pocket. I recall running to the store because they might close before I got there, although it was the middle of the afternoon. The candy store was not a store in the sense of a store today. Many of the stores were really storefronts, where the owners lived upstairs or in the back. These types of businesses were all integral parts of the neighborhood. No such things as strip malls or enclosed malls back in those days.
As I entered the store, the elderly lady standing behind the counter asked if she could help me. Well, I really didn't know she was old except that all grownups looked old to me. I can't visualize the detailed features of the lady's face anymore, but I do recall her kindness and patience. I held out my hand and with the eight cents and said, "I have this much." I can remember eyeing the glass jars filled with candy and more of the mouthwatering supply neatly stored behind the glass counter. She smiled pleasantly and began to walk me through the process of explaining all the options.
The lady was not someone who sat by a cash register and rang up sales. She was an integral part of the candy selection. She took the time to explain all the options that a 6-year-old boy could possibly comprehend. As we thoroughly examined each choice, she told me how much each piece of what seemed like an endless supply of candy would cost and how much money I would have left over to buy additional sweets. In those days, it was confusing for a little boy because the choices were many, including the type of candy and how many you got for a penny. I was going for quantity not quality. Some were marked 10 for a penny, or five for a penny, etc.
I kept making choices until all the money was gone. The end result was a fairly large bag of candy. This is where my memory gets dimmer. I don't recall what type of candy I chose or how long I was in the store. I don't even remember how long my new purchase lasted, but I'm sure it wasn't long.
I know that those small, single-owner stores still can be found in the city neighborhoods. Some penny candy stores might still exist, but I doubt they sell anything by the penny. Most likely the purchase would be by the pound. I look back and think how unfortunate that today's urchins won't have the opportunity I had when I was little. I still remember a few other things from that stay with my aunt, but those memories are much dimmer than the day I became a big boy and bought my own candy at the penny candy store.
---
R. G. Begora is retired. In 2006, he published a novel entitled "Smoke," a firefighting story. 
---
Read more childhood memories and other contributions from Boomer readers in our From the Reader department.
Have your own childhood memories or other stories you would like to share with our baby boomer audience? View our writers' guidelines and e-mail our editor at Annie@BoomerMagazine.com with the subject line "'From Our Readers' inquiry."