A Celebration of Living Fully
September 18th, 2018
Active Aging Week adds Sports Backers as a partner
---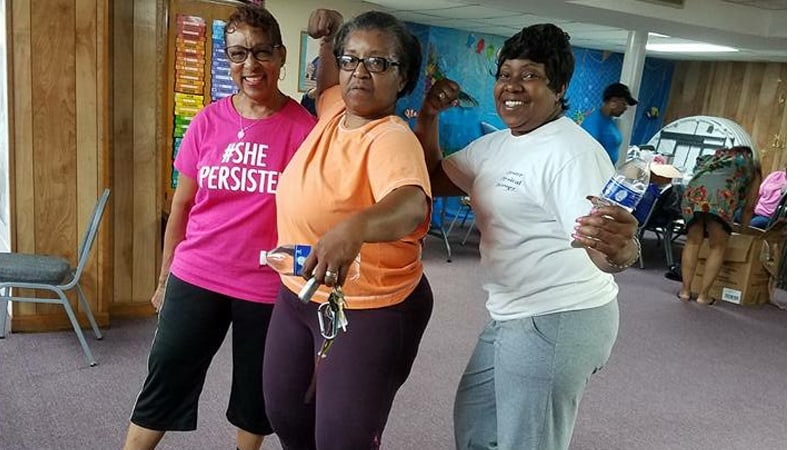 "If it isn't fun, it isn't worth doing. Life is too short!" Ann McGee is chair of the 2018 RVA Active Aging Week, and her motto is especially fitting. The 80-year-old has been in the fitness industry since 1976, working with seniors, youth and the handicapped, and has led more than 50 trips for seniors, traveling domestically and abroad.
"Each year we have [as] Active Aging Week chair someone over the age of 60 who represents active aging," says Missi Boyer, director of nutrition and wellness at Senior Connections, The Capital Area Agency on Aging, which co-sponsors the weeklong event.
Marked by activities, workshops and forums that promote a proactive approach to health and wellness, Active Aging Week engages and celebrates our community's seniors.
"We try to include activities that are holistic to nourish the mind, body and spirit," says Boyer.
For example, 2017 events included music and dance at the VMFA; gentle yoga classes; educational speakers and discussions; a health expo; intergenerational activities; and free pickleball, walking groups and other happenings at the YMCA.
Observed in Richmond since 2013, multiple partners support Active Aging Week, including United Way, YMCA, local government senior advocates and Senior Connections. This year, Richmond Sports Backers has joined as a partner. The mission of this local nonprofit is "Inspiring people from all corners of our community to live actively," such as free Fitness Warrior classes specifically for mature adults (see SportsBackers.org/warriors-schedule).
"Active Aging Week is designed to challenge society's diminished expectations of aging by showing that … adults over 50 can live as fully as possible in all areas of life," says Jacki Quinlan, director of community outreach for Sports Backers.
As part of Active Aging Week 2018, Sports Backers will sponsor Flashback Field Day at Southside Community Center on Sept. 24, featuring field day activities, exercise demos, healthy snacks, participation prizes, a DJ and more.
Says Quinlan, "We hope that … we can highlight how fun active living can be, connect with our region's mature adults and inspire them to live well by living actively."
Active Aging Week 2018 is scheduled for Sept. 23-29.