Adventures in Mexico
| January 31st, 2023
Food and fun at Hotel Xcaret
---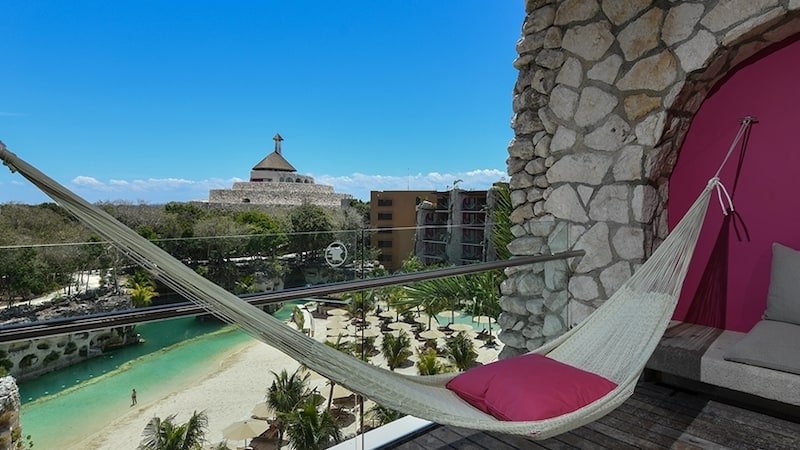 "One adventure after another" – that's how travel writer Peggy Sijswerda describes her visit to Hotel Xcaret Mexico, plus the food and spirits that punctuate the fun.
---
I'm flying through the air on a zip line surrounded by a Mayan jungle, and too soon I skid into the cool water of the cenote with a splash. I feel like a kid again, as I bob in the water, breathless from the thrilling ride. I'm on a Xenote tour, just one of many adventures guests can enjoy when staying at Hotel Xcaret Mexico, a stylish all-inclusive property that caters both to families and couples in Riviera Maya.
The Yucatan Peninsula is dotted with thousands of cenotes, and swimming in a cenote has long been on my bucket list. Formed when limestone collapses, the beautiful underground pools of rainwater are perfect for swimming, kayaking, and jumping into from a cliff or zip line. Some cenotes are open to the sky, like the one we're zip lining over (and into).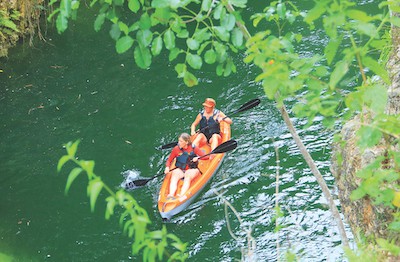 The tour continues in another open cenote, where we kayak past limestone walls dripping with lush tropical foliage. It feels primordial here, and I half expect to see an Apatosaurus, his long neck bending over to peer at the strange creatures floating on the water.
Ever since arriving at Hotel Xcaret, I've enjoyed one adventure after another. In fact, there's so much to see and do that it's hard to choose how to spend my time here. Join me for a few days of fun in the sun at this stunning resort, which offers vacations to meet everyone's desire.
Serene views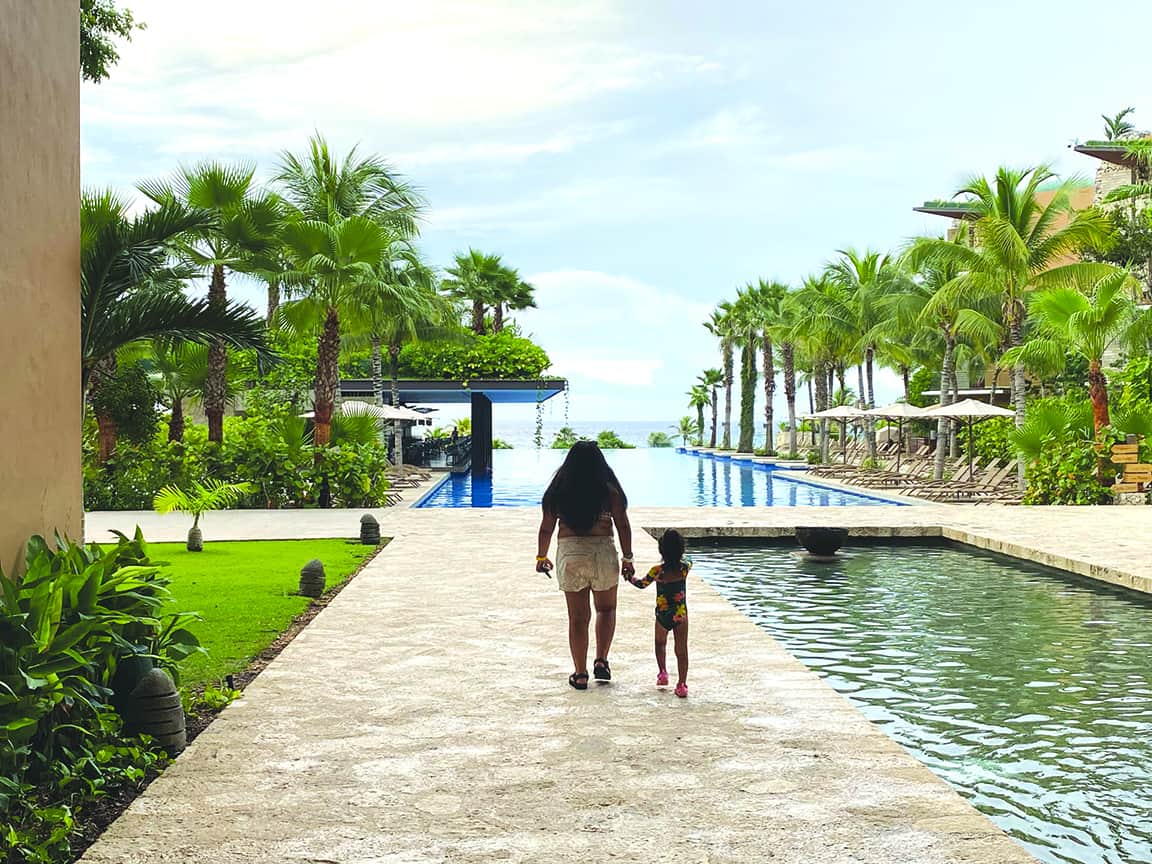 Since 2017, Hotel Xcaret Mexico, a Five-Diamond property adjacent to the Caribbean Sea, has welcomed families and couples seeking a tropical paradise. The hotel's 900 spacious suites in five separate casas overlook serene views of gardens, pools, and the sea. One of the five casas, Fuego, is adults only and has a rooftop pool and exclusive restaurant. Families love the kids' club with daily activities for ages 4 to 12.
What makes Xcaret unique is the property's All-Fun Inclusive program, which means guests have unlimited access to Grupo Xcaret's seven renowned eco-adventure parks, its Xenotes and Xichén Tours (see sidebar), as well as meals, drinks, and more.
I'm staying in Casa Espiral, conveniently located in the center of the resort. My spacious room features contemporary Mexican décor, including a colorfully embroidered wall hanging. After getting settled, I head out to explore the sprawling property with map in hand. I discover a peaceful cove with a sandy beach, perfect for relaxing with a good book.
I grab a late-afternoon snack of tasty ceviche and guacamole at Las Playas, a casual restaurant nearby, where you can dine with your feet in the sand. It's one of 12 restaurants on the property, ranging from Xin-Gao with its Asian-Caribbean fusion cuisine to Bio, a 100% vegan restaurant featuring lively, nutritious Mexican dishes. I don't have time to sample them all, but I look forward to enjoying a variety of food while I'm here.
The sun is sinking on my first day at Xcaret, so I visit one of Xcaret's azure pools. Lined with swaying palm trees and comfy lounge chairs, the pool features views of the Caribbean Sea and, as I discover, silky warm water that feels delicious. After my swim, attentive staff make sure I have a fresh towel and – why not? – a gin and tonic. I watch the sky change colors as sunset falls and wish I could stop the clock and relax here forever.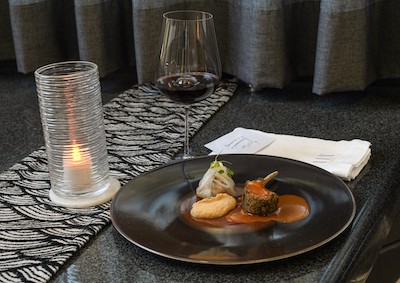 But it's time to eat (again) and tonight I'm dining in Cantina Los Faroles, a colorfully decorated restaurant specializing in Oaxacan cuisine. Antonio, my server, tries to persuade me to order the steak ("Everyone loves it!"), but I prefer to graze on lighter dishes. First, a Mezcal cocktail with cucumber and lime, then more guacamole served with Oaxacan sauces, one spicy, one with amazing umami.
Next I sample sweet potato spheres stuffed with beef cheeks in a mole sauce – a flavorful combination – and a beef cheek taco served with salsa verde, which is outstanding. Feeling tired from my flight, I opt not to stay and hear the mariachi troupe that will start playing at 10 p.m. Back to my luxurious suite, I lie on the hammock on my balcony and listen to the jungle sounds before crawling into bed and falling into dreamland.
Cascading vines at Hotel Xcaret Mexico
The next morning I get completely lost trying to find Bio, where I hoped to have breakfast. By the time I find my way there, there are no tables available. No worries. I enjoy a poolside breakfast buffet at La Trajinera and tuck into a tasty cornucopia of Mexican fruits, pastries, and even some spicy fare.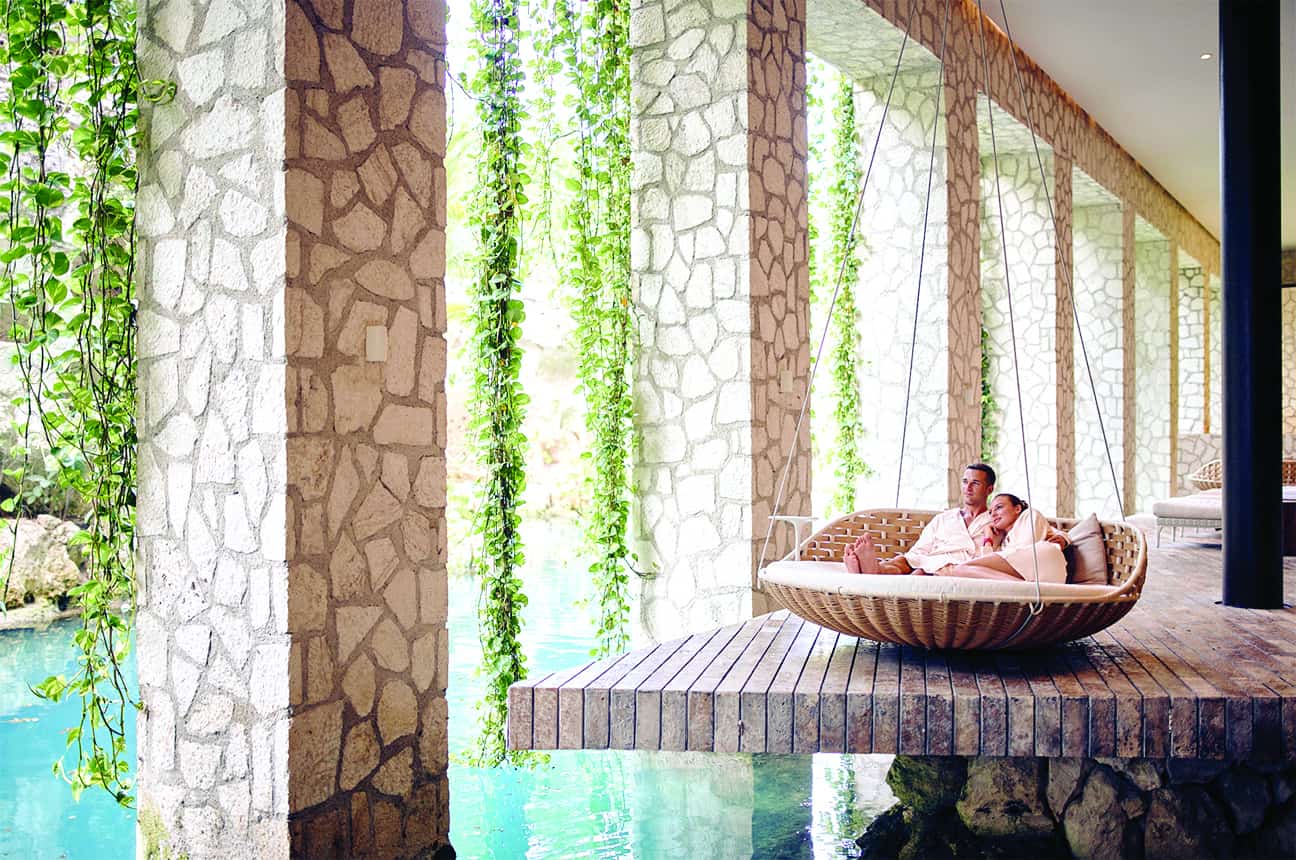 My next adventure is a transcendent one: a visit to Muluk Spa, a relaxing oasis at Hotel Xcaret Mexico, where I will spend a couple hours unwinding and relaxing. I enter through stone tunnels and emerge in a serene space with a wall of windows facing beautiful limestone walls rising up from natural pools framed by palm trees and cascading vines. The sound of water is everywhere.
My spa valet, Isela, hands me a glass of delicious strawberry juice and accompanies me to the hydrotherapy circuit. The water experiences are designed to stimulate and rejuvenate guests inside and out and include a sauna, steam room, cold and hot splash pools, and a dynamic pool, with waterfalls and soothing underwater jets.
My massage therapist, Candelaria, greets me and then performs a Mayan cleansing, using an herb bunch, fan, and burning sage leaves. Afterward it's as if an enchanting spell takes hold, and I surrender to the moment and to Candelaria's skillful hands. When it ends, I slowly come to my senses, feeling as if I am awakening from a deep slumber.
The rest of the afternoon I spend relaxing by my favorite pool and kayaking in the resort's protected coves beside La Playa. Before long, it's time to get ready for my next adventure: the Mexico Spectacular Dinner Show at Xcaret Mexico, the original eco-park that jumpstarted the Xcaret brand.
I've visited the park before and love its many offerings, but the Mexico Spectacular Dinner Show is a favorite. I join two journalists from New York for a ringside seat, complete with a gourmet tasting menu, and we watch in awe as the story of Mexico's history is acted out on a center stage by hundreds of performers, sometimes wearing masks, sometimes riding horses, always entertaining.
The highlight is the Dance of the Flyers, a fertility ritual originating in the state of Veracruz that dates back 600 years. From a pole 90 feet high four men unfurl along ropes and swing around the pole as the ropes lengthen. Meanwhile, a fifth man plays the flute from atop the pole. It's a moving performance to watch, and we are enthralled.
Symphony of flavors
It's my last full day at Xcaret, and I never want to leave. In the morning I join the Xenotes tour and spend the day splashing in beautiful cenotes, zip lining, kayaking, and, scariest of all, jumping from stone ledges 20 feet down into a cenote. I'm sad I don't have time for some of the other parks and tours that are included in my stay, but I'm thrilled I get to enjoy cenotes for the first time – and hopefully not the last.
My final night is going to be another adventure, this time, a culinary one at a restaurant called Ha', the Mayan word for water. This gourmet tasting experience has a surcharge, but it's a flavorful journey I will never forget. Carlos Gaytán, the first Mexican chef to receive a Michelin Star, is the genius behind Ha'. In a bold architectural setting with water features everywhere you look, Chef Carlos uses flavors, textures, and temperatures to tell a surprising story and, at the same time, teach us about his love for his homeland.
I meet my New York friends in Ha', where we ooh and ahh while indulging in the 7-course tasting menu paired with exquisite wines and spirits. The remarkable presentation of each dish in unique vessels and artistic bowls lends flair to cuisine that is already some of the most delicious and imaginative I have ever tasted. The menu is a symphony of flavors, an overture to how creativity and patience can transform ordinary ingredients into masterpieces.
One dish features a langostino, or shrimp, nestled in what looks like a king crab shell topped with vanilla buerre blanc, saffron béarnaise, curried egg yolk, and Pernod. As we admire the presentation, our server pours a dramatic cloud of ginger smoke over the dish. Another memorable course is a gorgeous marbled disc of foie gras with pickled baby beetroot, pink mole, red berry gel, and pine nut puree. Every single moment, every flavor of this meal is extraordinary – and the service is equally superlative, Ha' is one of my top five restaurant meals, for sure.
In a few short days, Xcaret has captured my heart. As a memento, I receive a book about the owner of Grupo Xcaret and his passion for creating top-quality destinations for his guests. Xuenos tells the story of Miguel Quintana Pali, an architect who started his empire with twelve acres and has since dedicated his life to perfecting the visitor experience at his hotels, parks, and tours. Promoting sustainable tourism and following a philosophy of happiness that extends both to guests and employees have been key to his company's success.
You can feel the love at Xcaret, and when you leave, the happy feeling stays with you.
Start your visit to Hotel Xcaret Mexico online.
---
Peggy Sijswerda lives in Virginia Beach and writes about travel and wellness. She also publishes two local magazines, Tidewater Women and Tidewater Family.