The Kitchn: Air Fryer Broccoli
| December 29th, 2021
Forget the oven and stovetop
---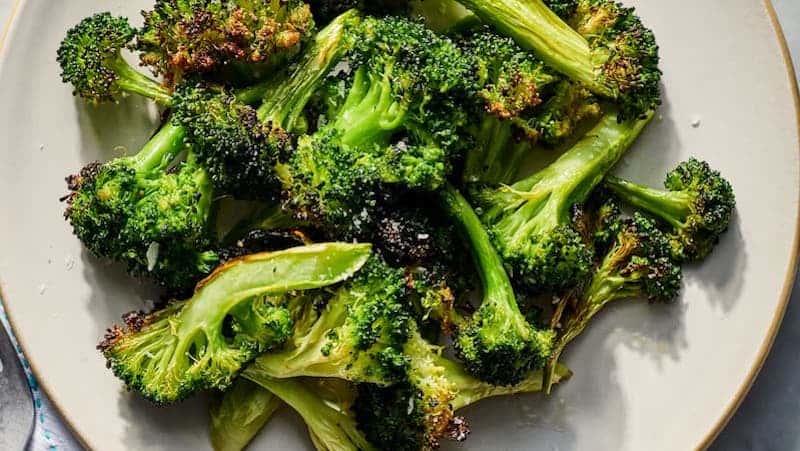 I invested in an air fryer for the sole purpose of serving restaurant-style tater tots and French fries from the comfort of my kitchen. But as I quickly learned, the true value in the trendy countertop appliance is in cooking vegetables of all kinds. The air fryer is actually better than the oven for turning slender stalks of broccoli into a tender, crispy side, requiring just five ingredients and 15 minutes on the clock. Here's how to make delicious, healthy air fryer broccoli.
The best way to season air fryer broccoli
While steaming and boiling broccoli can dilute its bold flavor, air frying concentrates the natural sweetness of the stalks and gives the frilly tips caramelized flavor. For that reason, the best way to season broccoli for the air fryer is to do it simply. Here are a few tips.
Lightly coat the broccoli with oil. This will help the seasonings stick.
Season simply. For a versatile side that can pair well with any main, keep it simple with kosher salt, freshly ground black pepper, and red pepper flakes.
Don't forget the garnish. Add Parmesan cheese or nutritional yeast for the finishing touch.
---
10 foods for weight loss – including broccoli
---
Air Fryer Broccoli
Serves 4
1 1/2 pounds broccoli (2 medium)
2 tablespoons olive oil
1/2 teaspoon kosher salt
1/4 teaspoon red pepper flakes
Finely grated Parmesan cheese or nutritional yeast, for serving (optional)
Cut the stalks off 1 1/2 pounds broccoli. Cut the florets into 1- to 1 1/2-inch pieces. Trim the tough, woody ends of the stems, peel until you get to the lighter smooth parts of the stems, then slice crosswise into 1/4-inch pieces.
Place the florets and stems (7 to 8 cups) in a large bowl. Drizzle with 2 tablespoons olive oil, 1/2 teaspoon kosher salt and 1/4 teaspoon red pepper flakes, and toss to combine.
Heat an air fryer to 390 F to 400 F. Arrange the broccoli florets and stems in an even layer in the basket or tray of a 5 1/2-quart or larger air fryer. Air fry, tossing every 5 minutes, until the broccoli is tender with brown and crispy edges, 10 to 12 minutes total.
Transfer the broccoli to a serving platter and top with finely grated Parmesan cheese or nutritional yeast if desired.
Recipe notes: The broccoli can be cut into florets up to three days in advance. Leftovers can be refrigerated in an airtight container for up to four days.
---
Patty Catalano is a contributor to TheKitchn.com, a nationally known blog for people who love food and home cooking. Submit any comments or questions to editorial@thekitchn.com.
© 2021 Apartment Therapy. Distributed by Tribune Content Agency, LLC.