An Idyllic Beach Getaway on the Gulf
| June 29th, 2018
Alabama's Orange Beach and Gulf Shores
---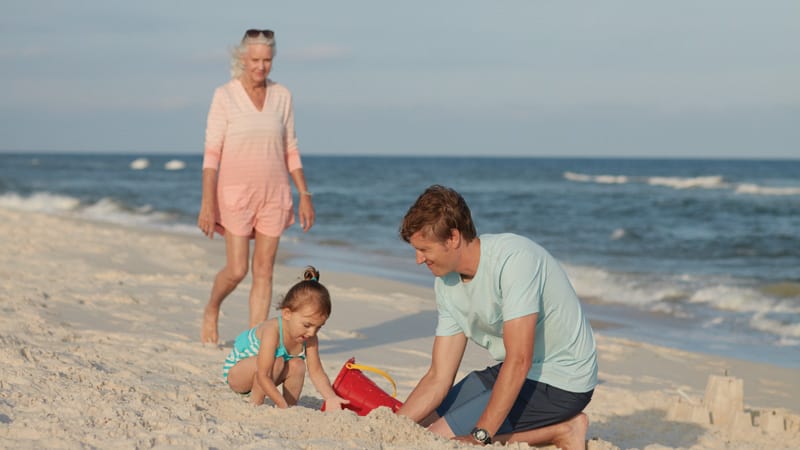 As I walked beside the Gulf of Mexico in Alabama, my mind was still racing, clinging to my omnipresent to-do list. I noticed the white sand, as soft as it was lovely, gentle on my bare feet. By the water's edge, the sand packed nicely as the waves washed over it, creating a pleasant walking surface. It didn't take long for the rhythm of the waves and calls of shore birds to lull me into a state of wondrous relaxation. Oh, yes, I remembered, this is the call of the beach!
White sand and moderate waves mark the Alabama beaches of Orange Beach and the Gulf Shores. High-rise condos and hotels, beach houses and campgrounds offer comfortable lodging without overwhelming the space. The area offers pleasing options for recreation, restaurants and shopping without being overwhelmed by touristy kitsch.
THE NATURE OF THE GULF SHORES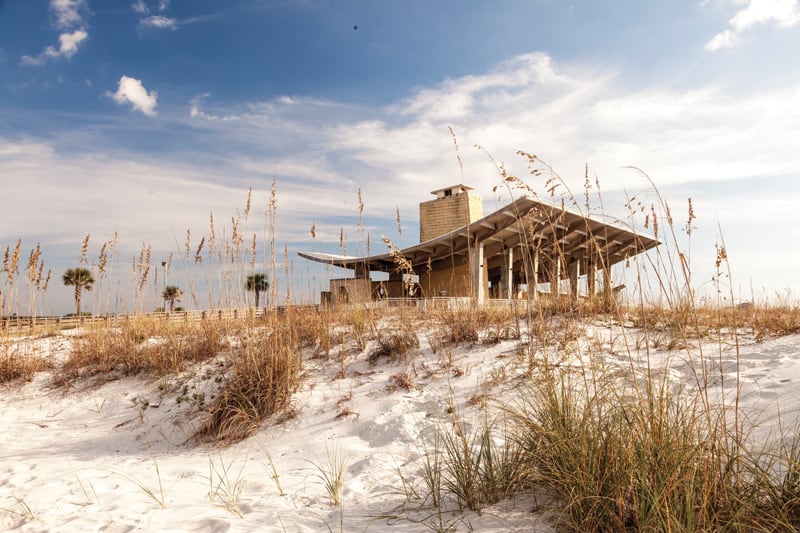 Besides being naturally attractive, the coast boasts natural attractions.
On a leisurely afternoon bike ride and a peaceful morning jog, I explored the trails at Gulf State Park. The 28 miles of pavement and boardwalks wind through six ecosystems, including freshwater marshes and coastal hardwood swamps.
The park also boasts beaches, fishing, a dog park and a golf course, plus nature center presentations, guided nature walks and paddles, and special events. Guests can take advantage of year-round lodging: cabins, cottages and nearly 500 campsites (rental RVs available; swimming pool, tennis, pickleball and other activities available to overnight guests). AlaPark.com/gulf-state-park
This November, the park opens a lodge that makes guests feel virtuous as well as comfortable. The Lodge at Gulf State Park will offer 350 guest rooms with a vintage cottage vibe, event space, dining, swimming pool and more. On the virtuous front, The Lodge is being built to top environmental standards and encourages outdoor access. Think open-air gathering spaces, natural light, windows that open to let in breezes and beach sounds, and views – the Gulf on one side, inland Lake Shelby on the other. The Lodge will also feature ADA accessible rooms, beach wheelchairs, and an accessible ramp and mat for beach access.
Another natural delight, Bon Secour National Wildlife Refuge, also offers trails for people, but its mission is the protection of neotropical migratory songbird habitat – more than 360 bird species have been noted. The land also harbors sea turtles and the endangered Alabama beach mouse, a small nocturnal rodent. Our walk along the refuge's accessible trail took us through coastal barrier habitat, including pine-oak woodlands. FWS.gov/refuge/Bon_Secour/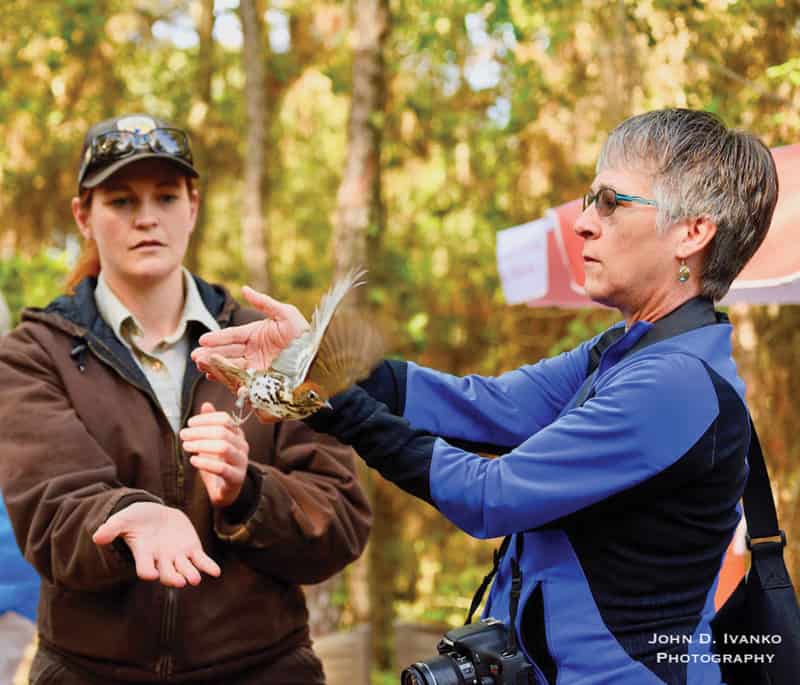 ON A QUEST FOR A BIG YEAR?
Like human visitors who escape to Alabama's Gulf Shores for the moderate winter temperatures, migrating birds appreciate the coast, too. Granted, birds follow their instincts rather than GPS, and their reasons for visiting are different. But when northward-flying birds spot that first dry land after winging their way over the Gulf of Mexico each spring, it might as well be a luxury hotel with a four-star restaurant.
Though I don't have an official "life list," I nonetheless thrill to seeing birds both common and rare. During little more than an hour observing the Coastal Alabama Bird Banding Project, I saw 10 birds up close, including a northern water thrush, wood thrush, scarlet tanager, red-eyed vireo, oven bird and blue grosbeak. The project, coordinated by Birmingham Audubon and partner organizations, allows the public to watch while researchers assess the health of spring migrants along the Mississippi Flyway.
During the third week of April at Fort Morgan State Historic Site (take in a bit of history while you're there), researchers take measurements and use lightweight bands to mark the many birds that fly into soft mist nets strung up nearby. Other naturalists gently display the birds for visitors to see while waxing eloquent on topics like bird species and conservation work. After all, education inspires action. BirminghamAudubon.org and Fort-Morgan.org
GOOD TIMES AT A COASTAL INSTITUTION
Speaking of native wildlife, I observed plenty at the legendary Flora-Bama, a sprawling complex on the Florida-Alabama border. At the classic, good-times, honky-tonk dive bar, cowboy boots and hats are always in season; women achieve that masterful blend of casual and dressed-to-kill; live music plays daily; and drinks flow so copiously that big liquor bottles are tapped to multiple bars.
The greater Flora-Bama complex has weathered hurricanes – or not, but pulled itself back together. It hosts five entertainment areas, a marina, beachfront, liquor and souvenir stores, oyster bar, Ole River Grill and the Yacht Club restaurant (don't let the "Yacht Club" name fool you – the only thing pretentious about this restaurant is the food).
For more local color, mark your calendar for annual Flora-Bama events, like the Mullet Toss (the fish, not the hairstyle). Or drop by on Sunday mornings for church. Really! FloraBama.com
KEEP BOREDOM AT BAY
I didn't have enough time to enjoy all of the beach-related activities available at Gulf Shores and Orange Beach – 15 golf courses, fishing and touring cruises, diving and more. Recommended venues include: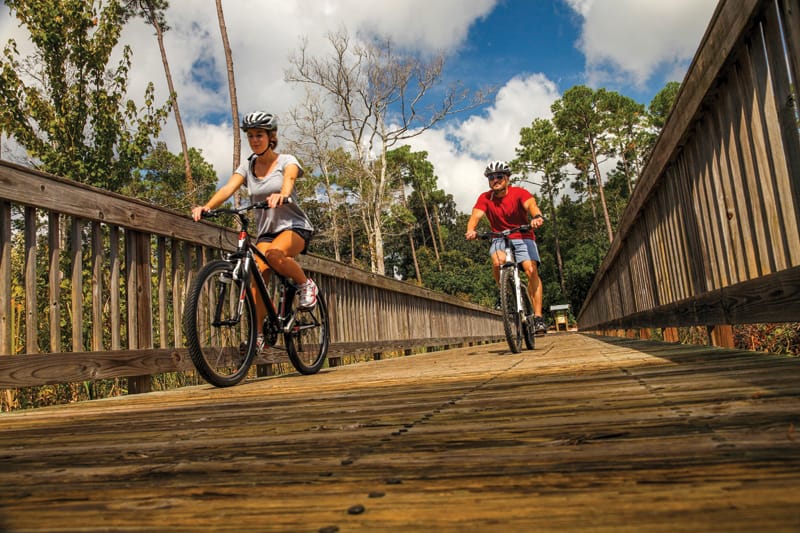 Big Beach Brewing. Cool taproom vibe and cool craft beers. BigBeachBrewing.com
The Wharf. Lodging, shopping, dining and entertainment. ALWharf.com
The Hangout. Food, live music and games; activities for kids; winter activities for snowbirds; and a handicapped accessible beach. TheHangout.com
Alabama Gulf Coast Zoo: Ever touched a kangaroo, lemur or sloth? Check it off your bucket list at "The Little Zoo that Could," a member of the Zoological Association of America. AlabamaGulfCoastZoo.com
'GUESS WHO'S GON' BE ON THE PLATE?'
No surprise: the seafood here is exceptional. My big surprise: many area chefs go above and beyond.
If you have never eaten a royal red shrimp, the delicacy itself is worth a trip to Alabama. The tender, sweet and flavorful Gulf shrimp thrives up to 60 miles from the shore.
The must-try cocktail is the Bushwacker, a Caribbean-born frozen concoction of crème de cacao, coffee liqueur, dark rum, cream of coconut and milk – a milkshake so good I brought the recipe home.
Restaurants worth the trip:
At CoastAL Gulf Shores, Chef Chris Sherrill has built the menu with dishes that are creative yet approachable, Southern inspired with plenty of seafood. CoastAL introduced me to the royal red shrimp, a staple on the menu. CoastALGulfShores.com
Chef Chris is also cofounder of the NUISANCE Group, a nonprofit that raises awareness of invasive flora and fauna – including lionfish, kudzu and, here in Virginia, the northern snakehead fish – while promoting ways to utilize these "nuisances" in cooking.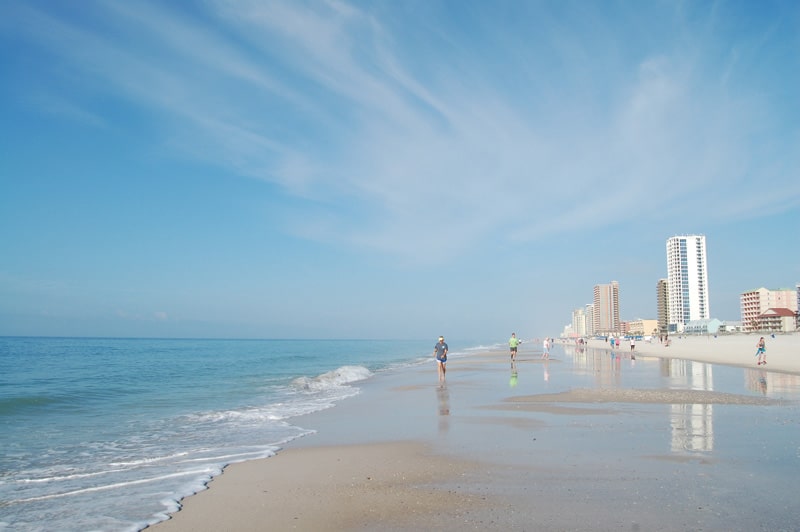 Constructed in part from repurposed shipping containers, The Gulf's atmosphere proved to be as fun as its menu. Much of its diverse seating is outdoors on decks, grass and waterfront sand. The seasonal menu includes expected beachfront bar food kicked up a notch – juicy jerk shrimp tacos, fried Gulf oyster salad with corn – and rotating chef's specials. TheGulf.com
Fin & Fork boasts a scratch kitchen using locally sourced produce, seafood and steaks. I sampled regional tastes like Southern fried cheese fritters and crab beignets, sushi and more. FinAndFork.com
As I dined on the outdoor patio at Ginny Lane Bar & Grill, I admired the luxury yachts lined up in the marina while feasting among a range of dishes for landlubbers and seafood fans. GinnyLaneBarGrill.com
Brunch was easy at The Ruby Slipper Café, a New Orleans-based restaurant importing a NOLA spirit, like Shrimp Boogaloo benedict over buttermilk biscuits. While waiting for a table, I whetted my appetite with a housemade, bacon-infused Bloody Mary from the making-your-wait-easy bartender. TheRubySlipperCafe.net
---
FOR MORE INFORMATION
Gulf Shores & Orange Beach Tourism: GulfShores.com
Bike rentals: BeachBikeRentalsOrangeBeach.com
Beach wheelchairs and other rentals: IkesBeachService.com
Motorized beach wheelchair rentals: BeachPowerRentals.com
---
BUSHWACKER
From CocoLopez.com | Serves 2
4 ounces cream of coconut
4 ounces half and half (or milk)
2 ounces coffee liqueur
1 ounce crème de cacao
1 ounce dark rum
2 cups ice
Mix in blender until smooth. Garnish with a maraschino cherry and whipped cream (optional).
BANANA BUSHWHACKER
From Kenny Chesney's BlueChairBayRum.com | Serves 1
1 ounce Blue Chair Bay Coconut Rum
1 ounce Blue Chair Bay Banana Rum
1 ounce dark crème de cacao
2 ounces milk
Put ingredients into a blender with ice and blend until smooth.