Classic Artists Still Releasing Stellar Music
| March 23rd, 2018
Alternative boomer Grammy redux
---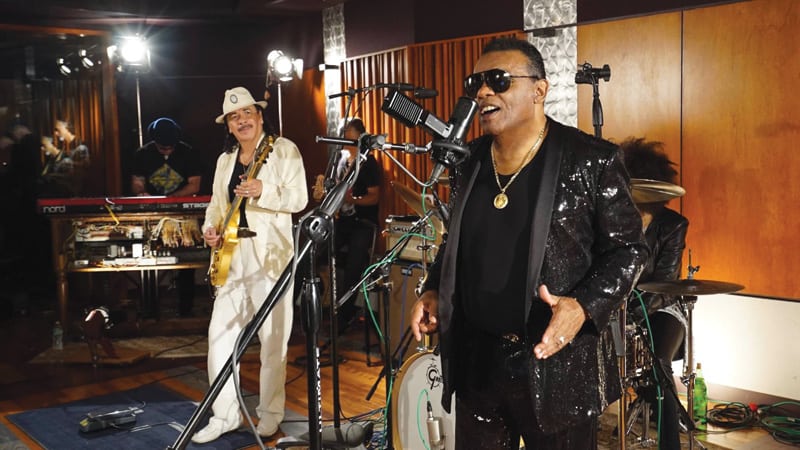 ---
With the Grammy Awards populated mostly by teen-appeal pop hit-makers, baby boomers might be wondering about the artists they grew up with. After listening to dozens of 2017 releases from heritage music acts over the past few months, it's a wonder more of these artists aren't celebrated. In many of these releases, the artists are making some of their best music in years, experimenting and finding fruitful new collaborations. I've also found some excellent reissue projects and highly entertaining Blu-rays and DVDs.
WEST COAST MEMORIES
Several key artists of the West Coast '60s and '70s music scene came out with superb albums in 2017.
The release of Neil Young's Hitchhiker (Reprise) was a major event for Young fans and for fans of his work with the Buffalo Springfield and CSNY. Originally recorded in one night in August of 1976, many of these songs would appear in more fleshed-out fashion on future albums such as Rust Never Sleep, American Stars and Bars, Comes a Time, Le Noise and the compilation album Decade. "Hawaii" and "Give Me Strength" have never been released before. This is another indispensable release from the Neil Young Archive Series.
Young's mate, Stephen Stills, released the album Everybody Knows (Cleopatra/Wildflower) with Judy Collins. This gorgeous duo effort features re-workings of favorites and new interpretations that more than live up to this once-in-a-lifetime collaboration.
Chris Hillman was a founding member of the Byrds, the Flying Burrito Brothers and Manassas. Bidin' My Time (Rounder), his first solo album in 12 years, was produced by Tom Petty with guest spots from his former Byrds' brothers, Roger McGuinn and David Crosby.
Rusty Young was a founder of Poco. Waitin' for the Sun (Blue Elan), his debut solo album, is a varied collection.
Former members of Poco, the Buffalo Springfield, the Eagles, the Doobie Brothers and many others contribute to the long overdue A Tribute to Dan Fogelberg (BMG).
MOVING EAST
Artists who were identified with other parts of the country are also represented.
Aware that he was very ill, Greg Allman knew Southern Blood (Rounder) would be his last album. Recording it with a sense of closure and summing up a lifetime that had many tragedies and triumphs, with production by Don Was, Allman made a rootsy and poignant album moored to his Southern blues origins.
Leon Russell also made his final musical statement with On a Distant Shore (Palmetto). Russell, like Hillman, went back to re-record some seminal classics ("This Masquerade") and newer songs. The album has a smooth jazzy sound that never overpowers his rootsier side.
Another album that features a superstar pairing is Power of Peace (Legacy) from Santana and the Isley Brothers. Mixing various genres and interpreting classic soul and R&B, like the Stills and Collins release, this is a historic, once-in-a-lifetime collaboration of legends.
Reissued on vinyl, One Nation Underground (Drag City) is another classic, albeit obscure, psychedelic album from 1967. The group would have a musical influence that continues today on many musical artists from many musical styles.
Canadian Bruce Cockburn returns with Bone on Bone (True North), his first album in six years, which adds jazzy shadings and deft rhythms to his cutting folk-rock sound.
ACROSS THE POND
U.K. artists put out some great releases, too.
Ringo Starr returned with his 19th solo album, Give More Love (Universal), a strong outing, featuring Beatle-mate Paul McCartney.
Eight years after Steve Winwood released the Live from Madison Square Garden album with Eric Clapton and nine years since his last studio album, Winwood Greatest Hits Live (Thirty Tigers), available as a CD/DVD package, is the most comprehensive live project he has ever released, touching on solo, Traffic and Blind Faith material.
Ray Davies of the Kinks returns with Americana (Sony/Legacy), his first solo album in 10 years. Recording with the assistance of members of the American group the Jayhawks, Davies has made an American-flavored recording.
Carry Fire (Nonesuch) is Robert Plant's second album backed by the Sensational Space Shifters. The album shows Plant continuing to make relevant, exciting new music, something he has done consistently since his Grammy-winning collaboration with Alison Kraus in 2007.
Often called the Godfather of the British Blues, 84-year-old John Mayall proves he still has musical powers with his latest Talk About That (Forty Below), and he shows no sign of letting up.
Novum (Eagle) is Procol Harum's first album since 2003. Lead singer Gary Brooker is the only original member left. Pete Brown, who wrote songs for Cream and others, contributes lyrics.
John McLaughlin & the 4th Dimension Live @ Ronnie Scott's (Abstract Logix) may be the last album from McLaughlin and his fusion group, the 4th Dimension, and was recorded at the famed London jazz club.
The Bottom Line Archive (BFD/Red) series adds two more superb live concerts: Jack Bruce & Friends and a two-CD set titled In Their Own Words with Vin Scelsa: Lou Reed & Kris Kristofferson.
Fairport Convention's Come All Ye – The First Ten Years (Universal) may be the best box set of the year. The group may have been as influential to English folk and rock as the Byrds and the Buffalo Springfield were to folk-rock, spawning the careers of Richard Thompson, Sandy Denny and Ian Matthews. This seven-CD set is a must-have due to the 55 previously unreleased tracks from live concerts, radio and TV appearances and B-sides, including two complete concerts.
The reissue of the Moody Blues Days of Future Past (Deram) marks the 50th anniversary of the group's official debut album. While it bears many similarities to the 2006 reissue, this set contains a full DVD of bonus material, including a 5.1 Surround Sound mix and live performance videos.
The Blu-ray Change Begins Within: A Benefit Concert for The David Lynch Foundation (Eagle Vision) took place at Radio City Music Hall in 2009 and features Paul McCartney, Ringo Starr, Sheryl Crow, Eddie Vedder and many others. The Who's Tommy Live at the Royal Albert Hall 2017 (Eagle Vision) captures on Blu-ray the most recent live version of the seminal rock opera. Jeff Beck Live at the Hollywood Bowl 2016 (Eagles Vision), available as a Blu-ray/two-CD package, features the British rock god in yet another innovative new career phase. The latest from the Rolling Stones' From the Vault series, Sticky Fingers Love at the Fonda Theatre 2015 (Eagles Vision), is a Blu-ray/CD of a show that primarily featured what is arguably the group's best album.
---
Steve Matteo is the author of Let It Be and Dylan. The Beatles in Context will be published by Cambridge University Press in 2019. He has written for The New York Times, the Los Angeles Times, New York magazine, Rolling Stone, Elle and Salon.