An Idyllic Cruise in the Greek Islands
| November 30th, 2022
Eight days of beauty and bliss
---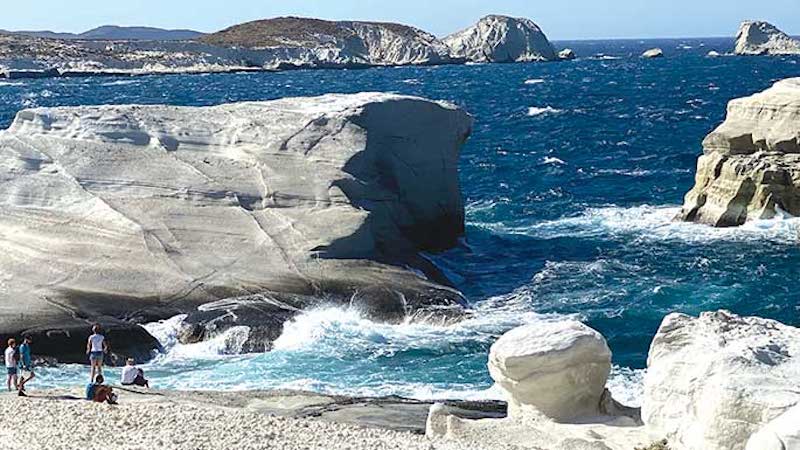 The eight-day Idyllic Aegean cruise among the Greek islands includes a moon-like landscape, archeological wonders, adventure rides, sea kayaking, snorkeling, amazing scenery, and fabulous food and wine. Travel writer Peggy Sijswerda takes us there.
---
I never thought I would walk on the moon, but here I am strolling with Peter across a bizarre, moonlike landscape. Instead of sand dunes, Sarakiniko Beach on the island of Milos features an inlet of pure white stone carved by volcanic eruptions. Smooth hills, like white elephants, undulate in every direction and shine like polished alabaster. A fresh breeze blows off the deep blue Aegean Sea, and my husband, Peter, and I find a shady place to sit and take in the dramatic surroundings.
I am a huge fan of the Greek islands, and every time I visit I discover something new and mind blowing, like this other-worldly landscape in Milos. Each of the Greek islands has its own style and offers unique culture and cuisine. Cruising is the perfect way to get a taste of their charms, so you can find your favorite and come back for a longer visit.
We're nearing the end of our eight-day Idyllic Aegean cruise with Celestyal, a cruise line that specializes in the Eastern Mediterranean. In 2019 we enjoyed their Three-Continent Cruise and are back to discover more of this picturesque region. Join us as we explore the region in luxurious comfort.
Our cruise of the Greek islands
After leaving Piraeus, we sail through the night to Thessaloniki on the northern side of the Aegean Sea. Greece's second-largest city has a long history of conquerors, but today a white tower stands along the waterfront as a testament to Thessaloniki's survival.
Peter and I are signed up to visit Gerovassiliou Winery about 15 miles outside of the city. After our tour, we visit the estate's museum, an eye-opening collection of historic wine paraphernalia, including a huge corkscrew collection. The owner began collecting them in the 1980s and now has more than 2,600, in all sizes, shapes, and colors.
---
Sicily: Snapshots of the Greek Island
---
Next, we sit overlooking the vineyards and taste five wines, each paired with a small bite. My favorite is the luscious red blend, Avaton, which features three Greek varietals – Limnio, Mavroudi and Mavrotragano – and has a lovely deep red color and depth of flavor.
Our next port, Kusadasi, Turkey, is home to Ephesus, an archaeological wonderland. Peter and I visited Ephesus on our last cruise, so we opt for a more adventurous excursion: the Buggy Safari! Deep in the Turkish countryside, we meet our outfitter and get a safety briefing. As we rev our engines and take off, the dust swirls around us like a tornado, and I wish I had goggles. Nevertheless, careening around the dusty tracks, over rocks, and across hills is a thrill – albeit noisy, dusty, and hot! We stop at a beach and cool off our toes before spinning around the tracks a few more times. A cold beer at the end of our adventure hits the spot.
Rhodes, another city known for an archaeological must-see, is our next port of call in the Greek islands. Lindos, a clifftop acropolis, which dates to Ancient Greece, sits on a windswept plateau high above the sea with sweeping views of the Aegean. Since we visited Lindos during our 2019 cruise, we choose a sea kayaking excursion for a different perspective. After launching our kayaks, we paddle to our first destination: Anthony Quinn Bay, so named because the actor fell in love with the picturesque cove and bought land nearby while filming "Guns of Navarone," a WWII flick from the 1960s. A small beach overlooks the crystal-clear bay, which is ringed by rocky cliffs.
We navigate past moored sailboats and snorkelers and head to a beautiful cove with arches and rock formations. Our guide passes out snorkel gear and instructs us on how to safely jump in the water from our kayaks. The water is the perfect temperature, and we spot lots of small fish as we snorkel. It's paradise.
---
On Day 5 we sign up for a food tour of Heraklion, the capital of Crete, the largest of the Greek islands – famous for its cheeses, produce, and pastries. Our tour guide, Manos Koukakis, takes us to a pastry shop on the main square, where we tuck into a tasty breakfast of local teas and a light, flaky pastry called bougatsa. Yum!
Our tour continues through the marble shopping streets of Heraklion, and we stop in two adorable herb shops, where I buy small packages of oregano and tea. We wander further and taste olive oil, cheeses, nuts, and vegetables. The tour ends at another pastry shop, where Manos hands out boxes of delicious cookies and pastries, including one covered in sesame seeds which is traditionally given to guests at a wedding. "For us, a wedding, it is the biggest joy," he says, smiling.
That afternoon we sail to Santorini and visit Oia, a picturesque city known for its blue-domed houses and spectacular sunsets. Trouble is, the town is swarming with other tour groups, so Peter and I escape to a terrace, where we can "sort of" see the sunset and enjoy a relaxing drink.
Later we dine in an authentic tavern off the beaten path on creamy fava dip, grilled mushrooms, zucchini fritters, and lamb kebob. Prices are reasonable, portions are huge, the local wine is surprisingly good, and we are in heaven.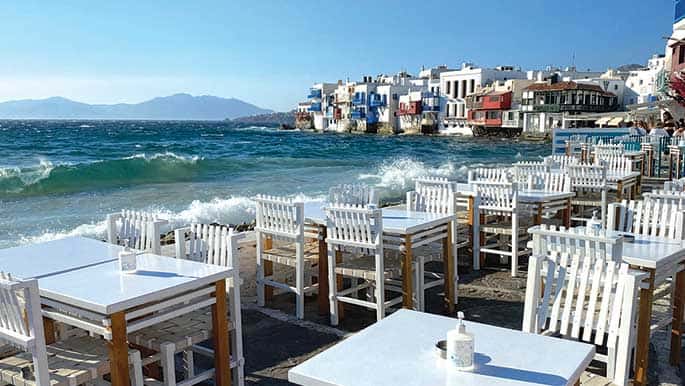 At the next port, we explore Mykonos Town on the island of Mykonos. A buzzing hive of exclusive shops and seaside cafes, it's wild at night, we hear, with bars and nightclubs open all night long. Peter and I forego the party scene and join an excursion to a small village, where kids play on the village square and tourists are few and far between.
Our group dines at a local tavern overlooking the square and we savor Greek salad, eggplant dip, tzatziki, and chicken. Dessert is simple: Greek yogurt with a dollop of honey. We love the relaxed vibe of this authentic village, especially as sunset falls and pastel colors illuminate the square with a magic glow.
---
---
Milos is our last port of call (boo-hoo). Described as one of the most beautiful places on earth, it is a stunning destination with clear turquoise waters, beautiful beaches, and tall craggy cliffs overlooking the sea. The day we visit it's quite windy, not uncommon in the Cycladic Islands, so our excursion – a ride on a small tourist boat around the island – is a bit bumpy and wet.
Soon we are back in the bus, heading to Sarakiniko, the moonscape that makes you feel like you are on another planet. There's a small inlet for swimming, but with the wind blowing offshore, conditions aren't ideal. Peter and I take lots of photos and grab a beer from a food truck for the bus ride back to the ship. It's been a whirlwind day, and we have a memorable evening planned.
---
It's our anniversary, and we have reservations in the ship's specialty restaurant for the My Greek Table Six-Course Tasting Menu, created by Diane Kochilas, host, creator, and co-producer of "My Greek Table," the popular PBS cooking show. To sample this gourmet meal, a surcharge is added, but it's well worth it!
Among the fabulous dishes we tasted: Smoked Eggplant Caviar, Cretan Octopus Carpaccio, Escallop of Aegean Lobster, and Zucchini Pappardelle. Wonderful textures and flavors! Everything tastes homemade.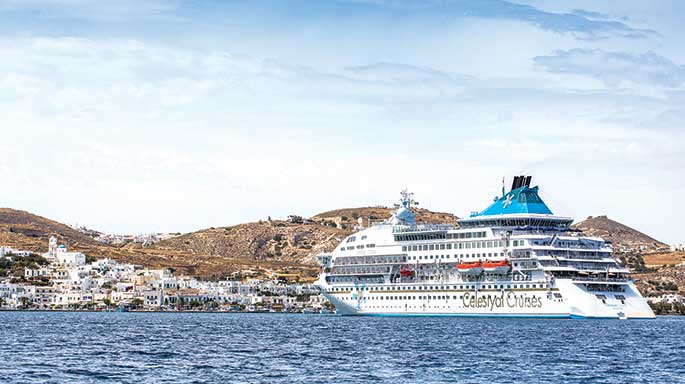 As Peter and I walk back to our cabin, moonlight shines over the Aegean Sea. We're sad the cruise will end, but we agree this has been one of our best vacations ever. Our cozy cabin on the Celestyal Crystal, terrific onboard entertainment, wonderful ports of call, amazingly friendly and efficient staff – we will never forget this once-in-a-lifetime Greek cruise. Bon voyage!
---
For more information and to book a cruise, visit your travel agent or go to Celestyal.com/us/.