Antipasto Bites for Your Next Gathering
| February 3rd, 2023
Adorable, party-friendly appetizers everyone will love
---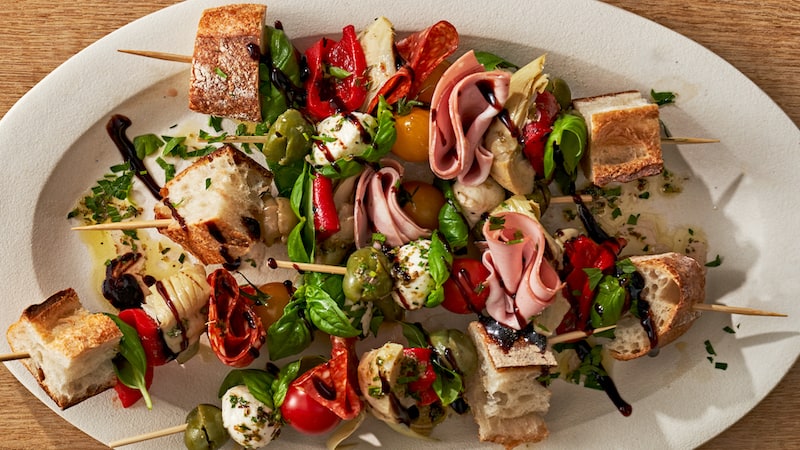 These antipasto bites take everything you'd see on a traditional antipasto platter and present a little taste of each element on a personal skewer. In this case, creamy marinated mozzarella, savory meats, marinated vegetables, plump ripe tomatoes, and fresh herbs come together for the perfect appetizer.
Antipasto is the dish that initiates gathering around the table and preparing to share a meal. If you ask most people who have ever entered a traditional Italian home what it's like, they will likely say that the kitchen is very clearly the heart of it, with cooking and food the love language. I grew up spending a ton of time in the kitchen; it was the norm for family and friends to constantly hover around the stove, waiting to taste test or have first dibs on whatever my mother was cooking. It's a fun, beautiful, and often humorous tradition that continues in my own home today. And a lot of those memories happen to begin with antipasto platters, or antipasto bites!
What is antipasto?
Antipasto is a traditional Italian platter served as an appetizer before the main meal. It's named quite literally for its meaning, as the Latin root of the word, anti, means "before," and pastus means "meal." Antipasto kicks things off in a most warm, welcoming, and delicious way through a colorful and flavorful platter of meats, cheeses, vegetables, olives, bread, and more.
What's the difference between antipasto and charcuterie?
This is a commonly asked question. On the surface, antipasto platters and charcuterie boards share many similarities. They're both traditionally served on a platter, and both include meats served with other small bites and garnishes. However, these two unique beauties most certainly have their differences – especially when it comes to cultural background and core ingredients.
Antipasto platters have an Italian origin and often include meats; cheeses; marinated vegetables, such as eggplant, artichoke hearts, roasted peppers, and mushrooms; hard-boiled eggs; olives; and bread. They're most often served as a shared first course or appetizer before a main meal.
Charcuterie boards come from France, where the term "charcuterie" refers to the preparing of cured meats. A charcuterie board is usually filled with cooked and dry-cured meats with garnishes like bread, olives, dried fruit, nuts, and maybe honey or jam. It can be served as an appetizer course, but is oftentimes enjoyed as a stand-alone, platter-style meal or snack shared among a group.
Antipasto Bites
Makes 24 bites
Ingredients:
For the bocconcini marinade:
1 (7 to 8-ounce) container ciliegine (cherry-size fresh mozzarella cheese balls)
1/4 cup red wine, champagne, or apple cider vinegar
3 tablespoons extra-virgin olive oil
1 tablespoon chopped fresh parsley leaves
1 teaspoon dried basil
1 teaspoon dried oregano
1/2 teaspoon kosher salt
1/8 teaspoon freshly ground black pepper
2 cloves garlic
For the skewers:
24 (8 to 10-inch) wooden skewers
1 (12-ounce) jar whole roasted red peppers (about 3 whole)
1 (12-ounce) jar marinated quartered artichoke hearts (about 24 quarters)
1 medium bunch fresh basil
1 (2-ounce) piece Pecorino Romano cheese (optional)
1 (about 2-foot long) baguette
6 to 8 ounces pitted Kalamata or mixed Greek olives, preferably marinated
1 pint cherry or grape tomatoes, preferably multicolor
24 slices (6 to 8 ounces) assorted cured meats, such as salami, prosciutto, soppressata, and mortadella
2 tablespoons balsamic glaze or aged balsamic vinegar
1 tablespoon extra-virgin olive oil
Flaky salt
Freshly ground black pepper
1 tablespoon chopped fresh parsley leaves
Directions:
Marinate the ciliegine:
Drain 1 container ciliegine.
Place 1/4 cup red wine vinegar, 3 tablespoons extra-virgin olive oil, 1 tablespoon chopped fresh parsley leaves, 1 teaspoon dried basil, 1 teaspoon dried oregano, 1/2 teaspoon kosher salt, and 1/8 teaspoon black pepper in a medium bowl. Whisk until combined.
Smash 2 peeled garlic cloves with the flat side of a knife. Add the garlic and bocconcini to the marinade and stir to combine. Cover and let marinate in the refrigerator for at least 2 hours or up to overnight.
Assemble the antipasto bites:
Drain 1 (12-ounce) jar whole roasted peppers and slice lengthwise into 1/2-inch wide strips. Drain 1 (12-ounce) jar marinated quartered artichoke hearts. Pick the leaves from 1 medium bunch of fresh basil until you have about 48 leaves.
Cut 2 ounces Pecorino Romano cheese into 12 (about 3/4-inch) cubes if using. Cut 1 (about 2-feet long) baguette crosswise into 24 pieces (about 1-inch wide).
Assemble the skewers: For each skewer, thread in this order from bottom to top, skewer: 1 pitted olive, 1 marinated ciliegine or Pecorino cube, 1 basil leaf, 1 tomato, 1 slice cured meat (fold over once or twice before threading), 1 artichoke heart quarter, 1 roasted red pepper slice (fold over once or twice before threading), 1 basil leaf, 1 olive, and 1 piece of bread. Place on a serving platter.
Drizzle with 2 tablespoons balsamic glaze and 1 tablespoon extra-virgin olive oil. Sprinkle with flaky salt, freshly ground black pepper, and 1 tablespoon chopped fresh parsley leaves.
Recipe notes
The skewers can be assembled without the balsamic glaze, olive oil, parsley, and salt on top up to two days ahead. Cover tightly with plastic wrap or store in an airtight container and refrigerate.
Let sit at room temperature 1 to 2 hours before serving. Uncover and garnish with the balsamic glaze, olive oil, flaky salt, pepper, and parsley.
---
Easy upscale appetizers and snacks
---
Christine Fiorentino is a contributor to TheKitchn.com, a nationally known blog for people who love food and home cooking. Submit any comments or questions to editorial@thekitchn.com.
© 2023 Apartment Therapy. Distributed by Tribune Content AGency, LLC.