Dig into History This Summer
| June 6th, 2018
Archaeological sites welcome visitors this summer
---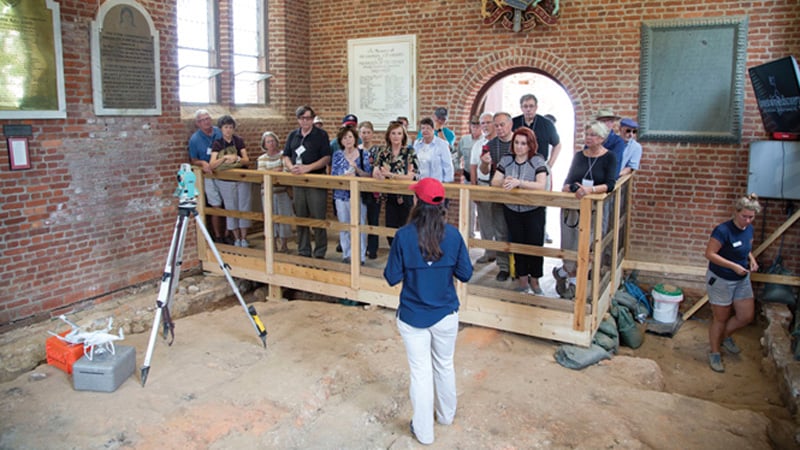 From the first permanent English settlement in America at Jamestown to the slave quarters at Thomas Jefferson's Monticello, Virginia offers a host of historical sites where visitors can interact with archaeologists as they peel back layers of time to reveal intimate details about the people who shaped America and how they lived and died.
With field schools in full swing, June and July offer the best opportunity to see excavations and share the moment of discovery. Watch as the buried remains of buildings, trash pits, gardens and artifacts are unearthed. Depending on the site, you might see fragments of ceramics, clay pipes, bottle glass, projectile points, arms and armor, clothing, personal objects, food remains, tools and building materials.
Some sites also offer walking tours led by archaeologists and provide opportunities to go behind the scenes into laboratories where artifacts are cleaned, stored and studied. Montpelier and Colonial Williamsburg even give visitors a chance to dig, screen and process artifacts.
Here are a few sites where visitors can see archaeology in action this summer:
Historic Jamestowne
About 20 years ago, archaeologists announced the discovery of the long-lost remains of James Fort, at Jamestown, established in 1607. Since then, they've unearthed evidence of buildings, pits and wells along with burials and hundreds of thousands of artifacts that have shed new light on how the early settlers lived and died and how they interacted with the Indians.
Jamestown is also the site of the first documented arrival of African slaves and the first representative assembly; both occurred in 1619.
This summer, excavations will focus on learning about the daily life of Angela, one of the first African slaves who arrived in Jamestown, at the plantation site where she lived.
In and around the Jamestown Memorial Church, built over the site of Jamestown's earliest churches, archaeologists will also be working to identify the foundations of the church where the first General Assembly convened. If they can identify the burials of Jamestown's first governor, Sir George Yeardley, or the final resting place of Lord de la Warr, they will be able to pinpoint the location of the chancel, where high status individuals would have been buried and where representatives would have been seated.
The fort, buildings and other major archaeological discoveries are partially reconstructed and interpreted throughout the grounds. You can literally stand where Pocahontas married John Rolfe, the English gentleman who was the first to cultivate and successfully market tobacco grown in Virginia.
The Archaearium exhibit hall features discoveries such as arms and armor, medicinal and religious items as well as facial reconstructions of people whose remains have been unearthed, including a 14-year-old girl who was eaten after she died during the Starving Time.
For a more in-depth and personal view of the discoveries, take a tour with an archaeologist on weekdays or reserve a spot on a walking tour of the fort site with Dr. Bill Kelso, director of archaeology. You can also peek behind the scenes in the laboratory and vault to see artifacts that are not exhibited.
As you enter or exit the site through the National Park Service visitor center, films and exhibits of artifacts speak to the Native American and African presence at Jamestown, how the town developed as a port and the first capital of Virginia and how Jamestown fell into decline when the capital moved to Williamsburg in 1699.
Colonial Williamsburg
Williamsburg served as the Colonial capital of Virginia from 1699 to 1780, leading up to and during the Revolutionary War. The Governor's Palace and hundreds of buildings have been reconstructed or restored, many based on archaeological research.
This summer, field school students from the College of William and Mary will be digging to identify the location of terraced gardens and botanical evidence of what was planted behind Robert "King" Carter's house, built in the 1720s next to the Governor's Palace. Carter was one of the wealthiest men in Virginia.
Hands-on experiences for youth ages 5 to 15 are available by reservation at no additional cost. They can be the first to dig up artifacts from the cellar of a storehouse, clean them and learn what stories they reveal about the past.
Visitors can also reserve a spot for the popular tour of the archaeology lab offered on Tuesdays and learn how thousands of bones discovered in trash pits at digs in Williamsburg and other Colonial sites have revealed what the colonists and their slaves ate.
Monticello
In Charlottesville, a tour of Monticello, Thomas Jefferson's estate, which he designed, will provide awe-inspiring views and an intimate glimpse of the third U.S. president's daily life and his interest in government, exploration, education, agriculture, architecture, style and gadgets.
Take a tour or walk along Mulberry Row, the hub of plantation activity, and discover what archaeologists have learned about the dwellings and belongings of domestic slaves.
In June and July, field school students from the University of Virginia will be digging at the site of two log dwellings where enslaved field hands lived about a quarter mile away from the main house. Mondays through Fridays, archaeologists will lead walking tours to the site and explain what archaeology is revealing about Jefferson's entire plantation.
New exhibits based on recent archaeology of the south wing of the mansion, including the kitchen, dairy and Sally Hemings' quarters, will open in mid-June. Hemings was a slave of mixed race who had six children that many historians believe were fathered by Jefferson after the death of his wife.
Artifacts are also on display in the exhibit hall, where dozens of interactive exhibits tell the story of Jefferson and the formation of America's democratic government.
Poplar Forest
At Poplar Forest, Jefferson's personal retreat in Bedford County, archaeology has helped develop an understanding of how Jefferson managed and designed the landscape around the house, considered by many to be his most perfect architectural work.
Walk around the ornamental grounds and tour the main house where Jefferson rekindled his creative spirit. See artifacts and explore exhibits in the house, the restoration workshop and archaeology lab and at the slave quarter site and learn more about the people who lived and worked here.
From June until mid-July, you can observe archaeologists excavating a brick slave house from the 1850s and an 18th-century overseer's house. They'll also excavate a carriage turnaround in front of the main house to identify and restore the original paving.
Montpelier
At Montpelier, James Madison's lifelong home in Montpelier Station, you can tour the mansion and grounds of the fourth U.S. president and his wife, Dolley, who inspired the term "First Lady." See where Madison played chess with Thomas Jefferson and sit in the office where he penned the Constitution.
During weekdays this summer, you can interact with archaeologists excavating a work yard and trash deposits. At the archaeology lab, which is open daily, you can open drawers and look inside cabinets full of artifacts.
If you want to do some digging yourself, sign up for a one-week expedition with about a dozen other archaeology enthusiasts and be part of the research team. You'll help dig, process and identify artifacts and experience behind-the-scenes tours while staying in a house on the property. Open to anyone age 12 and over, this experience is offered nine times a year and is very popular with boomers and families. No experience is necessary. Participants can tailor the experience to suit their interests and abilities. One-day sessions are also available. 
---
For information about hours, tours and fees:
---
Paula Neely publicized discoveries at Historic Jamestowne for many years and has written about archaeology for National Geographic News, American Archaeology Magazine and DIG into History magazine.