Rick Steves' Europe: Italian Boys
| April 6th, 2021
Macho or Mammone?
---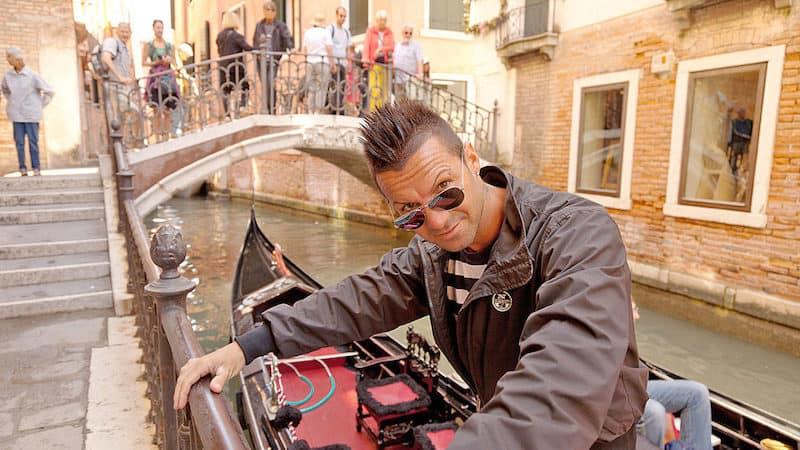 Join travel writer Rick Steves as he ponders the romance of the locals in a conversation with two Venetians. Are Italian men macho or mama's boys? Do the gondoliers get the girls? What are men in Venice looking for in a woman?
---
As we've had to postpone our travels because of the pandemic, I believe a weekly dose of travel dreaming can be good medicine. Here's one of my favorite memories from Italy – a reminder of the fun that awaits us at the other end of this crisis.
While Italian men are hopelessly macho, Italian women are strong in response. It's a social dance that is fascinating to observe, as I did one evening in Venice. I was dining with my Venetian friend Piero.
Antonella, the daughter of Alessandro the barber, waves to Piero and me as her dog drags her down the lane. We're just finishing up our meal at Bepi's Trattoria, but I invite her over. Pouring her a glass of Bepi's licorice liqueur, I say, "Please, Antonella, help me. We are talking about Italian living, but Piero is giving me only the macho side."
"What is macho? There are no macho men in Venice," she says, grabbing a seat. Antonella is a businesswoman used to dealing with Italian men. She's small and tough, more savvy than sweet, with a thick head of long black hair. When she talks, her direct eyes and busy hands give an intensity to her words. "They are mama's boys. We call this mammone."
Piero, as if he's heard the complaint a thousand times, cries, "Ahhh, mammone." Pulling an imaginary umbilical cord from his belly and petting it rather than cutting it, he says, "It is true. I cannot cut the cordone ombelicale. I love my mama. And she loves me even more."
Antonella sips her liqueur. "The Italian boys, 95 percent stay at home until they find a wife to be their new mother," she says. "At 30, 35 years old they are still with their mothers. Even if they move out, they come home for the cooking and laundry. This is not macho … this is ridiculous. "
"And …" she continues, lighting a cigarette, "they want a wife exactly like their mother. If they find a woman like me, independent, with some money, perhaps beautiful, this is a problem."
Piero nods like a scolded puppy. "Yes, this is true."
Antonella says, "If I make my hair special and wear strong makeup, they will take me to dinner and take me to bed. But they will not look at me to make a family. They want to be sure their wife won't leave them. A woman like me … it is too risky."
Are Italian men macho? Are gondoliers lucky in love? Or …
We pay and promise Bepi we'll be back soon. Antonella unties her dog and, together, the three of us walk through the quiet and romantic lanes of Venice.
I tell Antonella, "I could not finish a sentence with Piero. Always looking at the girls."
Piero raises his eyebrows and his hands as if to mount a defense and just sighs.
Antonella says, "I was in England for two years. No boys looked at me. When I came home, in five minutes I was being stared at. I like this. It feels good to be home."
"But why are the Italian boys always thinking about the girls?"
Antonella says, "In Venice, this is particularly true – especially the tourist girls."
---
Want more Venice?
Rick Steves warns readers of the Stehdhal Syndrome, and
Randy Fitzgerald shares his romantic gondolier ride with his wife, Barb.
---
Walking over a marble veneered bridge, we pass a gondolier. He's dashing in his straight-brimmed, red-sashed straw hat, obviously well-built under his striped shirt and black pants.
As the gondolier hollers a hopeful hello to a cute passing tourist, Piero says, "He hopes to be suc-sex-ful," says Piero. As we turn the corner, Piero giggles. "The gondoliers, they get the girls."

Bouncing happily, waving his hands melodramatically, he plays the gondolier on the prowl, singing, "The moon. Me and you and the lagoon. Oh my, I feel romantic today. I don't know why. My heart is going boing boing. May I offer you a small special ride for free later on? Here, grab my oar." Grabbing Antonella from behind around the waist as if she's about to fall from a gondola, he says, "Be careful, you can fall."
Pushing Piero away, Antonella says, "Gondoliers are the worst. Here, if a woman marries a gondolier and expects him to be true, we say she has hams over her eyes."
Piero, with suddenly sad eyes, says, "This is true."
Antonella adds, "But here in Venice there are plenty of ways to find the romantic life." We walk to moonlit St. Mark's Square, where the orchestra plays as if refusing to go home. The vast, nearly empty square has been claimed by two seniors, waltzing like they did 50 years ago. They twirl gracefully round and round. The woman smiles with her eyes closed. Antonella whispers, "In Venice, love is a threesome: you, the right partner, and our city."
---
Rick Steves (www.ricksteves.com) writes European guidebooks, hosts travel shows on public TV and radio, and organizes European tours. This article was adapted from his new book, For the Love of Europe. You can email Rick at rick@ricksteves.com and follow his blog on Facebook.
© 2020 RICK STEVES

As an Amazon Associate, Boomer Magazine earns from qualifying purchases of linked books and other products.