The Art of Meditation
| April 15th, 2020
Calm down, relieve stress, and cultivate presence of mind
---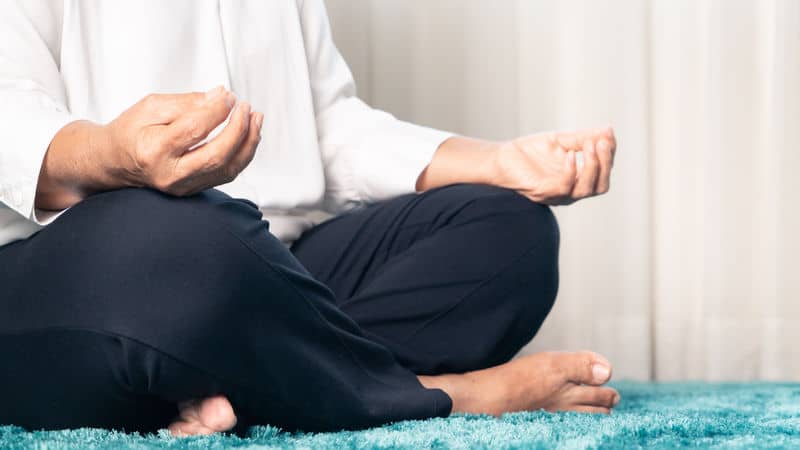 In this uncertain time, civilization has turned like Dr. Jekyll to Mr. Hyde; overnight, businesses and jobs have been lost, the economy has crumbled, and people all over the world are fighting for the very breath of their lives. There has never been a more vital time to begin a meditation practice in earnest, to save one's sanity and cultivate a sense of calm.
What stops most of us from beginning meditation is that we tend to get stuck on images of what meditation means. We falsely believe it means sitting uncomfortably for hours, chanting mantra, magically achieving Nirvana completely disconnected from the real world of distractions, anxieties, and stress. We find ourselves distracted by the wonderful, meaningful workings of our Homo sapiens minds, chide ourselves for not being able to maintain focus, then lose faith and give up.
The good news is all of that is untrue. Meditation can be achieved by simply bringing oneself present while working, talking, sitting, eating, walking, and exercising. It is the art of gently and without judgment bringing one's awareness to the fore, accepting whatever it is you encounter, moving on to the next breath, and the next after that.
Another part of the good news? We have the most useful tool for mindfulness literally at the ends of our noses: our breath is the most magnificent, free, reliably available tool with the power to bring a sense of contentment, even to slow our heart rate within seconds.
Here are a few simple steps to get started:
Find any position that is comfortable for you. Lie down, sit down, stretch out, find your head rested, whatever works. With your spine stretched long, hands and legs apart, chest open for deep breathing, you can begin to feel your body let go.
Start with a realistic goal of 10 minutes and work your way up to 15 to 20 minutes daily. It is also helpful to set aside a quiet space in your home where you feel at ease in silence.
Begin with the breath, close the eyes, allow yourself to take notice of the act of breathing. Where is it coming in and going out? What do the vibrations of breathing feel like for your nose, mouth, throat, belly, chest? Now begin to lengthen the breath on the exhale. Squeeze down the abdominals, making sure your exhalations are one count longer than your inhalations. This will engage your parasympathetic nervous system; it will oxygenate the blood and release endorphins throughout the body.
To stay in the moment, chant mantras silently following the rhythm of the breath, like: "I am present, I am here now, I am aware of my breath, I am in the eternal now." Whenever a thought arises, notice it, name it, and then erase the word or phrase from an imaginary blackboard.
After several breaths, you will notice your heart rate is slower, your breath is longer, and your mind much more at ease. Try this a few times a week at first; then gradually increase your frequency up to once a day.
Happy breathing!
---
Clare Yeadon is a teacher of Hatha Yoga and meditation at American Family Fitness since 2011 and has been a practitioner of meditation for over 30 years. She is also the NKBA's Program Chair for the Commonwealth of Virginia and owns Designs By Clare, Inc., an interior design firm in Midlothian, VA.