Baked Shrimp Recipe Bursts with Garlic and Butter
| January 26th, 2022
The Kitchn: If you haven't tried baked shrimp, you're missing out
---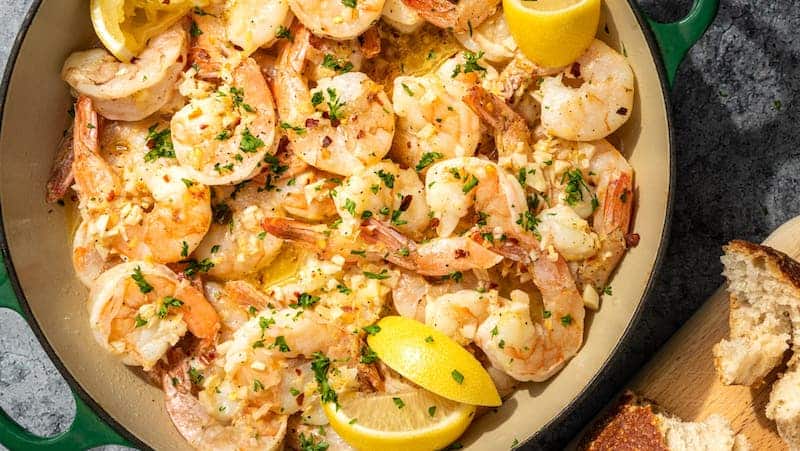 This baked shrimp recipe is inspired by two of my all-time favorite Kitchn recipes: Meghan Splawn's Shrimp Scampi Pasta and Yasmin Fahr's Garlicky Shrimp and White Beans. Both of these recipes take the garlic flavor to the next level by marinating the shrimp in garlic before cooking, so that's exactly what I did here.
This super-simple baked shrimp recipe delivers buttery, garlicky, full-flavored shrimp in under an hour. To make it a meal, simply serve with rice pilaf, cooked orzo, creamy polenta, or good crusty bread.
The best marinade for baked shrimp
I love a simple garlicky marinade that can be whisked together directly in the baking dish. You'll start by finely chopping six cloves of garlic and transferring half to the baking dish (you'll use the rest for the garlic butter). Add the zest of one lemon, a tablespoon of olive oil, and some salt, pepper, and red pepper flakes. Stir to combine.
Clean and devein 1 1/2 pounds of extra-jumbo shrimp, then add to the baking dish. Toss the shrimp in the garlic mixture until the shrimp are well-coated, then transfer to the refrigerator to marinate for 20 minutes. While the shrimp marinate, you can prepare the rest of the ingredients and the garlic butter, which you'll toss with the marinated shrimp before baking.
The best temperature for baking shrimp
The best temperature for baked shrimp is 400 degrees F. Any lower, and the shrimp tends to come out a bit mushy. Plus, a lower temperature means a longer bake time.
Do you peel shrimp before baking?
Yes! If you want all those delicious garlic flavors to penetrate the shrimp, I recommend peeling them. I do prefer to keep the tails intact to act as little handles, but if you prefer no tails, simply remove them before baking.
I don't like garlic, what should I do?
Feel free to customize the flavors according to your palate. My recommendation would be to use ginger in place of garlic, and cilantro in place of parsley. As long as you keep the cooking method the same, you really can't go wrong.
---
Try this One-Pot, Garlicky Shrimp Recipe from America's Test Kitchen
---
Garlic Butter Baked Shrimp
Serves 4
Ingredients
6 cloves garlic
2 medium lemons, divided
1 tablespoon olive oil
1 1/2 teaspoons kosher salt, divided
1/4 teaspoon freshly ground black pepper
1/4 teaspoon red pepper flakes
1 1/2 pounds uncooked extra-jumbo shrimp (16 to 20 per pound)
1 small bunch fresh parsley
4 tablespoons (1/2 stick) unsalted butter
Serving options: Crusty bread, orzo, rice pilaf, or creamy polenta
Directions:
Finely chop 6 garlic cloves. Transfer half to a 9-by-13-inch or other 3-quart baking dish; reserve the remaining for the garlic butter. Finely grate the zest of 1 medium lemon into the baking dish. Add 1 tablespoon olive oil, 1 teaspoon of the kosher salt, 1/4 teaspoon black pepper, and 1/4 teaspoon red pepper flakes, and stir to combine.
Clean and devein 1 1/2 pounds extra-jumbo shrimp, leaving the tails intact if desired. Add the shrimp to the baking dish and toss to coat in the garlic mixture. Marinate in the refrigerator for 20 minutes.
Meanwhile, arrange a rack in the middle of the oven and heat the oven to 400 F. Cut the zested lemon in half, then cut the remaining medium lemon into wedges and reserve for serving. Pick the leaves from 1 small bunch fresh parsley until you have 1/4 cup, then coarsely chop. Make the garlic butter.
Melt 4 tablespoons unsalted butter in a small saucepan over medium heat. Continue to cook until it just starts to turn golden, about 2 minutes. Add the reserved garlic and squeeze the juice from the zested lemon into the butter. It may bubble up. Cook until the garlic is tender, about 1 minute more. Add the remaining 1/2 teaspoon kosher salt and stir to combine. Remove the saucepan from the heat and let cool slightly but not until solidified.
Scrape the lemon-garlic butter over the shrimp and toss to combine. Bake until the shrimp are opaque and just cooked through, 8 to 10 minutes. Garnish with the parsley and serve with the lemon wedges.
Recipe note: Leftovers can be stored in an airtight container in the refrigerator for up to two days.
---
Amelia Rampe is a studio food editor for TheKitchn.com, a nationally known blog for people who love food and home cooking. Submit any comments or questions to editorial@thekitchn.com.
© 2021 Apartment Therapy. Distributed by Tribune Content Agency, LLC.