Beeristoric Marker Celebrates History and Beer
| January 7th, 2020
Local group honors both in historical monument
---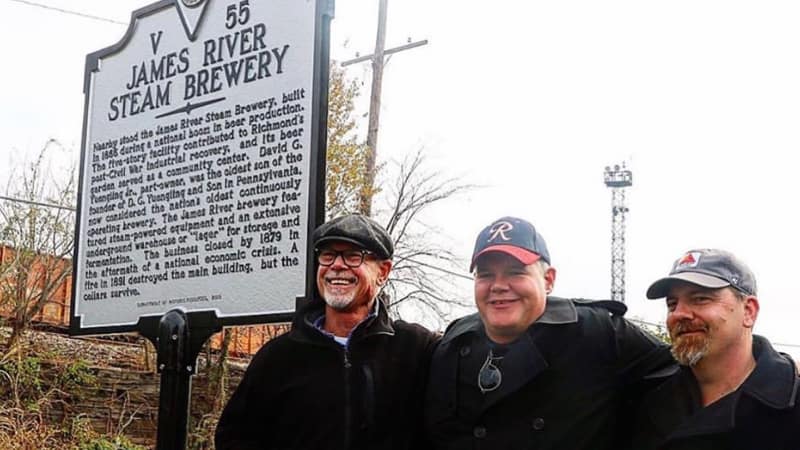 In late 2018, a group of seven Richmonders, professionally involved in history and/or the beer industry, created a nonprofit to communicate local beer history and to support area breweries. Similarly, the Richmond Beeristoric group's first major initiative was realized Nov. 17 with the unveiling of a new state historical marker.
The marker tells of James River Steam Brewery; a five-story facility and beer garden built in 1866 in what is known as Rocketts Landing. The site is listed on the Virginia Landmarks Register and the National Register of Historic Places.
Likewise, the brewery was owned in part by David G. Yuengling Jr., the oldest son of the founder of D.G. Yuengling and Son in Pennsylvania. This is the nation's oldest continuously operating brewery.
James River Steam Brewery "contributed to Richmond's post-Civil War industrial recovery," the marker states, "and its beer garden served as a community center."
Facilities included extensive underground caves for storage and fermentation ("lagering"). Moreover, the entrance to these caves is visible from the Virginia Capital Trail at Rocketts Landing.
The marker was approved for manufacture and installation by the Virginia Department of Historic Resources (DHR), which is authorized to designate new state historical markers. Consequently, as a sponsor of the marker, Richmond Beeristoric covered all related costs, including manufacturing.
The marker is located beside Old Osborne Turnpike (state Route 5), between Orleans Street and Rocketts Way.