Remembering a Richmond-Born Artist
| June 14th, 2017
Benjamin Wigfall's legacy lives on
---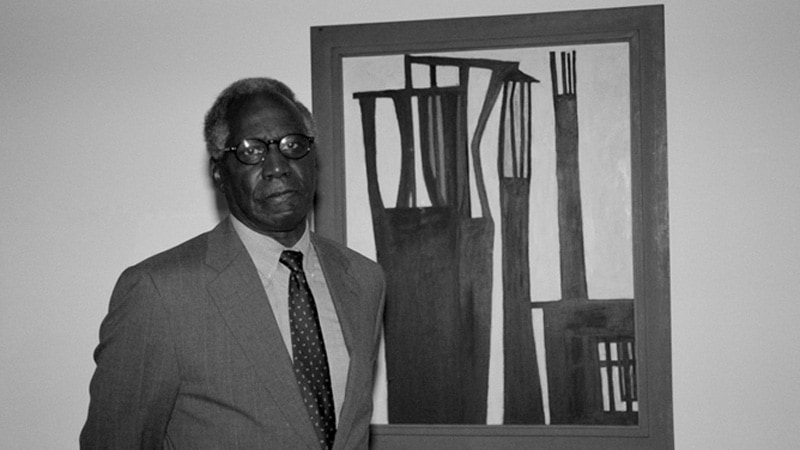 As a high schooler, Benjamin Wigfall often walked to and from school along the Shockoe Valley viaduct, where he saw smokestacks in the distance. The Richmond-born artist explained in a 2003 interview with the Virginia Museum of Fine Arts (VMFA) that the smokestacks came alive as they billowed with smoke. That one image inspired him to create "Chimneys," an abstract painting that the VMFA acquired in 1951, when Wigfall was just 21. This made him the youngest artist to have a piece become a part of the museum's collection, and the painting still hangs in the museum's midcentury American gallery.
Wigfall, who grew up in Church Hill, died at 86 on Feb. 9, 2017. But his legacy will live on through his work and the VMFA's efforts to share his story. The museum has hosted two lectures celebrating the African-American artist's life – one in January, just before he died, and another on April 28.
During the April program, Sarah Eckhardt, VMFA's associate curator of modern and contemporary art, and Linda J. Holmes, a Hampton-based writer and oral historian, shared stories of Wigfall's life. The audience included members of Wigfall's family.
Art entered Wigfall's life when he began drawing as a child, but it became more of a passion for him in high school. As a teenager, Wigfall learned all he could from a high school art teacher, who introduced him to the VMFA. At about 17, Wigfall took art classes at the museum, where he was one of the oldest students because, explained Eckhardt, art classes weren't offered for African-Americans until that point.
Wigfall won two VMFA fellowships, one of which he used to attend Hampton University. When he graduated, he continued his education and earned an MFA from Yale. He returned to Hampton to teach in the late '50s.
In 1963, Wigfall moved to New York, where he taught art at the State University of New York at New Paltz. He retired from teaching in '91 and later opened the Watermark Cargo Gallery in Kingston, New York.
Though Wigfall settled down in New York, his story as an artist began and will continue at the VMFA, since "Chimneys" is part of the museum's permanent collection. Next time you're there, check out Wigfall's work in the mid-century American gallery.