Betty Lynn: From Mandalay to Mayberry
| March 27th, 2020
"The Andy Griffith Show" actress reflects on life in the spotlight
---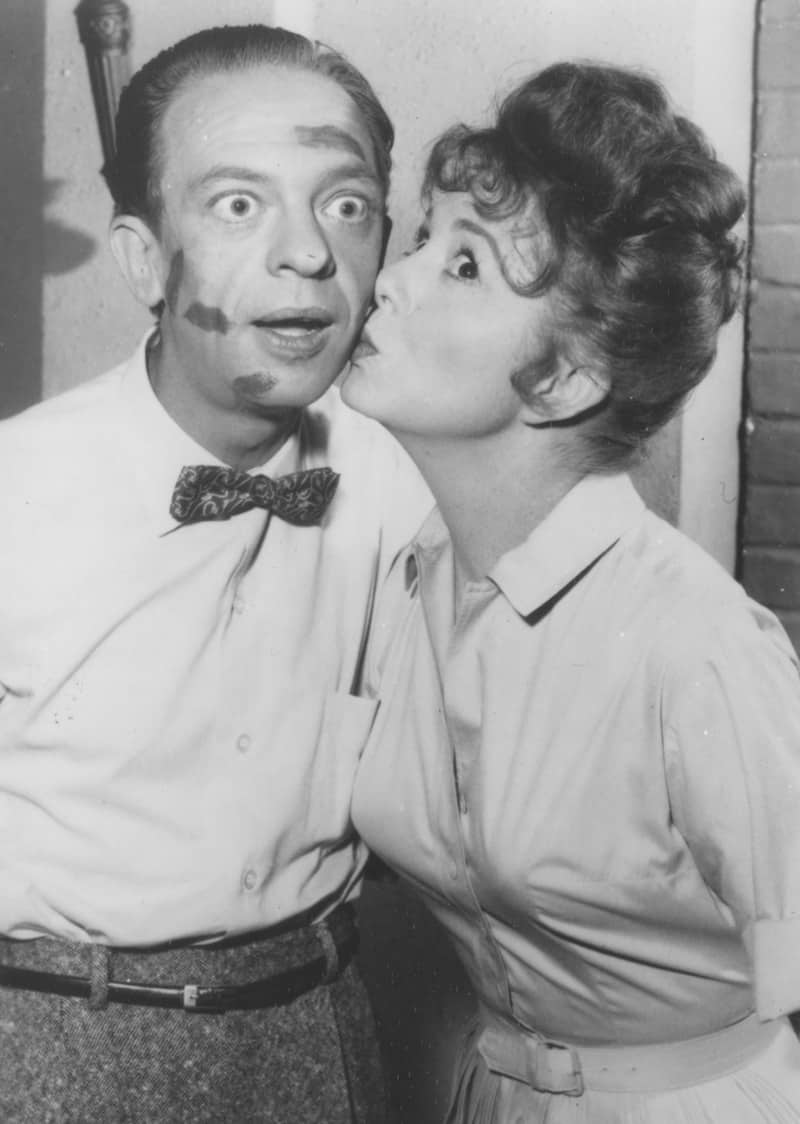 Film and television actress Betty Lynn, retired for more than 30 years, is among that rare breed still drawing a crowd. Born Elizabeth Ann Theresa Lynn in 1926, she is as good-natured in person as she was in roles she played – most prominently Thelma Lou in the 1960s sitcom, The Andy Griffith Show.
Living at a Mount Airy, N. C., retirement village for more than a decade now, she was delighted with her move from California to the city that inspired Mayberry in the TV series and the 1986 made-for-television movie, Return to Mayberry. Playing Deputy Sheriff Barney Fife's long-suffering girlfriend, she's one of the last cast members alive – and thriving! She makes an appearance the third Friday of each month at the Surry County Arts Council. Co-located with The Andy Griffith Museum, she greets fans and signs autographs.
In a recent interview in Mount Airy, she recounted having to load up her car with her own clothes for the show. She recalls working "long days for $250 a day," but she has nothing but wonderful memories of that time. "It was the loving relationships among us – Andy [Sheriff Taylor], Opie [Andy's son, played by Ron Howard], Aunt Bee [Opie's aunt and caregiver, played by Frances Bavier], Gomer [the naïve, gentle auto mechanic, played by Jim Nabors] and Barney [deputy sheriff, played by Don Knotts] that made the show special," she said. Fans outside the arts center queued up well before her noon arrival; some of them purchased a $10 autographed photo.
THE ROAD TO MAYBERRY
Born in Kansas City, Missouri, she had an accomplished opera singer as a mother. She "helped me with learning to play piano and later encouraged me in popular music," Lynn said. A permanent Surry Arts Council exhibit houses items that span her life: from a photo of her wearing Betty Grable's sequined costume for a 1950 dance test at Twentieth Century Fox to a bejeweled mirror that Knotts gave her during the filming of the series.
Among the most engaging items were those from her 1945 USO tour in World War II's Burma-China-India theater. At the age of 18, Lynn, with an accompanist, was singing – as Rudyard Kipling's late-19th-century poem (and much later, song) put it – "on the road to Mandalay." The duo entertained members of the U.S. armed forces in hospitals, cities and field cities where troops were. She recounted how a Marine captain gave her a Colt automatic pistol and told her, "You might need it."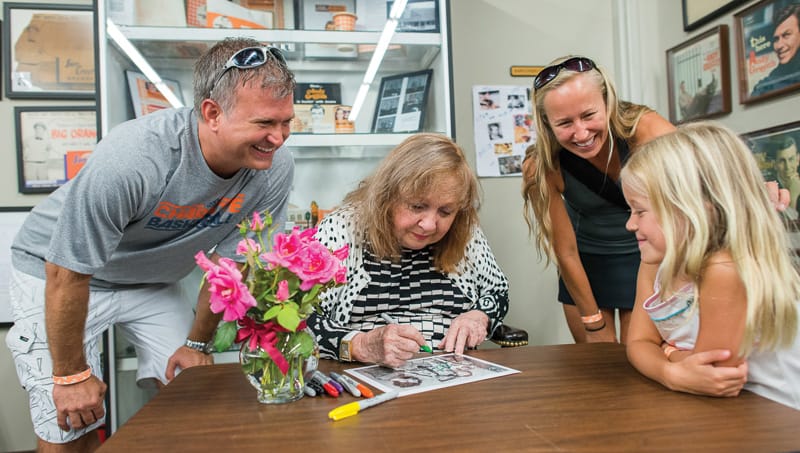 "I only fired it once – for practice," she said, "and it had quite a buck, which surprised me."
Actress Bette Davis, with whom Lynn worked in the 1948 film June Bride, packed a load of a different kind.  "When the director called 'Betty,' we both came running, so Bette determined I'd be 'Boo,' my film character's name. From then on I was 'Boo.' Bette was so high-strung that it never took much for her to get her blood pressure up."
MORE THAN JUST THELMA LOU
Lynn, was brought to Hollywood from New York by Twentieth Century Fox. She also played the teenage daughter of Loretta Young in the 1949 comedy, Mother Is a Freshman; and the same year, teenage daughter to Fred MacMurray and Maureen O'Hara (and older sister to Natalie Wood) in Father Was a Fullback. "I just loved Natalie Wood," Lynn said.
Every episode of The Andy Griffith Show was special to her. "I really loved Aunt Bee," she said. "Such a wonderful actress."
Lynn said she might see visitors from as far away as California, Illinois, Florida, Georgia and Kentucky. Besides signing photos, she's signed unusual items brought in by visitors; including shirts (sometimes on people's backs!); dashboards from vehicles; even replicas of Mayberry squad cars.
Although some visitors bring gifts, she said her most cherished gift is the love and admiration of her fans. "I'm so grateful, I really am," she said.
---
Midlothian-based freelance writer Martha Steger has received national awards for her journalism, essays, short fiction and poetry. She is a member of the Society of American Travel Writers and a member of the Virginia Communications Hall of Fame.