Black History Lessons in Richmond and Virginia
| January 31st, 2022
Learn, be inspired, and move toward a better future
---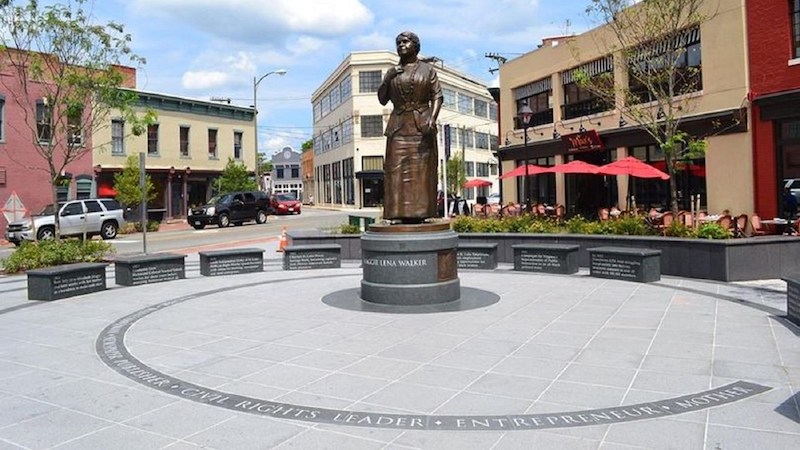 You don't have to travel out of state – or even out of city – to immerse yourself in powerful Black history lessons.
The Black History Museum and Cultural Center at 122 W. Leigh St. is a great place to start. It serves as Richmond's richest source for collections of art, stories, records and artifacts that commemorate the accomplishments of African-Americans in Virginia.
Just down the street is the Maggie Walker House, with exhibitions honoring the life and accomplishments of our nation's first black female banker. Nearby is the Maggie Walker Memorial Plaza, with a 10-foot bronze statue of the inspirational woman, surrounded by 10 benches describing events and achievements in her illustrious life.
These sites are located in the historic black neighborhood of Jackson Ward. Deemed the Harlem of the South, this neighborhood once buzzed with African-American businesses, restaurants, theaters and residents.
You can also stay in touch with the Elegba Folklore Society, which focuses on African World cultural arts through interactive artistic, cultural experiences.
One of the best ways to immerse yourself in Black history lessons in Richmond is on the Richmond Slave Trail. This self-guided walking tour takes you to the site of the docks where enslaved Africans were offloaded, along the trails where they were forced to march, past the monument to escaped slave Henry "Box" Brown, to the auction houses and market where people were sold like livestock and separated from their families. The Richmond Slave Trail also takes you to the site of Lumpkin's Jail in Shockoe Bottom.
You will find three other outdoor monuments to Blacks in local history at Brown's Island: the Emancipation and Freedom Monument and the Headman statue, commemorating the contributions of black boatmen on the James River.
Continue your history-filled journey to Farmville at the Moton Museum. Once the school that launched the Civil Rights revolution among students (does the name "Barbara Johns" ring a bell?), Moton Museum now serves as a historical landmark and museum, telling the story of hundreds of brave students who fought for segregation and equality.
And don't forget about the darkest part of African-American history: slavery. In years prior, historic sites have often downplayed this sinister time in our past. But now, more light is being shed on slavery and giving it the unfortunate attention that it deserves.
At Monticello and Montpelier, for instance, visitors can see reproductions of slave cabins, explore labor conditions and hear true accounts through historical re-enactors. Maymont Mansion also provides tours of its "belowstairs" area, to show how the servants (predominately black) lived and worked each day under the regulation of the wealthy Dooley family.
African-Americans have roots in Africa but are as American as any U.S. citizen, so this history is important to all. By better understanding the past, we can build a better future together.
[Editor's note: see also BOOMER's overview of the new U.S. Civil Rights Trail.]
This article has been updated from its original version in February 2018 on BoomerMagazine.com and in the print magazine.