Boar's Head Resort, Charlottesville
| December 3rd, 2019
An easy, pleasing getaway
---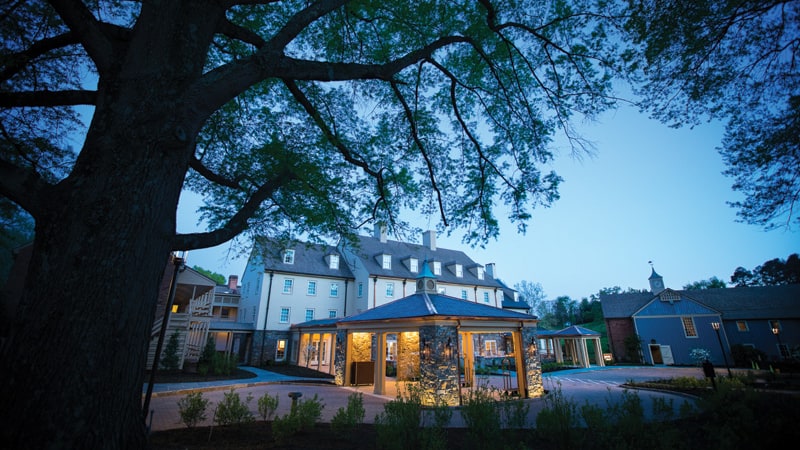 As soon as I walked into my guest room, I felt confident that my visit to Boar's Head Resort would provide the getaway I needed. The room practically bathed me in relaxation, with natural light filtering in from windows overlooking bucolic settings, with soothing colors and classic furnishings reminiscent of Virginia country estates – comfortable, simple and elegant. Décor reflected the resort's local connections: Charlottesville, the University of Virginia, Thomas Jefferson and the Blue Ridge Mountains.
The resort property is awash in history, including Terrell's Ordinary, an inn opened in 1759, and an 1834 gristmill. The original Boar's Head Inn was built in 1959, incorporating pieces from the gristmill: heartwood pine beams, pink plank flooring, lumber from old grain bins and massive grist stones. In 1989, the UVA Foundation acquired the property. Recently, the foundation renovated the restaurant and other parts of the main building, keeping traditional elements intact.
"The hotel today is not the hotel that you traveled to when you were a kid," Foundation CEO Tim Rose told the UVA news service at the renovation dedication. "Now hotels have a different vibe to them, and we needed to upgrade the product and yet not lose the specialness and historic nature of the property."
Today, the 600-acre resort boasts numerous badges of honor, including Historic Hotels of America, AAA Four Diamond property, Certified Audubon Cooperative Sanctuary and Virginia Green.
But really, none of that mattered to me when I walked into my guest room. I was in search of an experience both relaxing and memorable, which required more than just noteworthy history.
RELAXATION
Though I might've been content to remain in the soothing comfort of my room, I had an appointment at the spa. Besides standard spa services (massage, body and skin care, etc.), the Charlottesville spa highlights natural and preventative healing using plants and herbs, reflecting influences as diverse as Thomas Jefferson, reflexology and Chakra balancing, combined with contemporary technology and methods.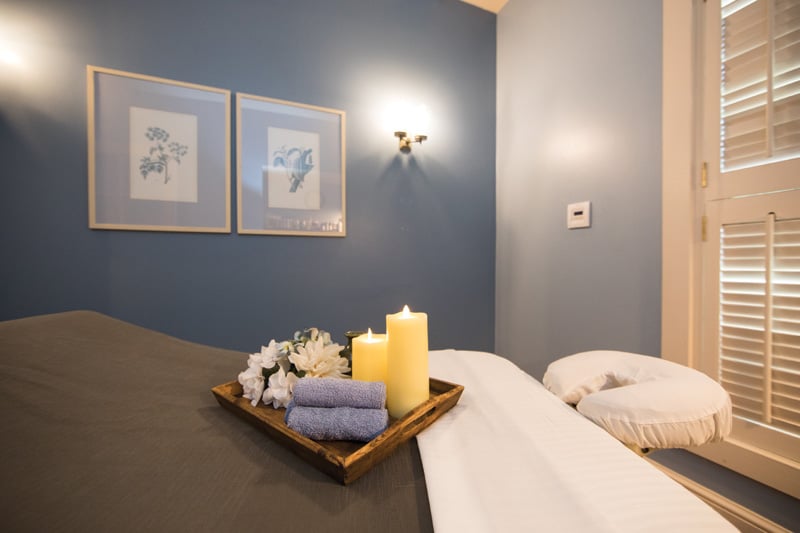 For example, the Forest Air Bathing treatment reflects Jefferson's love of forests through the Japanese Shinrin-Yoku concept, using tree-based essential oils in the massage and the treatment room atmosphere. The Signature Monticello Garden Massage uses an oil made with herbs that were grown in Jefferson's gardens. I opted for the Magnesium Melt, combining a beneficial salt scrub with massage.
Needless to say, my experience enhanced my sense of well-being.
RECREATION
For those who aren't content to simply re-create, Boar's Head Resort offers a wide range of recreational opportunities.
The Birdwood Golf Course is reopening in 2020 after a complete Davis Love III redesign, with 18 holes of rolling landscape and a new par-3 short course and putting course. (Golf instruction and club fittings remain open via the UVA short-game facility and the indoor Swing Studio.)
During their stay, guests have full access to the members-only Sports Club: a comprehensive fitness center, gym, classes, tennis, squash, aquatics (including an adults-only pool) and kids' programs and childcare. I took advantage of the group Drills for Thrills clinic led by tennis pro George Elias, improving my technique and rekindling my love for the game.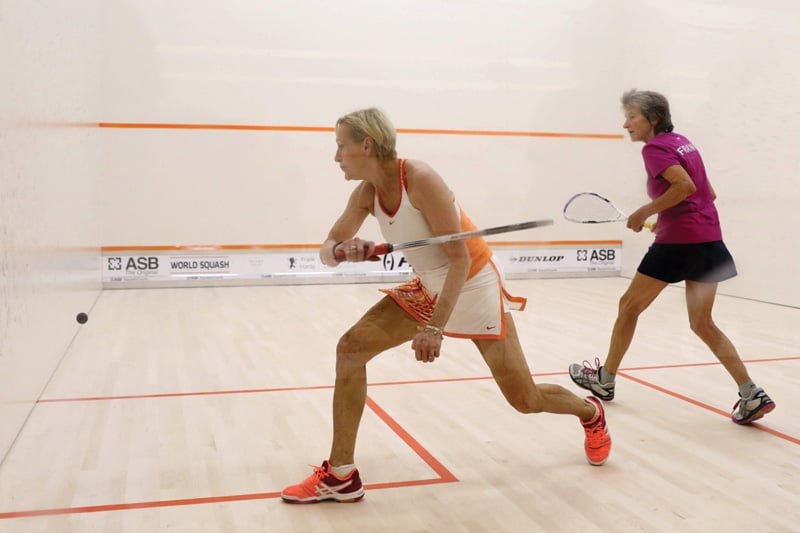 The resort's trail system offers its own immersive Shinrin-Yoku experience. Besides five-plus miles of gravel, grass and woodland paths, a trail to Round Top links to neighboring Ragged Mountain Reservoir: two lakes, woodlands and rugged trails, sprinkled with sculptures carved from old stumps and logs.
Boar's Head Outfitters provides additional outdoor recreation, onsite and off, from sedentary to active, including kayaking, stand-up paddleboarding (activity of choice during my stay), geocaching, hiking and biking. A bit off the beaten path, Adventure Outpost also offers Ancient Weaponry (tomahawks and bows-and-arrows) and falconry (starring Wiley the falcon).
GO TO TOWN
The resort's urban proximity provides part of its attraction. Though it seems isolated while you're there, it's on the outskirts of Charlottesville proper – just a hop, skip and jump from the University of Virginia, downtown restaurants, shopping and entertainment, and more.
SUSTENANCE
Boar's Head offers casual dining at the Sports Club as well as fine dining at the inn.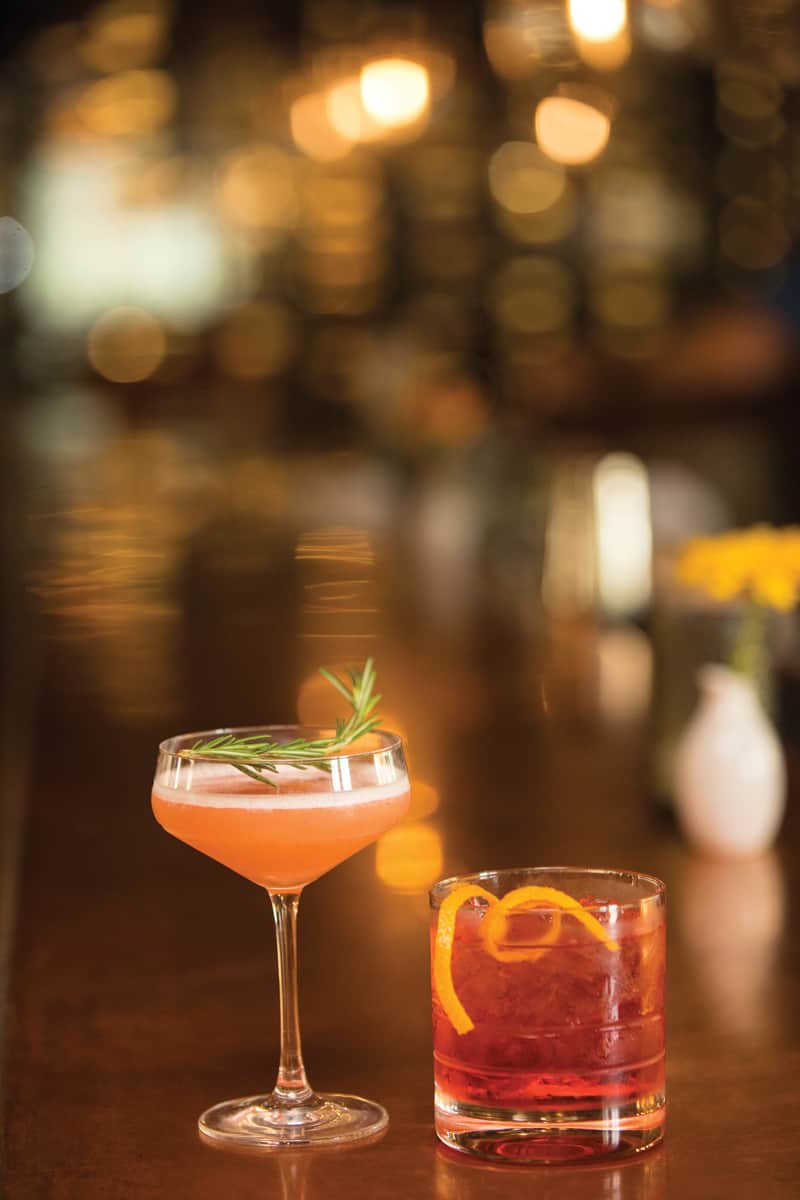 Serving breakfast, lunch and dinner, The Mill Room highlights Southern-influenced farm-to-table cuisine, sourcing from regional farmers and artisans, including an onsite hydroponic garden. Mains include seafood, meats, poultry and vegetarian options. Dishes are both familiar and creative: like fried green tomatoes and pimento cheese with heirloom tomato salsa, rooster sauce and Kentucky sorghum; grass-fed center-cut filet mignon with corn puree, crispy fingerling potatoes, wilted greens, local mushrooms and pesto; and moon pie bread pudding with salted caramel ice cream and whiskey white chocolate sauce (with house-made moon pies, not the commercial kind!).
The Mill Room bar embraces the same concept of creativity and local focus. Cocktails from classic to unique may be made with Virginia spirits; craft beers and ciders include lots of locals; and the wine list features some Virginia-born selections.
I came away from my visit refreshed – and with an awareness that this pleasing experience lies just up the road, for another easy dose of R & R.
---
OTHER RESORT PERKS 
Love UVA?

Watch the taping of Coach's Corner with Bronco Mendenhall every Tuesday night during Hoos season.
The Cavalier Club offers worthwhile perks for guests who travel often to Charlottesville for business, pleasure or supporting a UVA student.

Pet-friendly rooms
ADA accessible rooms
Special events include sports competitions and seasonal activities.