Book Review: Uncle Jack's Outer Banks
| June 17th, 2020
By Jack Sandberg; introduction by Ray McAllister
---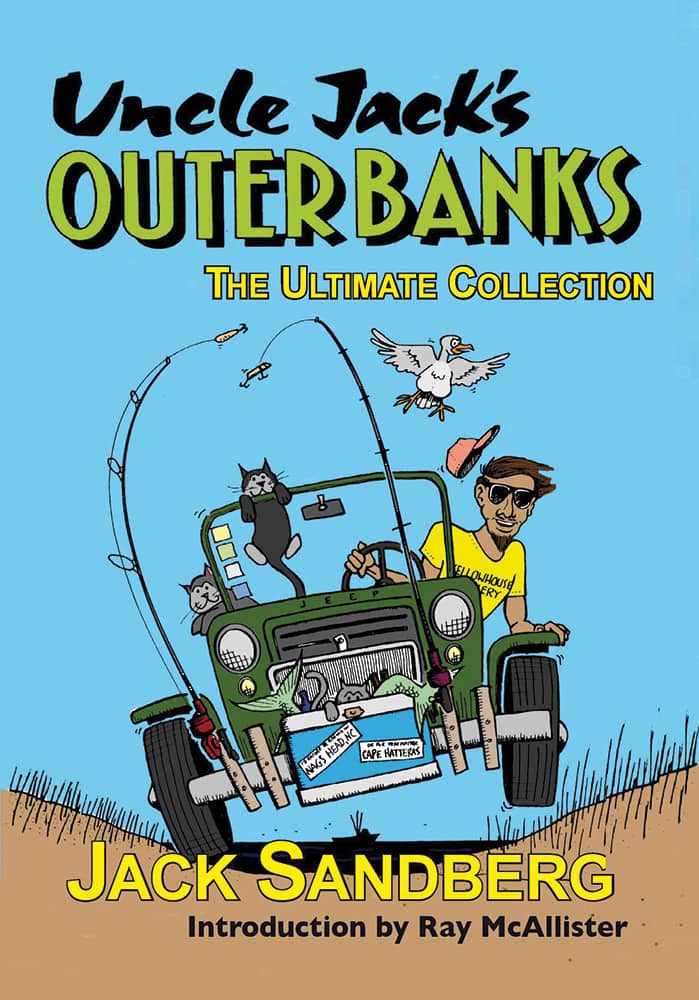 I agreed to review UNCLE JACK'S OUTER BANKS: The Ultimate Collection
on the assumption that BOOMER's OBX-loving readers would appreciate the book. And they will. But I quickly recognized that anyone can enjoy the humor and insight behind this Jack Sandberg collection.
Sandberg wrote his essays (and faux letters to Uncle Jack) beginning in 1980, after moving to Nags Head. (One, in fact, originally appeared in BOOMER.) He wrote in third person, about Uncle Jack, in a wry, dry, self-deprecating tone, with occasional shaded sarcasm to convey commentary on the local culture and politicians. The book is woven with Outer Banks topics – Labor Day transitions, tourists, fishing and dubious developers, for example. Familiarity with the area can certainly enhance appreciation; but Sandberg's humor strikes universal chords, from small ukulele strings to rich double bass.
For example, there's mention of the Manteo High School football game, the first high school football game Uncle Jack had been to since his own school days, "and it sure did send him into a fit of nostalgia there for a while. For one thing, he had almost forgotten how much fun it is to sit on a cold iron bench for several hours with the wind blowing out of the north at 20 miles per hour."
Or the anecdote about the "honor" of being chosen to judge the Nags Head Surf Fishing Tournament. "Who could have guessed that an ordinary, run-of-the-mill child of poor parents … would one day grow up to be a Judge of the oldest, largest, and finest surf fishing tournament in Dare County? … This is real proof that the American way of life is working just like Thomas Jefferson said it would."
Whether you're fishing for a connection to the Outer Banks or for chuckles and guffaws, you can cast your line for Uncle Jack's Outer Banks.
---
Published by Beach Glass Books, April 7, 2020
Available in hardback (224 pages, $16) and e-book
Kindle version: UNCLE JACK'S OUTER BANKS: The Ultimate Collection
---
As an Amazon Associate, Boomer Magazine earns from qualifying purchases from linked book titles.