Memoir, Exposé, or Whimper?
| July 3rd, 2018
A sports writer's view of "Born Fanatic," from the son of NFL Hall-of-Famer Mike McCormack
---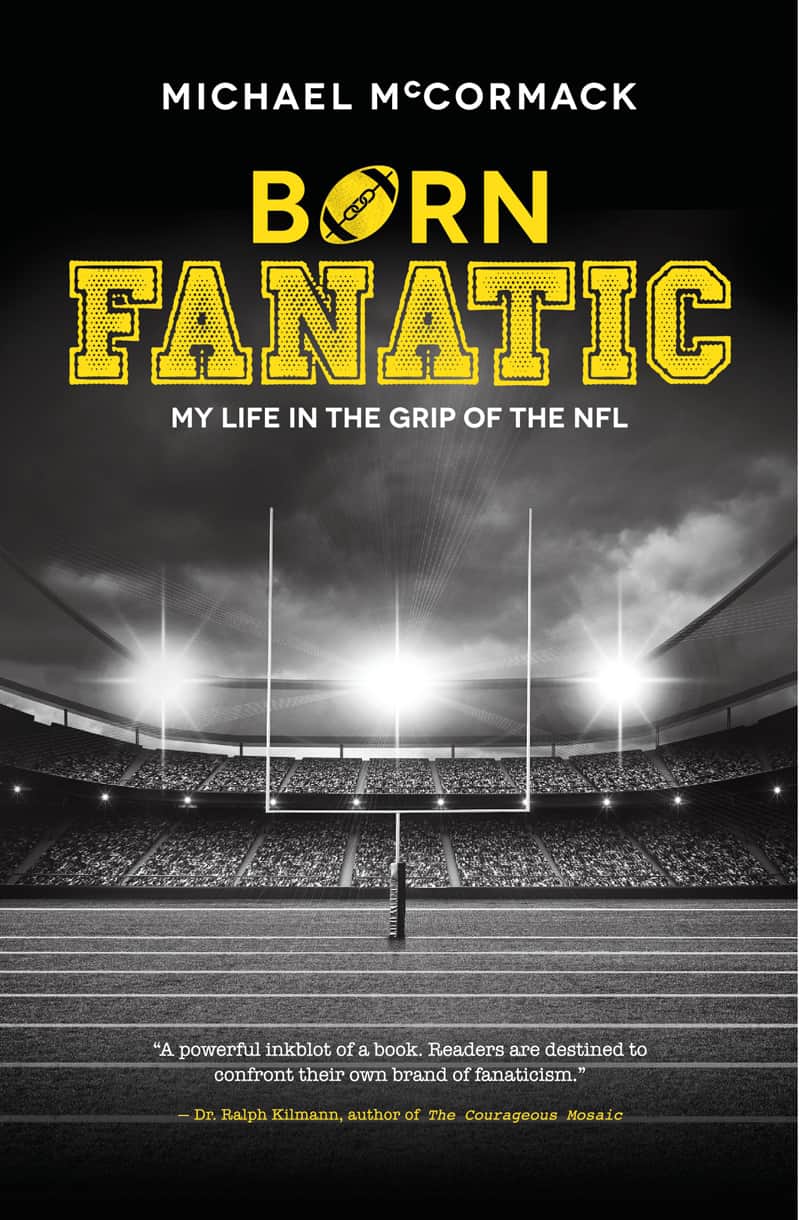 The subtitle of Michael McCormack's memoir, Born Fanatic, is "My Life in the Grip of the NFL."
Honestly, McCormack's life has been in the grip of too many things to count, including drug and alcohol abuse, self-loathing, self-pity, and parental disgust and detachment.
The springboard for years of angst centers on his father, football and their baffling relationship. "Big Bear" Mike McCormack was a Hall-of-Famer who played both offense and defense for the Cleveland Browns of the Paul Brown era. At 6-4, 245 pounds, he was built like granite, leading the way for offensive legends Jim Brown and Otto Graham.
By the end of a 46-year career, the Big Bear had also served as a superb assistant coach whose skills didn't translate to success as a head coach, a highly valued general manager in Seattle and a consultant so vital to Charlotte getting an NFL franchise that there's a statue of him outside Bank of America Stadium.
That's a lot of life spent devoted to football. Unfortunately, Michael McCormack writes, not as much was spent with his kids. And when Big Bear came home after a loss, the author hid in his bedroom to minimize the possibility of having it taken out on him physically. Neither he nor his brother was completely successful.
Michael, who grew up tall and lanky, came to despise football, his father and his family. Yet he admits he rode the cachet of Big Bear's name and fame to get into law school and acquire his first job with a firm.
At his father's 80th birthday party, Michael tells him that he has nothing but good memories and is grateful for their relationship.
"You must have done a lot of forgiving," the father whispers back.
He hasn't. Near the end of the book, Michael has drilled into a VW-size backyard boulder intending to drop in dad's Hall of Fame ring and cement over it. Did he do it? You're left to guess. Symbolic you think?
There's a lot of jargon and acronyms quoted from sports "experts." BIRG (Basking in Reflective Glory), COFF (Cutting Off Future Failure), CORF (Cutting off Reflective Failure), HIF (Highly Identified Fan).
They slow the pace, but McCormack uses them to help explain how he – and America ­– became a football fanatic and his painful journey of getting free.
The NFL's research, he writes, shows that 60 percent of football fanatics get hooked in elementary school. So the league created NFL Rush, which for the last 10 years has offered online games, fantasy football and a cartoon TV series that the Campaign for Commercial-Free Childhood (CCFC) labeled "a program-length commercial for the NFL."
Even what's seemingly good about the NFL is tarnished. Yes, the league has contributed $430 million to charity and youth football programs, $45 million to improve safety at the youth and high school level. But that's .001 of its annual revenue, designed to immerse kids deeper and deeper into the football fanatic culture.
In writing the book, McCormack says he moved from "resentment to bittersweet discovery to fragile forgiveness."
Ultimately, you're not convinced the last part won't crumble like that backyard boulder.
---
Jim Ducibella covered the Washington Redskins, college football and basketball, and golf during 27 years at The Virginian-Pilot. Author of two books, including the 2012 golf book of the year, King of Clubs: The Great Golf Marathon of 1938, Ducibella is a seven-time Virginia sportswriter of the year and 2010 inductee into the Virginia Sports Hall of Fame.
---
---
As an Amazon Associate, Boomer Magazine earns from qualifying purchases from linked book titles.