Boys of Summer
| April 25th, 2015
BOOMER's Steve Clark on playing softball in the golden years
---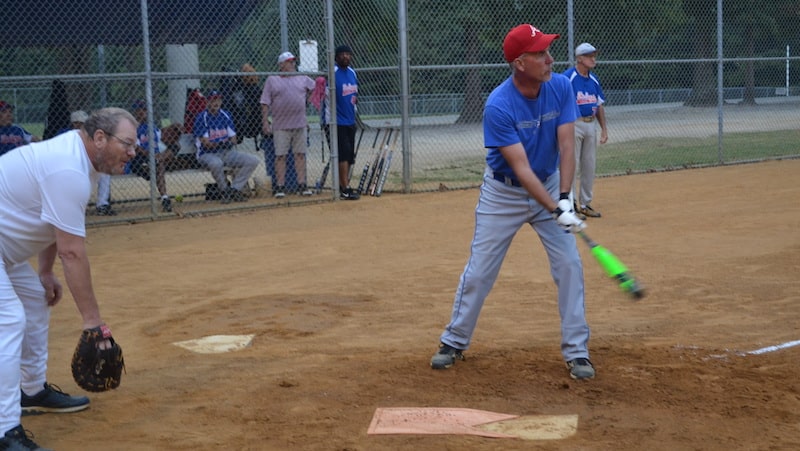 Gowing up on a farm in West Virginia in the 1940s, Lacy Lusk and boys from neighboring farms played a lot of baseball in the summer months. Their field of dreams was a cow pasture.
"We played after we did chores," Lusk said. "We worked all morning, then showed up at the cow pasture around noon. Played all afternoon."
The baseballs were not baseballs.
"Tin cans with tape wrapped around them," Lusk said with a grin.
Their bats were not made by Louisville Slugger. They were made by Lusk's father, Vernie Lusk. "Dad took hickory limbs and whittled 'em down into long bats."
They did not have enough boys to have nine on each side, so, by rule, right-handed batters had to hit the ball toward left field, and left-handed batters had to hit the ball toward right field.
"If you hit the ball to the opposite field, you were out," Lusk said. "And you had to go get the ball. That's why I'm still a pull hitter."
What? He's still a pull hitter? At 75?
SOFTBALL LIFE BEGINS AT 50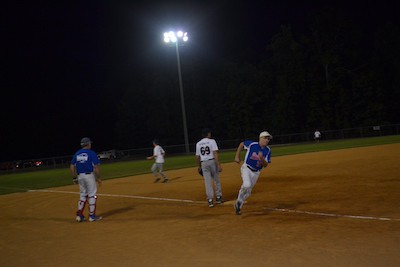 Yep. Lacy Lusk still plays ball. He is one of hundreds of men and women in the Richmond area who play slow-pitch softball in senior leagues in Chesterfield, Henrico and Hanover counties. Richmond does not have a senior softball league, but city residents can play in the counties.
The word "senior" may be misleading.
Men need be only 50 years of age or older to play.
Women, only 40 or older.
But local athletes are playing well into their 70s and occasionally even 80s.
Last season about 230 men and women participated in Chesterfield's three leagues: a coed league with eight teams, a men's competitive Gold Division with five teams, and a men's recreational Silver Division with five teams.
Henrico had one coed league with 12 teams with about 205 players. Hanover had one coed league with 16 teams and about 210 players.All three organizations expect their numbers to be about the same when games begin this spring.
THE HITS KEEP COMING
Lacy Lusk, who umpired an estimated 9,000 slow-pitch games before giving it up to play, is a spring chicken compared with a number of area players.
Nat Atkinson is an 84-year-old retired machinist in Hanover County. "It's good fellowship and good exercise," said Atkinson, who chops firewood to stay in shape.
The oldest female in Henrico's coed league is Betty Fouts, a 77-year-old Dominion Power retiree.
"I agree 100 percent about the fun and the fellowship," said Fouts, who played fast-pitch softball when she was a girl in her native Maine.
This season will be her 27th playing senior softball.
"I played the first year (1988) it was organized," she said. "We had only two or three teams then. I enjoyed it so I kept playing."
Nick Sepe, past president of Henrico's senior softball league, says the game is a rewarding activity for many reasons. Players make new friends and strengthen long-time friendships. They laugh a lot and joke around a lot while playing a sport they have loved since childhood. They are competitive, but winning is not what it's all about. The goal is to have fun, get some exercise and show good sportsmanship.
Kathy Walle, president of Hanover's coed league, which is beginning its 24th season, said the league even has a list of reserve players who may join a team in midseason. "Unfortunately, there are injuries, so a team can replace an injured player," she said.
WANT TO LEARN MORE?
Each organization maintains a website with registration information, playing rules, telephone numbers and email addresses for officers.
For more:
• Chesterfield: chesterfieldseniorsoftball.com
• Henrico: sites.google.com/site/henricosoftball/
• Hanover: hanoverseniorsoftball.org
---
Steve Clark, a frequent BOOMER contributor, is a retired Richmond Times-Dispatch Metro columnist who hung up his softball shoes and glove many beers ago.