Campaign Fever
| December 4th, 2017
Half a century later, Charley McDowell still delivers laughs and hope
---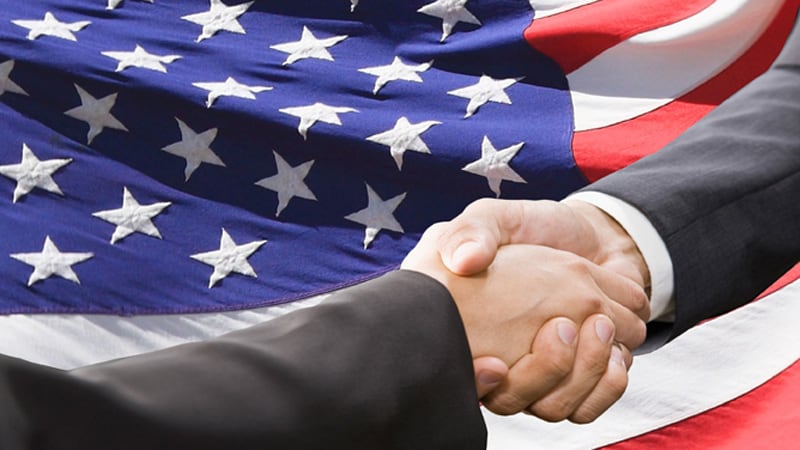 I have just emerged from an election campaign that was surprisingly entertaining. No, not last month's yawn-inducing gubernatorial election, nor even the previous year's presidential election, perplexing as that was.
This was the 1964 election, a cut-and-dried affair in which Lyndon Baines Johnson easily defeated Barry Goldwater. But my tour guide was Charley McDowell – Charles McDowell Jr., actually, as it says on the cover of his book, Campaign Fever: The National Folk Festival, from New Hampshire to November, 1964.
We should all have Charley as a tour guide.
You may remember the erstwhile columnist for the Richmond Times-Dispatch. We at the paper liked him, learned from him, looked up to him. But it wasn't just co-workers and Richmonders. Syndicated columns brought him fans around the country, a number that jumped quantumly (not a word? Should be.) with his 18 years on PBS' Washington Week in Review.
He talked last among four journalists on that program, the only one who seemed to be trying to impress us with how little he knew, rather than how much, which, of course, had quite the opposite effect. The New York Times' John Corry described Charley's Washington Week role thusly: "When he is not sitting in one of Mr. Duke's chairs, one supposes he perches on a cracker barrel. Abetted by his colleagues, he comes close to being a raconteur." He was indeed must-watch TV. (His Kentucky drawl – no doubt moderated by time done at Washington & Lee University, the Columbia School of Journalism and the cities of Richmond and Washington – also can be heard both as an onscreen commentator and off-screen voice of Sam R. Watkins in Ken Burns' The Civil War.)
Charley (no, I never knew why he spelled Charlie that way) died in 2010 at age 84. People remembered his generosity. He had eagerly written a glowing cover blurb for a book of my columns in the 1990s. When I later bought an old book of his columns at the city library, I asked for his signature. He responded with a tribute so glowing that modesty forbids me from quoting it here (I will, however, blow it up to poster size for my wall).
Books that document campaigns are a dime a dozen. But Charley's lean, conversational writing told the human side.
Take Johnson. The President, dubbed "Ol' Cornpone" by the Left and the Right, time and again plunged enthusiastically into large crowds in 1964, pushing Secret Service agents and police aside, Charley writes in Campaign Fever. "The President liked to sit in a rocker at the ranch and reminisce about the old days, but he did not seem to be completely happy unless he could step into the next room now and again, sit down with a clutch of aides who had flown in from Washington, and pass some miracle of state in time for the morning papers. Then he would lead the visitors out to look at his bulls and perhaps to hear one of his favorite stories, the one about Magnus Johnson, the Minnesota congressman who got carried away in debate and bellowed to the House, 'The only thing to do is grab the bull by the tail and look the situation in the face.'"
Or take Barry Goldwater.
During the campaign, the Republican was seen as uncaring on Social Security and nuts on nuclear war. But he seemed a personally decent guy – who would rather be doing anything than campaigning. Reaching one stop early, he and the press found no one but three women in a kitchen making sandwiches, Charley writes. "Goldwater stomped the snow off his galoshes and said hello to the ladies. Then he fell into conversation with several photographers on the subject of lenses. He enjoyed talking about lenses and cameras and deserted the subject regretfully when some reporters gathered around and insisted upon talking politics. A photographer asked the candidate to pose eating a sandwich, for some reason, and he began to eat one. Then one of the good ladies worried aloud about Goldwater having to eat a sandwich without anything to drink. 'Get him some milk,' she said with sudden inspiration, and the candidate was given a paper cup, which he drained obediently without betraying that it was coffee cream."
Charley actually liked politics and politicians. He found the best in people and, while not at all taken in by their political shenanigans, treated them kindly when revealing those shenanigans. He brought clear thinking and a smile. And hope.
We could use him now.
Charley wrote but three books, all while in his 30s, and with his columns and TV programs not often being accessed, I fear he may not be long remembered. (Here's a fine post-retirement speech to call up: "Humor in Politics.") I urge you to pick up Campaign Fever at a library or online, along with his column collections, One Thing After Another and What Did You Have in Mind? Fearing you might not, I'll include some excerpts online with this column, at BoomerMagazine.com/mcdowell.
It's possible their use will somehow infringe on someone's copyright.
But I can hear Charley now. "Ohhhh, that's just NON-sense. You go right ahead and use it." 
---
Ray McAllister, former Richmond Times-Dispatch columnist and former Boomer editor, is the writer of six books. An expanded 10th anniversary edition of his Wrightsville Beach: The Luminous Island, a paperback edition of Ocracoke: The Pearl of the Outer Banks, and an audiobook of Hatteras Island: Keeper of the Outer Banks have just been released. He has also published two books by other writers this year, including Flights of Fancy by Randy and Barbara Fitzgerald. RayMcAllister.com.