Capital Trees and the Low Line Project
| August 16th, 2018
New Richmond nonprofit is working to paint the city green
---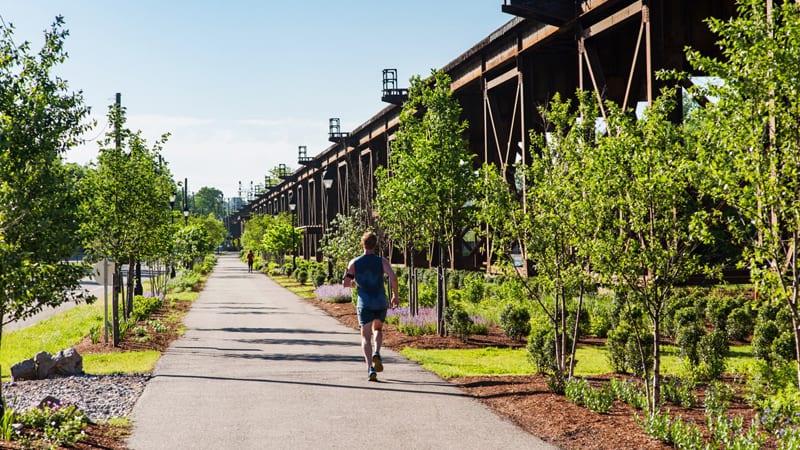 Wilfred Emory Cutshaw, Richmond city engineer from the late-19th to early-20th centuries, broke new ground in beautifying the city. Among other accomplishments, he established a city tree nursery, planted 50,000 trees and transformed Boulevard into a scenic parkway. A new Richmond nonprofit seems to share Cutshaw's vision.
Capital Trees was formed in 2010 by the members of four local chapters of the Garden Club of Virginia to enhance urban landscapes while benefiting the environment. The nonprofit group's pilot project added trees and a stormwater bio-filtration system to the 14th Street corridor between Broad and Main streets.
It was downhill from there: Capital Trees shifted attention to Great Shiplock Park and the Virginia Capital Trail between Dock Street and the canal.
"Our task is creating green spaces, but when there's history that supports and reinforces why we're doing it, and there are ecological benefits, for us it's a no-brainer," says Frazier Millner Armstrong, Capital Trees executive director.
"We were a brand-new group," recalls board chair Susan Robertson. "We were unproven. We knew we had an idea; we knew that there was nobody else that was advocating for this. But we had to prove ourselves."
Collaborating with the Capital Trail Foundation, the group started with Great Shiplock Park, including a rain garden to clean runoff before it drained into the canal.
From there, Capital Trees is working its way west, as funding allows.
The 5.5-acre Low Line Gardens project, completed in November 2016, enhanced the trail through horticultural restoration and improved upon the 3-acre riparian buffer. Plantings included 88 native trees, 950 native shrubs and 15,000 perennials and ornamental grasses. Capital Trees provides ongoing maintenance for its projects as well.
"We also want to provide education," says Robertson, such as through interpretive signage and school tours.
Next up is the Passage, where the Capital Trail runs under the CSX trestle, then Low Line Park, south of the floodwall. Besides plantings, the Low Line Park project will divert water from four drainpipes, which currently channel water directly from highways overhead onto the ground and into the canal. After completion, the water will drain into a bioengineered rain garden to filter and clean it.
Besides the expertise of the nonprofit's all-volunteer board, Capital Tree has worked with numerous partners, including the City of Richmond, the Virginia Department of Forestry, and volunteers and donors from Garden Clubs, businesses, nonprofits, foundations and schools.
The supporters of Capital Tree are motivated by the benefits of urban green spaces – social, economic and environmental; for residents' physical and psychological health; and for improved quality of life for all. Says Robertson, "Most of us are fortunate enough to know how good it feels to be out in nature, and we want everybody to experience this."
Wilfred Emory Cutshaw would be proud.