Celebrity Tributes to Naomi Judd
| May 9th, 2022
People from across the music industry voiced their mourning of the country music legend
---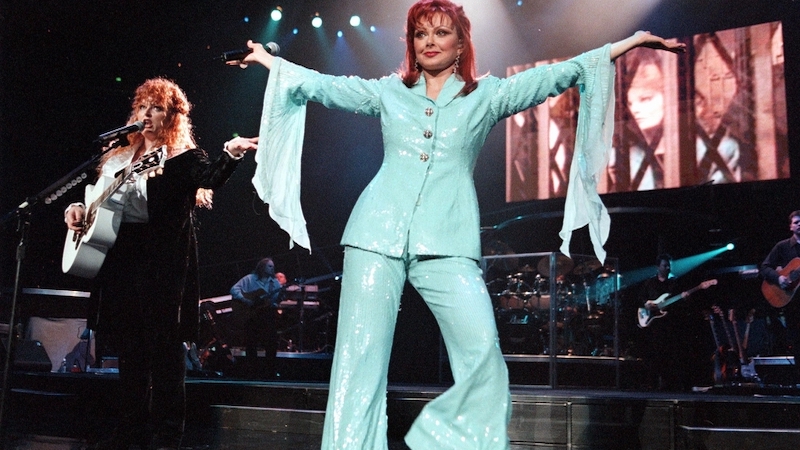 When news broke on Saturday that Naomi Judd had died, figures from across the music industry voiced their mourning of the country music legend, remembering the life of the Judd family matriarch. On social media and in other ways, they offered tributes to Naomi Judd, to her life and legacy.
Judd died at the age of 76. No cause of death was immediately given, although in a statement daughters Wynonna Judd and Ashley Judd attributed their mother's death to "the disease of mental illness."
---
Later, news sources announced that the star, who had struggled with depression for year, died by suicide. Judd not only struggled with mental illness, she was an outspoken mental health advocate.
---
"Today we sisters experienced a tragedy," the statement said. "We lost our beautiful mother to the disease of mental illness. We are shattered. We are navigating profound grief and know that as we loved her, she was loved by her public. We are in unknown territory."
The announcement came the day before the Judds were set to be formally inducted into the Country Music Hall of Fame at a medallion ceremony in Nashville.
Tributes to Naomi Judd
Carrie Underwood
Carrie Underwood, who is set to perform at the Stagecoach Festival on Saturday evening, offered a tribute in the afternoon, saying that "country music lost a true legend."
Country music lost a true legend…sing with the angels, Naomi!!! We're all sending up prayers for the Judd family today…

— Carrie Underwood (@carrieunderwood) April 30, 2022

Maren Morris
Maren Morris also offered a tribute, recalling Judd's performance of The Judds' "Love Can Build a Bridge" at the Country Music Television Music Awards, which occurred earlier in April.
Rest In Peace, Naomi Judd. Honored to have witnessed "Love Can Build a Bridge" just a few short weeks ago.

— MAREN MORRIS (@MarenMorris) April 30, 2022

CMT Music Awards
The CMT Music Awards shared a video of Judd performing alongside her daughter, honoring the "many unforgettable moments and performances" she was responsible for at the annual ceremony.
Tanya Tucker
Tanya Tucker tweeted prayers for the family, and issued a separate statement as well.

"Say it isn't so," Tucker wrote in a separate statement. "Cannot believe my girlfriend and longtime buddy Naomi is gone. We've known each other for years and she always treated me with class, grace and pure kindness. I'm going to miss her so much."
David and Howard Bellamy
David and Howard Bellamy wrote: "Our prayers go out to Naomi's husband, daughters, family, friends, and fans. We, like everyone who knew her, are devastated by the news of her passing. We will always hold near and dear the memories of touring with The Judds and visiting with Naomi backstage at so many events through the years. May you Rest In Peace, Naomi."
Gene Watson
Gene Watson wrote: "I remember how kind and nice Naomi was when we worked together. She was a good person with a generous spirit toward everyone she met. I'm keeping her family in my thoughts and prayers at this difficult time."
---
From Boomer: Take mental illness and suicide out of the silos of silence
---
Meghan Linsey
Meghan Linsey wrote: "I really don't have the words right now. Naomi meant so much to me. She took me under her wing and taught me so much. She will forever be my Country Fairy Godmother. I am so grateful for her friendship."
Billy Ray Cyrus
CMT
In a video on Twitter, CMT shared:
We're heartbroken to learn about the passing of the legendary Naomi Judd & honored to have shared many unforgettable moments & performances together. Our hearts go out to her husband Larry, daughters Wynonna & Ashley, & legions of fans around the world during this difficult time.

— CMT (@CMT) April 30, 2022

Bill Anderson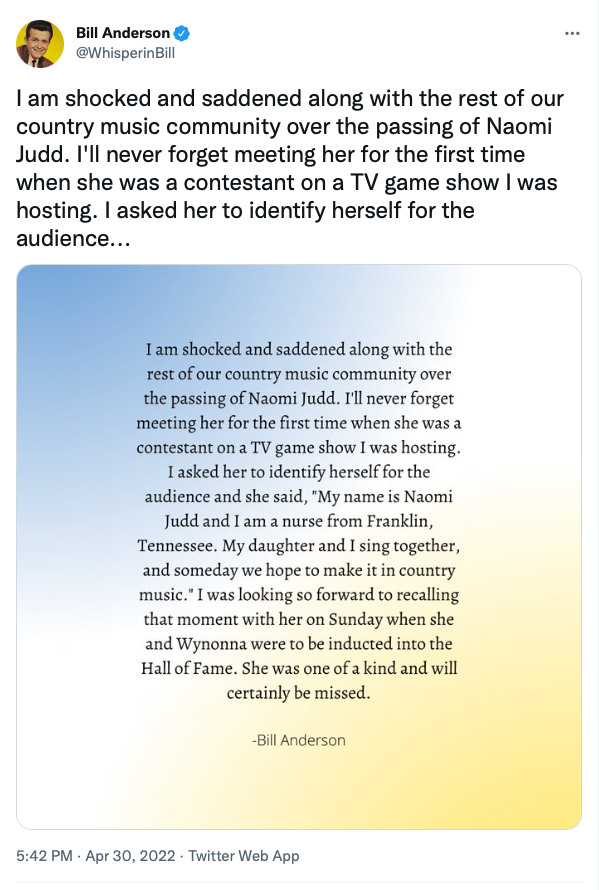 Loni Love
Television host and comedian Loni Love recalled her own relationship with Judd and expressed her condolences to the country legend's daughters.
Back in 2003 Naomi Judd was a judge on Star search.. she gave me a perfect score and that changed my life.. Thank you Ms. Judd. She was a lovely woman and now the world is a little less bright without her. Condolences to her family and fans. Especially Wynonna and Ashley.

— Loni Love (@LoniLove) April 30, 2022
Rosanna Arquette
Actress Rosanna Arquette offered her own sympathies to Wynonna and Ashley.
I'm very sad to hear that Naomi Judd has passed away. Rest In Peace .Sending love and light to Ashley and Wynonna and all who love her.

— rosanna arquette (@RoArquette) April 30, 2022

Kristen Chenoweth
Kristen Chenoweth stated it was "an honor" to meet Judd years ago: "I never thought she'd go."
I had the honor of meeting Naomi Judd years ago and she was so incredibly kind. Sending love and prayers to Wynonna, Ashley, and the whole Judd family during this time. I never thought she'd go

— Kristin Chenoweth (@KChenoweth) April 30, 2022

'Today' anchors
"Today" anchor Hoda Kotb shared that she and Kathie Lee Gifford, her former co-host of 11 years, treasured Judd's appearances on the talk show.
So saddened by this news. @kathielgifford and i treasured the moments we shared with her on our show. One of a kind RIP Naomi Judd, of Grammy-winning duo The Judds, dies at 76 | AP News

— Hoda Kotb (@hodakotb) April 30, 2022

---

If you or someone you love is struggling with thoughts of suicide, please call the National Suicide Prevention Line at 1-800-273-8255 for 24/7 assistance.

---

Oak Ridge Boys
The country and gospel quartet Oak Ridge Boys shared that their members were "saddened beyond words" by the sudden loss.
Oh Sweet Jesus… Naomi Judd has gone home … the day before the Judds @countrymusichof induction … This is divesting news… We are saddened beyond words…

— The Oak Ridge Boys (@oakridgeboys) April 30, 2022
More tributes to Naomi Judd
I'm just heartbroken over the loss of @TheNaomiJudd. My fellow Kentucky girl, my friend, and an amazing singer. There are no words. Please pray for Wynonna, Ashley, Larry, and grandchildren. Heartbroken. Sending all my love.
— Loretta Lynn (@LorettaLynn) May 1, 2022
I loved Naomi Judd. Among her many talents, she was just so much fun, a great storyteller and a wonderful spirit.
— Andy Cohen (@Andy) April 30, 2022
This is heartbreaking news! Naomi Judd was one of the sweetest people I've ever known. I had the honor of working with her in movies and numerous musical events. My deepest heartfelt condolences go out to her family.
— Travis Tritt (@Travistritt) April 30, 2022
I'm so sad about Naomi Judd. She was so lovely & warm & fun but the thing I remember best was how proud she was of her daughters, she talked about them the whole time. My heart breaks for her family.
— kristen johnston (@thekjohnston) April 30, 2022
RIP Naomi Judd. My mom taught me seemingly every one of your songs. She'd sing them often and loud. You left Country Music better than you found it.
— Bobby Bones (@mrBobbyBones) April 30, 2022
Naomi Judd was a lovely woman and I'm very sorry to hear about her passing. May she find peace at last. My deepest condolences to her daughters. May God bring them comfort in this hour of their agony.
— Marianne Williamson (@marwilliamson) April 30, 2022
Silence so deep only my soul can hear
Says now the past is what I fear
The future isn't what it used to be
Only today is all that's promised me
Flow on River of Time
I love you, Naomi Judd. January 11, 1946 – April 30, 2022
Flow on River of Time
I love you, Naomi Judd. January 11, 1946 – April 30, 2022
— Hunter Kelly (@hunterkelly) April 30, 2022
Deepest sympathies @AshleyJudd and @Wynonna. Rest easy, Naomi Judd.
— AmandaShires (@amandashires) April 30, 2022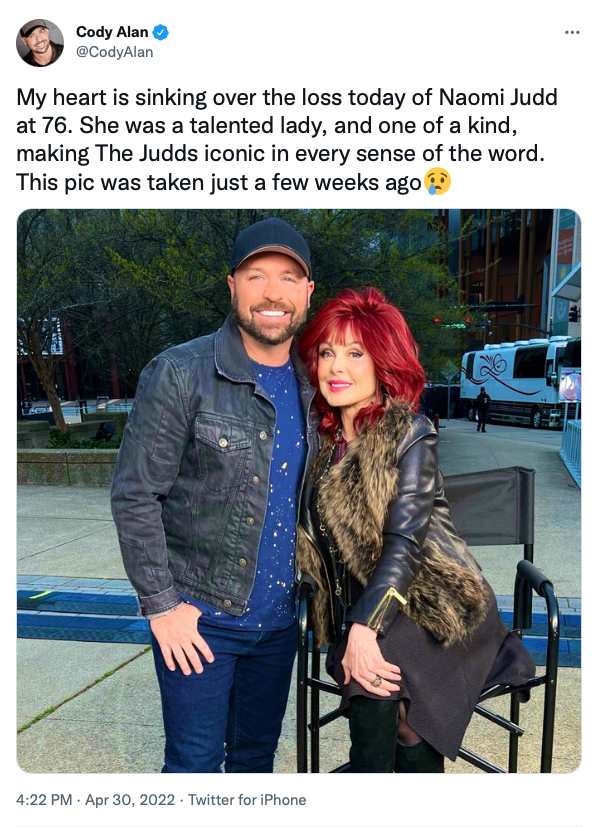 — Cody Alan (@CodyAlan) April 30, 2022
Naomi Judd so sad to hear this news. Thinking of all of her family & friends. Tough day for country music..
— Cole Swindell (@coleswindell) April 30, 2022
I am absolutely heartsick to hear the news about Naomi Judd. My heart and my prayers go out to Wynonna, Ashley Judd, and all of us friends and fans who loved and respected her so much. She is irreplaceable — a country music legend will never be forgotten.
— Ty Herndon (@TyHerndoncom) April 30, 2022
Rest in power Naomi Judd
— Mickey Guyton (@MickeyGuyton) April 30, 2022
---
© 2022 Variety Media, LLC, a subsidiary of Penske Business Media; Distributed by Tribune Content Agency, LLC