Chesterfield County's Newest Park
| November 21st, 2016
Appomattox River Trail in Ettrick
---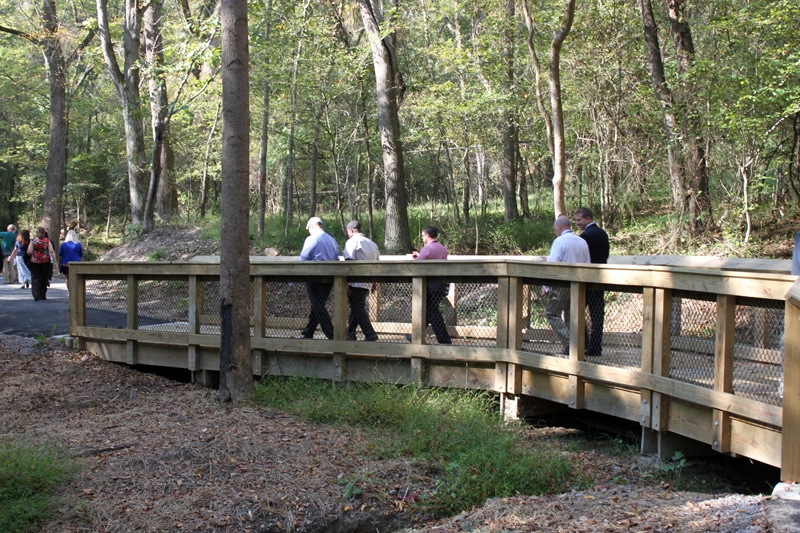 Chesterfield County has dedicated its newest park. The 47.8-acre Appomattox River Trail park borders Virginia State University (VSU) at 3801 Main St., Ettrick, in South Chesterfield. The property is part of the 416-acre VSU Randolph Farm agricultural research and education center, west of the main campus.
The river is an integral part of this park in name and in vision. One mile of the park's southern edge fronts the lower Appomattox River, a segment that is designated as a scenic river in the Virginia Scenic Rivers System. The county acquired the park in 2010 by lease from Virginia State University, with the shared vision of developing trails along the river.
"This park will be used for walkers, runners and bikers, and for those who just want to enjoy and observe nature," said Steve Elswick, chairman of the Chesterfield County Board of Supervisors on the opening of the park. "It will become a resource for educational projects centered on its natural or historic resources. And, I know that Parks and Recreation has already added a number of different programs to encourage citizens to enjoy this location."
Although the existing asphalt trail is only 0.35 mile, the vision is for the park to become part of a larger trail network, connecting other locations up and down the river. Another organization working towards this vision is Friends of the Lower Appomattox River (FOLAR). FOLAR is promoting the Appomattox River Trail, including branding, signage and potential trail routes along 23 miles of the Appomattox River between Lake Chesdin and City Point Park, at the convergence with the James River.
FOLAR, a nonprofit "dedicated to conserving and protecting the natural, cultural and recreational resources along the Lower Appomattox River," emphasizes that the linear parks and trails can enhance economic development opportunities, foster environmental stewardship and improve quality of life.
The Appomattox River Trail will also link up to paths that are part of Chesterfield County's Bikeways and Trails plan, providing connections for bikes and pedestrians throughout the county and to the City of Richmond and the James River and other points beyond the county.
Other development possibilities include a boardwalk and river overlook, a walkway suspended under the railway bridge over the river to Petersburg and more trails, including a one-mile asphalt trail west along the river.