Chicken-Avocado Salad Sandwiches
| September 6th, 2023
A welcome twist on chicken salad
---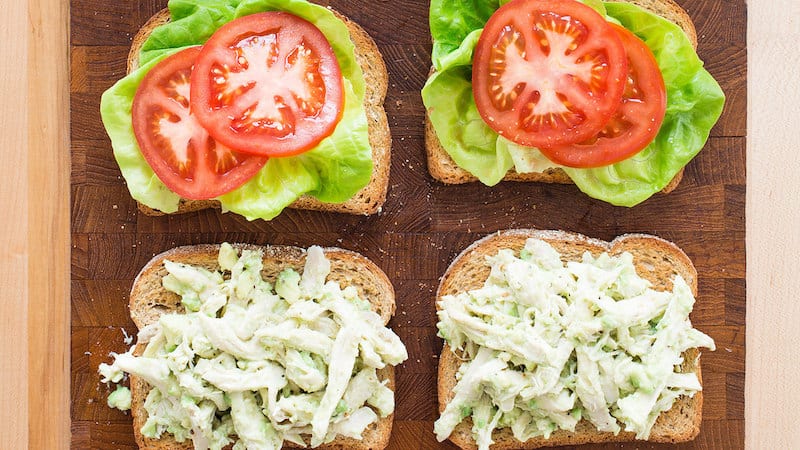 Tired of routine? We have a new recipe for you from America's Test Kitchen! Great for bridge club, weekend lunch, a weeknight dinner, or even a working lunch, this Chicken-Avocado Salad is sure to tickle your taste buds. It combines tangy buttermilk, mashed avocado, and a lime vinaigrette to switch up the traditional chicken salad recipe.
Chicken-Avocado Salad Sandwiches
Serves 4
Ingredients:
1/4 cup buttermilk
2 tablespoons lime juice
1 tablespoon extra-virgin olive oil
1 teaspoon sugar
Salt and pepper
1 ripe avocado, halved, pitted, and chopped coarse
1 (2 1/2-pound) rotisserie chicken, skin and bones discarded, meat shredded into bite-size pieces (3 cups)
8 slices hearty sandwich bread, toasted
1 head Bibb lettuce (8 ounces), leaves separated
2 tomatoes, cored and sliced thin
Directions:
Combine buttermilk, lime juice, oil, sugar, 1/2 teaspoon salt, and 1/2 teaspoon pepper in a medium bowl. Add avocado and mash into dressing with a fork. Stir in chicken until fully combined. Season with salt and pepper to taste.
Place heaping 1/2 cup chicken salad on each of 4 bread slices. Divide and arrange lettuce and tomatoes over chicken salad, then top with remaining bread slices. Serve.
---
Jalapeño Popper Grilled Cheese Sandwich, from Seniors Guide
---
For 25 years, home cooks have relied on America's Test Kitchen for rigorously tested recipes developed by professional test cooks and vetted by 60,000 at-home recipe testers. The family of brands – which includes Cook's Illustrated, Cook's Country, and America's Test Kitchen Kids – offers reliable recipes for cooks of all ages and skill levels. See more online at www.americastestkitchen.com/TCA.
©2023 America's Test Kitchen. Distributed by Tribune Content Agency, LLC.
---
The Best Breads for Sandwiches
Sandwiches make delicious and nutritious lunches and even on-the-go breakfasts and simple suppers. What you fill them with has a lot to do with how healthy the meal becomes, but the building blocks, or the outsides of your sandwich, impact that as well.
Dietitian Heidi McIndoo suggests the best breads for sandwiches, what to look for in ensuring a healthy and nutritious sandwich.