Choosing the Right Outdoor Bar Furniture
February 7th, 2023
Tips for creating a space that fits
---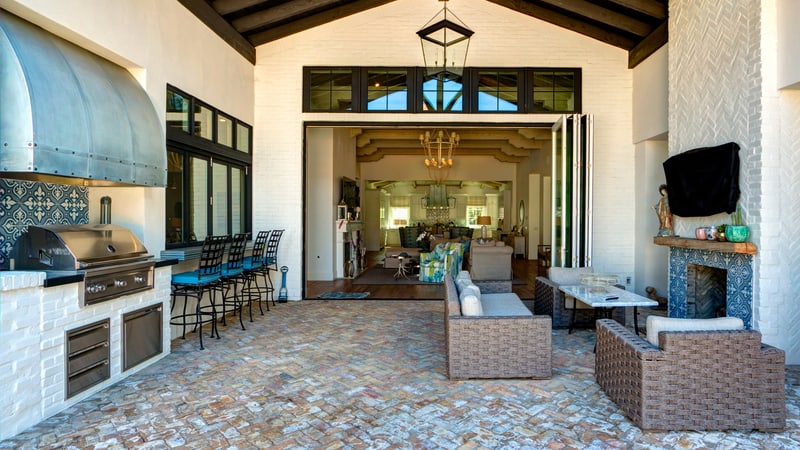 Choosing the right outdoor bar furniture for your space can be tricky. There are so many options available, and it can be tough to know which pieces will work together to create a cohesive look. But don't worry – with a little bit of planning, you can easily find furniture that matches your personal style. Here are some tips to get you started.
Consider the space you have to work with – do you have a large patio or deck, or is your outdoor area more limited?
When selecting outdoor bar furniture for your patio or deck, it is important to consider the amount of space that you have to work with. If you have a larger outdoor area, you may be able to opt for large sectional seating and multiple pieces of furniture. Conversely, if your outdoor space is more limited, selecting compact outdoor bar furniture such as bar tables and high-top stools can provide efficient seating options without taking up too much room. Additionally, take into account the design elements in the rest of your outdoor space in order to choose outdoor bar furniture that will blend in nicely and create an inviting atmosphere.
Think about functionality – what do you want your outdoor bar furniture to be used for (e.g., entertaining guests, relaxing in the sun)?
When deciding on outdoor bar furniture, it is important to consider how your space will be used. Will you be entertaining guests in the outdoor area? Or do you prefer a comfortable spot for relaxing in the sun? The perfect outdoor bar furniture should feature characteristics that make your outdoor gathering experience complete. Choose options with seating for all your visitors, a countertop surface to mix drinks and serve food, as well as smooth surfaces on which to confidently place beverages. Unexpected splashes are no worry when the outdoor bar furniture is made of durable materials that withstand outdoor elements and routine cleaning.
Choose materials that will withstand the elements and match your home's exterior design.
When shopping for outdoor bar furniture, it is important to make sure that the materials you select can hold up to outdoor elements and will maintain a crisp, polished look over time. Consider how your outdoor bar furniture's aesthetic fits with the overall exterior design of your home as it should coordinate with the way you have chosen to communicate a look and feel through multiple outdoor fixtures. Research materials such as treated lumber, cedar and other synthetic materials which may be resistant to warping, weathering, corrosion, mildew and bacteria growth. Ultimately, identify which materials are best suited for your home's outdoor environment.
Shop around for the best deals on outdoor bar furniture that fits your budget and style preferences.
Shopping for outdoor bar furniture can be daunting, especially given the sheer amount of options available. However, it's important to shop around and compare prices to ensure you get the best deal possible. Price isn't everything; it's also important to make sure you have outdoor bar furniture that is both stylish and comfortable, so take time to explore a range of pieces. With some research and careful decision making, you'll be able to find outdoor bar furniture that meets both your style preferences and budget.
Taking the time to select perfect outdoor bar furniture can be an exciting process – from researching the best styles and designs available, to picking out materials that fit with your home's design, to ensuring your space is optimized for whatever function you choose.
With a little bit of effort and consideration, you're sure to find the perfect patio piece that fits your budget and meets all of your expectations. So whether you're in search of a traditional set up or prefer more modern décor, there are plenty of options out there to make sure you get the perfect setup for any outdoor party or special occasions. Finally, don't forget that quality always comes before quantity – invest in good quality materials and furniture that will last you many years to come!