Legends on Grace: Robin and Linda Williams
So sorry, this contest ended on October 20, 2021.
---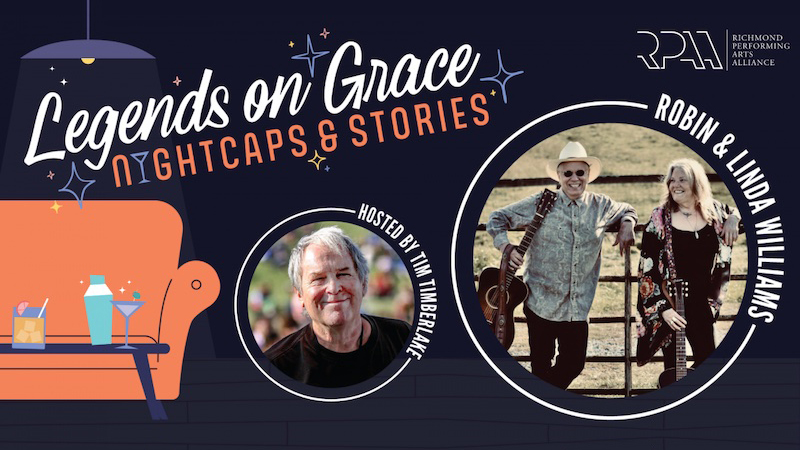 Richmond-famous celebrity Tim Timberlake hosts "Nightcaps & Stories," a 90-minute, up close and personal cabaret-style series that honors Virginia's musical artists. They share their legendary journeys, accompanied by the songs of their pasts, seated on a comfy sofa with favorite beverage in hand! Both in-person and on-demand options available. On Oct. 23, look for these two … Legends on Grace: Robin and Linda Williams. This long-time Virginia-roots duo performs their own blend of folk, bluegrass, and acoustic country music at concerts, on television, and radio shows including many performances at the Grand Ole Opry and A Prairie Home Companion.
Excited? Enter to win two tickets of your very own to see Legends on Grace: Robin and Linda Williams!
Oct. 23, 8 p.m., at Rhythm Hall at Dominion Energy Center
Contest runs through Oct. 20. Winners will be notified after contest close date.
Thanks to all who entered! Sign up for our newsletter for weekly opportunities to win!
Other Chances to Win
Be the first to know about all of our contests and special offers on Facebook& Twitter .
Our contests are open to residents in and around the metro Richmond area. Prizes are from local sponsors.
Upon entering, you are now eligible to receive a weekly newsletter featuring exclusive articles, contests, and happiness. If that's not really your thing, though, we will provide the opportunity to opt out.