Coffee with ... Tim Timberlake
| October 9th, 2018
No mic drop yet for Richmond's famed radio man
---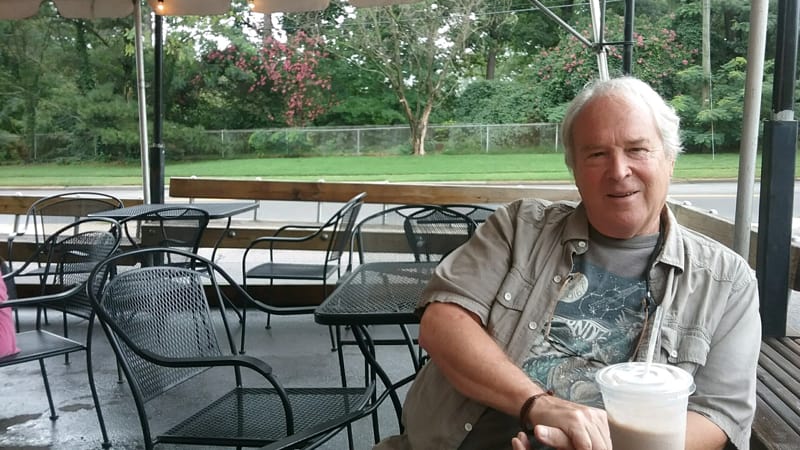 Tim Timberlake, if you want to look at it this way, has been retired for 17 years.
Sort of.
You remember Timberlake. Many of us met him at least as long ago as 1985. Tim was brought in by WRVA, Richmond's AM radio powerhouse, to share the air with the legendary Alden Aaroe. They co-hosted for eight years, crushing the competition, and Tim continued eight years after Aaroe retired. He's got a closetful of radio awards.
Now all the likable man with the smooth voice does is produce audio and videos, create voiceovers, and consult on half a dozen big music events a year. He is president of music-supporting JAMinc. He hosts the weekly public radio program "In Your Ear" on WCVE-FM.
And of course, he'll be the final-day emcee for one of the state's largest events, the Richmond Folk Festival, Oct. 12-14, along the riverfront.
That's all.
Oh, and he and his wife, Deveron, now live part of the year in Portland, Oregon, to be closer to grandchildren.
We met up recently at Crossroads in South Richmond. Tim, who turns 70 in November, seems the poster child for baby boomers who begin "second acts" after leaving their 9-to-5 jobs.
FROM INTRO TO REFRAIN
But let's go back to the start.
It was in 1970, while majoring in economics at Randolph-Macon College, he says, that he became a part-time announcer and news anchor for WRVA. Four years later, he took over as the station's twice-a-day traffic-copter reporter.
His predecessor, Howard Bloom, had been killed in a crash.
Not an auspicious setting, but Timberlake took the job, also hosting a midday music show. Along the way, he learned to fly, aided police searches and reported on the massive Little Oil Co. fire. He saw everything. "Before Google Maps," he says, "that was the only way to see some of Richmond's hidden treasures that you couldn't drive to."
In 1978, he left to freelance voiceovers and commercials, later adding a morning show on WEET-AM. By '85, he was back at WRVA, becoming a legend alongside THE legend. He learned a lot. "I think we all gravitated toward family and comfort … thanks to Alden setting the tone.
"People still ask about Alden all the time," he adds. "He was such a part of their lives."
He remembers all the WRVA team fondly, especially including reporter Deveron Castle, who became his wife. He also co-hosted Channel 12's noon TV show for five years.
Yet when new owners turned WRVA to a more information-driven station, he says, "I wasn't the right guy for what they wanted to do. I'd mostly been in radio for the music.
"[So] I retired in 2001. But I knew I couldn't stop working."
Needing a paycheck, he returned to voiceovers and narrations. Through a friend, he connected with the Bon Secours Health System, starting a 10-year run of emceeing events and interviewing doctors for radio spots.
"I've never been a goal-setter," he says. "The right doors have opened at the right time along the way. I'm thankful for that."
Soon he was involved with JAMinc, begun in 2001 by Wally Thulin and Doug Richards to bring jazz, folk and bluegrass music to town. The late singer Robbin Thompson began JAMinc's In Your Ear concert series. The concert total is now over 100, with highlights of half having aired on WCVE radio (which will broadcast the Folk Festival).
"We also take each artist to a couple of in-school performances," Tim adds. "We've put live music in front of 90,000 students."
In other words, the man is still nowhere near real retirement.
"I guess it's all very selfish," Tim says, knowing it's more. "I'm doing things that I want to do … I'm beyond grateful for this time to do things I really enjoy that may also have a positive impact on others."
Sure beats doing nothing.
For more, visit RichmondFolkFestival.org, IdeaStations.org/IYE, and JAMinc.org. 
---
Ray McAllister, former Richmond Times-Dispatch columnist and former Boomer editor, is the writer of six books, including four award winners on the North Carolina coast, and the publisher of others, including a just-released book, The Senator's Son: The Shocking Disappearance, The Celebrated Trial and The Mystery That Remains a Century Later by Charles Oldham. RayMcAllister.com.