Placid Pura Vida
| August 31st, 2018
Two sides of Costa Rica
---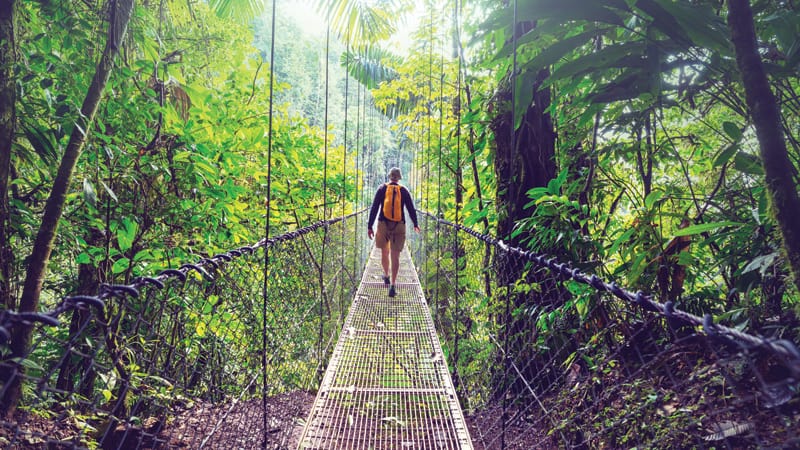 Find your own Pura Vida in Costa Rica. Abundant nature and the laid-back life will wash you with the spirit of a "pure life."
---
You can travel to Costa Rica to experience its lush landscapes and rich biodiversity, hosting more than 850 species of birds, 250 species of mammals and myriad butterflies, reptiles, amphibians and other wildlife you've seen only in a zoo. You can go to find out what makes it one of the happiest countries in the world or why International Living named it the number one retirement destination for 2018. Or you can simply go for relaxation, adventure and fun times.
On a recent trip, I sampled two different aspects of this Central American country, and both shed light on the Costa Rican saying, "Pura vida." In both, the nearness of nature and the prevailing laid-back attitudes washed me with the spirit of a "pure life."
SÁMARA: TASTE THE TICO LIFE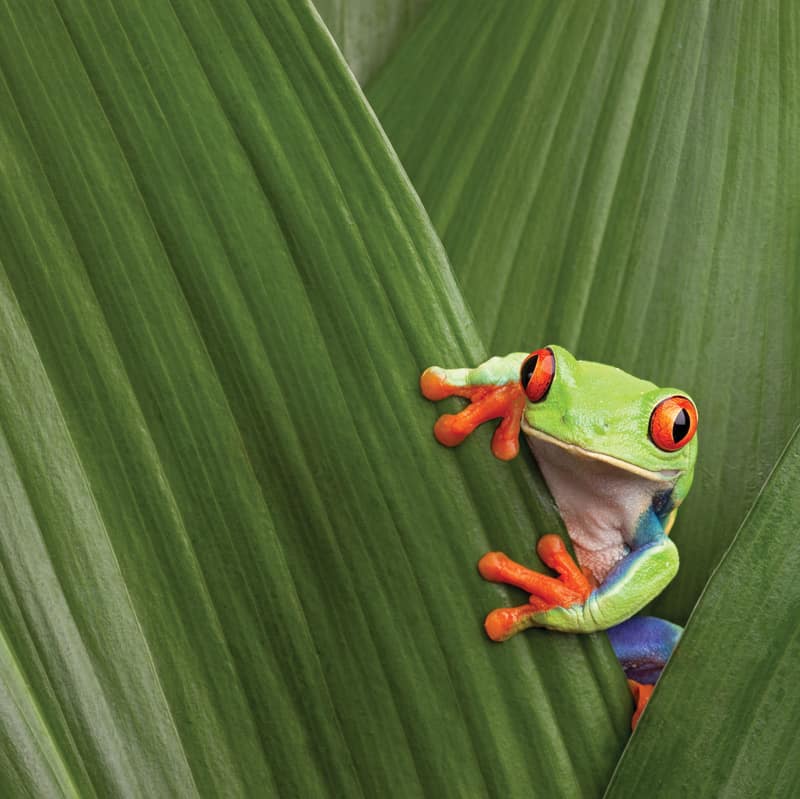 At the small B&B where my friends and I stayed near Sámara, we saw – and, especially, we heard – tree frogs, exotic birds and howler monkeys (the calls of these non-aggressive, vociferous primates carry for two to three miles!). We also spotted lizards, white-nosed coati, deer and iguanas.
A 10-minute bike ride took us to the small but bustling town. The organized chaos on the roadways mixes pedestrians, bicycles, scooters, motorcycles, cars, trucks and buses, all peaceably sharing the route with amicable wandering dogs, chickens, horses (with and without riders) and livestock.
Sámara is populated by native Costa Ricans (Ticos), expats and a few visiting students and tourists. The beach (playa), with Pacific waves softened by an offshore reef, provides activities such as swimming, kayaking, beginning surfing and stand-up paddleboarding.
Besides swimming and sipping cocktails beachside, my companions and I wandered the streets, shopped the vendors, visited waterfalls and hiked down to the "secret beach" and up to the clifftops for truly memorable views.
A coffee shop and bakery with WiFi served as my "office" and favorite people-watching spot: pedestrians and cyclists, Ticos hanging out at the convenience store next door, tourists and expats. I enjoyed an engaging conversation with 72-year-old Walt, a New York City native now living in Sámara, and Sarah, an American student at the local language school.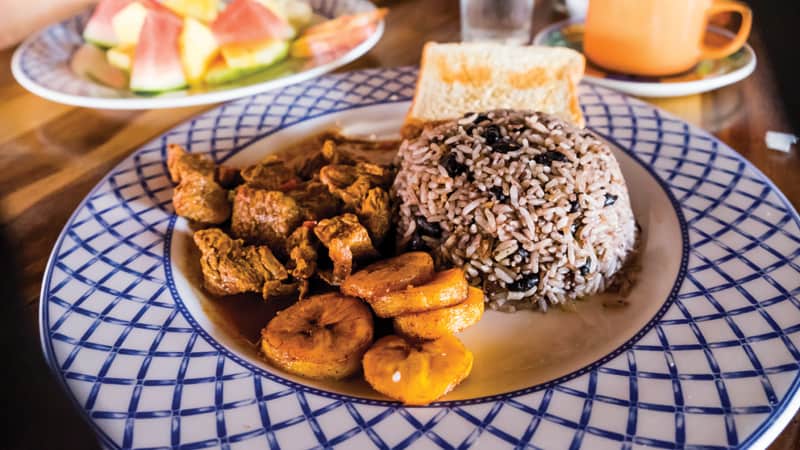 Restaurants and bars in Sámara serve local cuisine and international flavors. Typical fare (comida típica) was simple: fresh mango, papaya and pure fruit smoothies; casados for dinner (rice, beans, a protein such as fish, beef or chicken, plantain and salad); and rice and beans, eggs, meat, cheese and plantain for breakfast.
My friends and I ate at inexpensive, family-run sodas (expect to ask for the bill, because your hosts will not be hustling you out to turn over tables!). My favorite restaurants: beachfront Luv Burger, an amazing vegetarian restaurant, including a BLT-like sandwich with crunchy, smoky coconut chips and avocado; and Ahora Si, from Italian expats featuring homemade Italian food and fresh-ingredient cocktails.
And every meal was open-air dining!
Friendly locals welcome tourists and many speak English, but the town retains the local culture.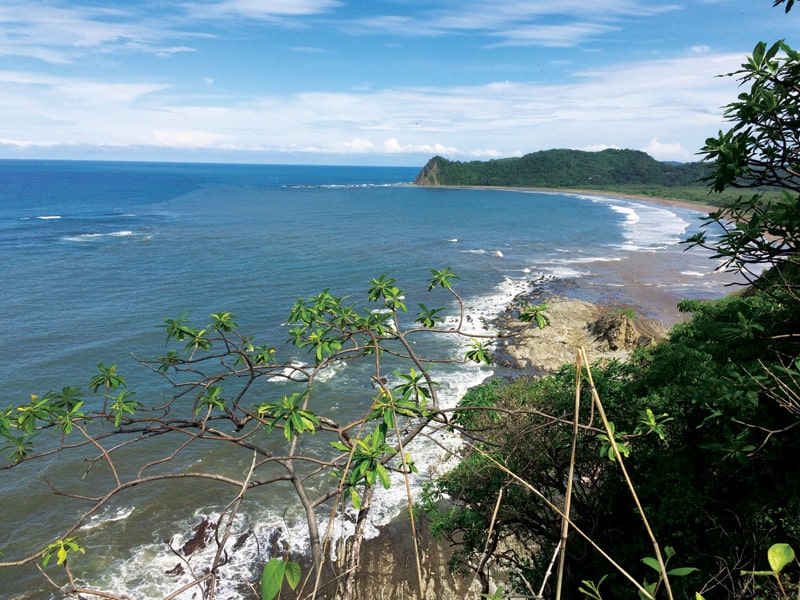 LA FORTUNA: NATURAL SITES FOR VISITORS
In central Costa Rica, tourist-focused resorts near La Fortuna offer comfort, convenience and opportunities for enjoying Costa Rica's tropical rainforest. The cone-shaped Arenal volcano rises majestically above the surrounding landscape.
Geothermal-heated mineral hot springs dot the region. Visitors can go to manicured pools of various temperatures with poolside bars and other fancy amenities. We opted instead to hang out with Ticos and tourists in the free, bathwater-warm natural hot springs river.
Guided tours offer adventure and information, from adrenaline-pumping – think canyoning, waterfall jumping, ziplining and mountain biking – to sedate – such as flatwater kayaking, guided hikes, sunset cruises, cooking classes, and coffee, chocolate and community culture tours.
On our stroll through the hanging bridges trail at Mistico Park, the guide pointed out exotic flora and fauna: we saw deceptively winsome blue-jeans poison dart frogs, vibrant yellow tree-climbing eyelash vipers, lizards, cicadas, a poisonous caterpillar, and a motmot bird and its burrow.
While providing comfortable venues for tourists – restaurants, bars and souvenir shops – the little town of La Fortuna still offers plenty of local culture.
PLANNING YOUR TRIP TO PURA VIDA IN COSTA RICA
Whether you choose to be a "sloth" or spend your time exploring, two guidebooks can help you choose among the many faces of Costa Rica. Insight Guides: Costa Rica gives an in-depth, illustrated exploration of history and culture, detailed maps and inspiring photos. The Rough Guide to Costa Rica suggests the businesses – accommodations, restaurants, services and more – that you'll need to make the most of your trip. Both books cover topics such as money, food, transportation, wildlife, etc.
Boomer editor Annie Tobey, the Active Woman Traveler, embraces the tag line that incorporates a dual focus on outdoor travel and craft beer: "A breeze on my face and a draft on my lips!"