Creative Alternative Fitness Classes
| January 9th, 2020
Add a twist to make exercise less routine
---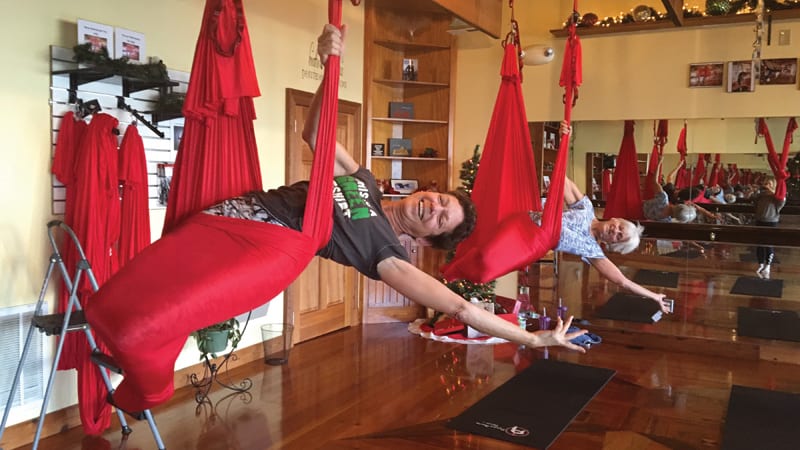 Back in the late 1970s and early 1980s, I loved going to aerobic dance classes at the gym. If I didn't feel like leaving home, I could pop in a VHS tape and start "Sweatin' to the Oldies" with Richard Simmons. Fast forward to 2020: boutique and class-based alternative fitness studios have taken enjoyment in exercise to an entirely new level.
Consumers of all ages are seeking more intimate spaces to exercise. They like seeing familiar faces, and they enjoy the camaraderie. At boutique studios, they can choose specific workouts with their favorite equipment or programs that offer one-on-one training for targeted results. Many Richmond options cater to those desires.
HANGING AROUND
Sue Carson enjoys aerial yoga at Fighting Gravity Fitness, which allows participants to reach new heights of alternative fitness, literally. The studio's aerial yoga classes combine yoga, Pilates, dance and acrobatics – all done in a hammock. Carson explained, "Any stretch on the floor feels even better in the hammock. It provides more support, is gentle on the body, and my joints and muscles are more comfortable."
Carson didn't start exercising until she was 50 when she wanted to lose weight and become stronger. Now 73, she's been going to this studio for four years. Her advice: "Don't be afraid to try something new. Walk in the door with an open mind, and be surprised!"
Audrey Bonafé, owner and instructor at Fighting Gravity Fitness, began exercising in her 40s when she developed osteopenia, a bone issue that could lead to osteoporosis. She discovered Zumba and became an instructor. A torn tendon, surgery, back problems and stress from family health issues led her in search of an exercise that was easier on her body. Bonafé discovered aerial yoga and said, "In that first class I felt relaxed, secure and cradled."
Bonafé emphasizes that her studio is specifically for those who want to exercise, while other local aerial studios are more geared toward performing and circus acrobatics. She said, "Everyone thinks you have to have lots of strength, but the hammock helps you with balance and allows you to go deeper into some of the stretches."
RAISING THE BARRE
While the hammock is a few feet off the ground, you'll find a wide variety of mat yoga studios in the area. One studio, The Hot Yoga Barre, offers yoga or barre classes for all levels, plus two combination high-intensity interval training classes to increase your strength, flexibility and cardio.
Barre classes use a ballet barre for some exercises. Pure Barre studios feature a 50-minute total body workout that focuses on low-impact, high-intensity movement. Their classes offer daily variety, helping to build strength and improve flexibility without plateaus. No background in dance or ballet required.
Sarah Love and Robin Moncol are co-owners of three Pure Barre studios in Richmond. Love, a former college athlete, discovered Pure Barre when she needed help to get fit and to cope with her father's passing. Love said, "One hour a day I wasn't thinking about that loss. Then I noticed I was more toned and had lost weight and inches!" Moncol was initially a Pure Barre member, then an instructor. She shared, "It's for everybody. Women feel so much stronger no matter what age, size or fitness level."
I caught up with member Gail Kuckem after a Saturday morning class. She'd been a sporadic exerciser but wasn't motivated to push herself harder. Kuckem found that push when her daughter gave her a birthday present of new yoga clothing and took her to a Pure Barre Class that same day.
Three years later she's still going and celebrates her 65th birthday this Valentine's Day. Kuckem said, "It really feels like one big supportive family. I've developed new friendships around my age and with younger women, too." She likes how instructors encourage the class and help them individually learn new movements, or modify them for any limitations or injuries.
GETTING 'HIIT'
Kuckem said her husband enjoys exercise but feels Orangetheory Fitness is more his vibe. This group workout includes high-intensity interval training using treadmills, indoor rowing and weight room floor exercises. Good music, enthusiastic leaders and personal heart rate monitors keep participants moving toward their goals.
Other small studios focus more on one piece of equipment which can be tailored to all fitness levels. Cyclebar and BOHO offer energizing indoor group cycle classes. For indoor rowing, Row House blends low-impact cardio, resistance training, stretching and rhythm-based rowing for a well-rounded workout. Tread Happy is a group running studio for walking, jogging or running on treadmills. For an added twist, their plus classes are on and off treadmills with strength, flexibility and cross training.
GET CHECKED OUT BEFORE YOU CHECK IT OUT!
It's always important to get your doctor's clearance before starting any new exercise or alternative fitness program, especially if you haven't exercised in a while. If you wonder where to start, a physical therapist can help guide you in the right direction.
Dr. Rodney Giandalia, physical therapist at Hunter Holmes McGuire VA Medical Center, feels it's important to get a variety of exercise-strength training, cardio and stretching. Giandalia emphasizes, "Exercise is important in helping people age gracefully through all of life's stages. It can help maintain a healthy body weight, improve bone density, prevent falls, improve mood and [offers] many other benefits."
It's never too late to start exercising. Go find your niche in 2020.
---
See a more complete list of creative classes at BoomerMagazine.com/BoutiqueFitness.