Diamonds and Bling
May 10th, 2019
Mining the possibilities in glittery accessories
---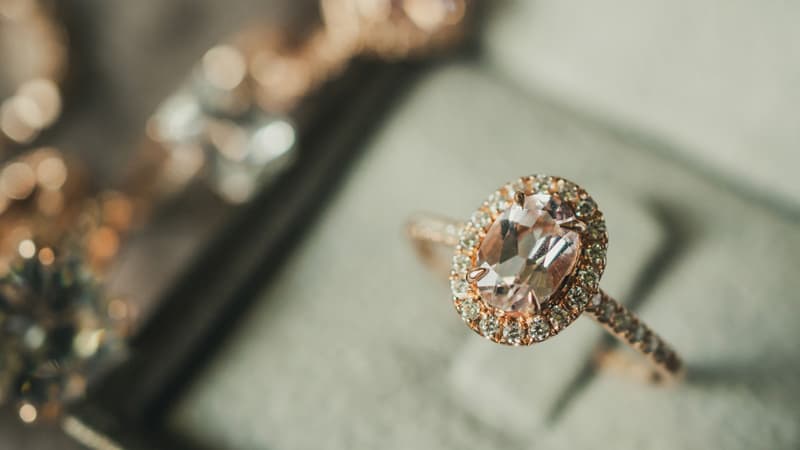 Women and men have adorned themselves with jewels and other sparkly pieces since prehistoric times. The right jewelry makes us feel pretty – or handsome. It may invoke symbolism or communicate a message of identity, status, class or group.
In this diamond-focused issue of BOOMER magazine, we go beyond simple over-the-counter jewelry and gemstones to:
Explore diamonds as a symbol of love
Showcase vintage jewelry
Bring new life to old gems
Get appraisals for your treasures
Avoid blood in your diamonds
DIAMONDS WEREN'T ALWAYS A GIRL'S BEST FRIEND
For decades, diamonds have been the choice for grand gestures of love (generally in the form of "Will you marry me?"), but what seems to be a forever tradition is actually a newcomer.
During the Great Depression, diamond sales and prices waned.
And that's when De Beers stepped in.
The De Beers Mining Company, the leading diamond corporation with an almost exclusive monopoly on the entire industry, sought a way to push product and bring it back to the forefront of Americans' lives. They established a strong marketing campaign that worked to portray diamonds as rare and valuable and to equate them with love and romance.
De Beers further managed to convince buyers that the size of the diamond engagement ring was directly correlated with the size of their love (and, in essence, that love cost two months' salary). When the "A Diamond Is Forever" slogan appeared in 1948, insinuating both the effect that a diamond would have on a couple's relationship and its eternal role as a family heirloom, the deal was sealed: diamonds were back, baby.
Engagement rings became the main form of jewelry sold in many department stores by the 1940s, and eventually nearly every engaged and married woman had a diamond perched on her left hand. – Rachel Marsh
EMBRACING THE OLD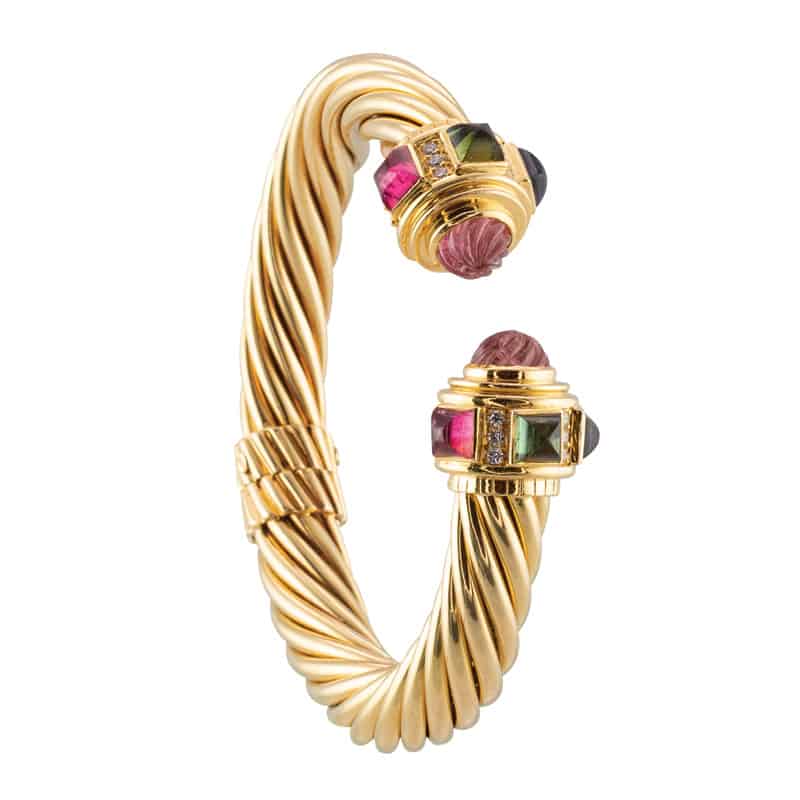 Everyday jewelry may speak softly, but dressier formal occasions call for a bolder statement! Vintage jewelry provides a means to capture attention – not like a megaphone but like a bright, colorful cheer.
Among my favorite statement pieces is my maternal grandmother's costume jewelry: a generous smattering of emerald-green stones on an antique-gold necklace with filigree swirls, accompanied by matching earrings (clip-on, of course). Eye-catching and imbued with meaning, the set has made its appearance at a number of formal occasions.
Should you prefer to match retro with fashionable and trendy, pull out your old chokers – the bigger the better. The 2019 New York Fashion Week runways featured neck-hugging chokers made of gold, pearl, beads and gemstones.
Other trendy styles that could bring new life to old jewelry include large statement earrings, sentimental charms and medallions (on earrings, necklaces and bracelets), and shell-and-bead items.
If you don't happen to have your stash of old jewelry anymore (thanks, Marie Kondo), all is not lost. From proclamation costume pieces like my grandmother's to fine estate jewelry with impressive provenance, many Richmond businesses can help you find the perfect piece: one that will announce your presence with a smile as you walk into any room. – Annie Tobey
Halcyon Vintage buys and sells 1880s to the 1980s vintage, nostalgic clothing, accessories and jewelry.
117 N. Robinson St., Richmond
Bygones Vintage Clothing may specialize in old and vintage-inspired clothing, but the accessories, including rare and seasonal items, can complete many an outfit.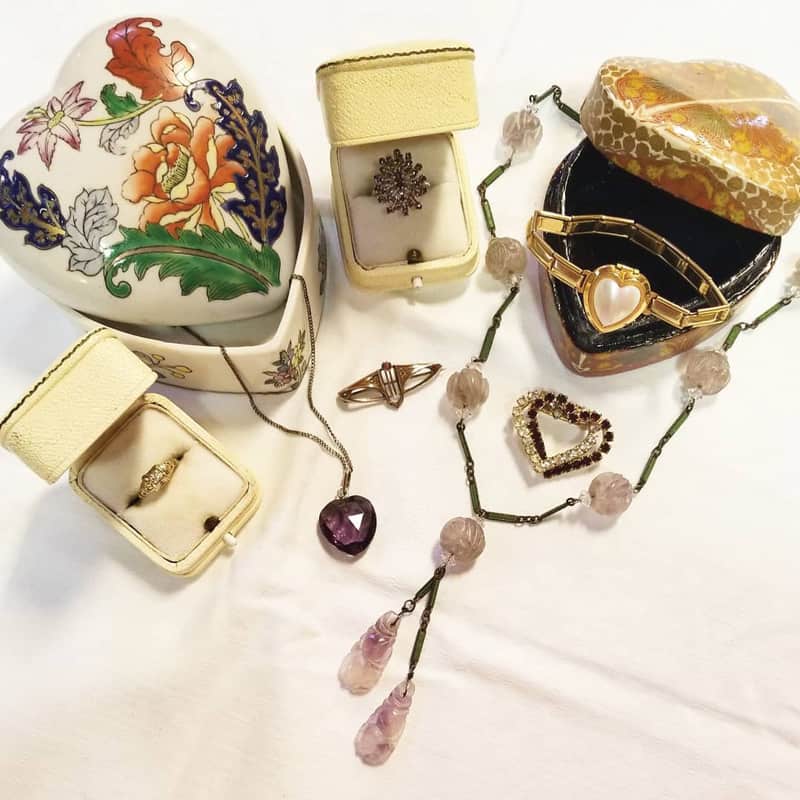 2916 W. Cary St., Richmond
Attic Consignments reminds browsers that one person's junk is another's treasure, offering unique and eye-catching jewelry (alongside household furnishings).
1348 Gaskins Road, Richmond
Schwarzschild Jewelers offers a wide range of estate jewelry, one-of-a-kind pieces that can boast of high value and quality craftsmanship.
Stores in Short Pump, Carytown and Midlothian
Carreras Jewelers' estate items range from vintage period pieces to contemporary styles, inspected to guarantee quality.
112 Libbie Ave., Richmond
REVITALIZING YOUR JEWELRY
Some of your old pieces may have lost their luster and allure. Instead of letting these precious pieces collect dust and loneliness in a drawer, you can refresh and revitalize them, turning them from a forgotten chunk of jewelry to one making regular appearances.
Give it some company. What's better than one diamond? More diamonds, of course. Add a few extra pieces of bling to a vintage engagement ring – whether on the sides, along the band or encircling it – to really enhance the diamond's radiance.
Or tack on a different type of gem for a unique and colorful dazzle. Maybe a ruby, which stands for love and passion. Or a sapphire – honesty and trust. Or perhaps throw on your children's birthstones, for a shinier version of those stick-figure family decals.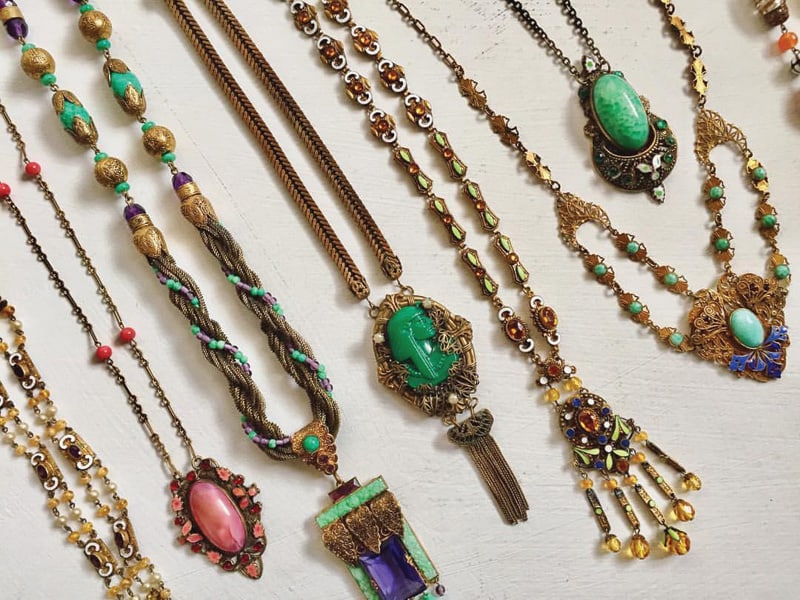 Give it a new home. Nestle your gemstone onto a more modern band to give it a fresh new look. Yellow gold was big in the '80s, but then platinum and white gold became trendy – and now rose gold is peeking its head into the industry. Add a little flair to the band with some contemporary twists; or simplify it, if you prefer.
Give it to a different part of your body. Think outside the ring: gemstones don't have to be limited to the type of jewelry in which they were originally set. If you inherited a gemstone or want to refresh a current one, breathe new life into it by placing it on a new type of jewelry entirely (perhaps one you'll be more likely to wear). Scrap the ring and turn it into a pair of earrings, a necklace or a bracelet. Hey, maybe your toe needs a little sparkle!
Give it … away. You know, sometimes a gemstone comes into your life and you're just not that into it. In reference to parting with said gemstone, Presley Garrett, sales associate and gemologist of Carreras Jewelers, explains, "Every customer will always get the most money for jewelry by finding an individual source to buy it directly from them. The second way would be to go to a place that does consignment." Garrett recommends The Attic, a local business that specializes in consignment for high-end jewelry.
Potential sellers can also, of course, take their stone to Carreras, Cowardin's, Schwarzchild or another local jeweler. – RM
APPRAISALS: WHAT ARE THEY GOOD FOR?
Absolutely … a lot of things.
Gemstones are just like any other valuable (your home, your car, your smile if you're Julia Roberts): they should be insured. That's where appraisals come in, which will help set the official worth of your gemstone.
The most common type of appraisal, according to Garrett, is an insurance replacement appraisal, which says that "if you lost this piece of jewelry, it would cost this amount of money to make brand new."
Appraisals determine the gem's "4 C's" (color, cut, clarity and carat weight).
"Take your items to someone who has all of the necessary credentials and qualifications," L. Taylor Cowardin, appraiser and manager of Cowardin's Jewelers, recommends. "Make sure whoever's appraising your jewelry has the adequate knowledge to identify what you have and knows how to assign the proper value." – RM
KEEPING DIAMONDS CLEAN
But the diamond industry has its own dirty little secrets. For decades, the industry remained unmonitored, and its market became infiltrated with conflict diamonds (you know, "blood diamonds"). These were (well, are) diamonds mined through forced labor in war zones, used to fund rebel movements.
Near the turn of the century, the world began catching on to the untold affairs of many diamond origins (especially with the help of Leonardo DiCaprio). In 2003, the Kimberley Process Certification Scheme was established. This process forced accountability from diamond-producing countries and wouldn't allow trade to any country that couldn't prove its diamonds were conflict-free.
"It's a guarantee that the diamonds … come from legitimate sources," says Cowardin. "The Kimberley Process has helped to eliminate any doubt."
Though it's still a difficult industry to monitor, only a small fraction of the world's diamonds are traded illegally today, versus approximately 25 percent before the launch of the Kimberley Process. – RM