A Weekend for the Dog – and Me – at the Indigo House
| May 11th, 2023
Canine-friendly Nelson County adventures
---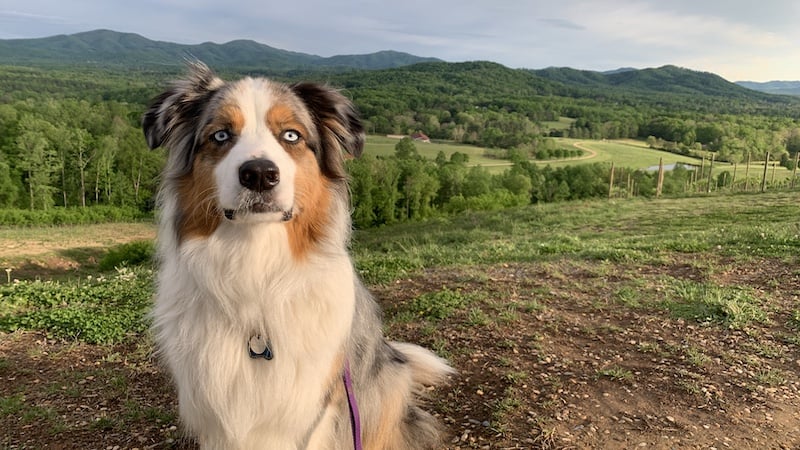 Traveling with dogs can be a challenge, if only from finding places that welcome furry friends. On a recent spring trip to Nelson County, Virginia, Boomer editor Annie Tobey and her dog, Newt, enjoyed dog-friendly activities and lodging at the Indigo House.
---
My Australian shepherd Newt and I have been practically joined at the hip. I happened to get him as a puppy in February 2020 (and we all recall what happened a few weeks after that). Working from home became the norm, which meant I could take short training breaks throughout the day. Once the office reopened, our company had become dog friendly.
Plus, Newt enjoys being out and about, and his expressive face and tail telegraph his joy, giving me warm fuzzies watching him.
So when I learned about the Indigo House, a new dog-friendly bed and breakfast in Nelson County, I leapt at the chance to visit. The county's proximity to outdoor recreation and to breweries, wineries, cideries, and distilleries makes it one of my favorite Virginia destinations. Many craft beverage producers, restaurants, markets, and more are situated in Rockfish Valley, with easy-to-navigate roads, surrounded by the tree-covered Blue Ridge Mountains.
Kennel Up at Indigo House
Stephanie and Kyle built the Indigo House from the ground up, creating it as a guest-friendly, outdoor-focused B&B that welcomes people-friendly dogs. Rooms are named after national parks, wood floors are easy to clean up after shedding dogs and muddy hiking boots (though considerate guests will remove muddy boots and clean muddy paws!). Delightful mountain views and comfortable country décor complete the aesthetic.
Besides human-focused amenities, the Indigo House has dog beds, bowls, and treats, with easy access to towels for dirty paws and bedsheets for dogs that want to curl up with you in bed. All areas (except kitchen and dining area, of course) welcome your buddy.
Environmentally friendly details reflect the owners' appreciation for nature, too, from the bedding and cleaning products to breakfast. Which, by the way, happens to be delicious, too. Stephanie, the breakfast chef, focuses on simple and wholesome dishes that highlight fresh, seasonal, locally sourced ingredients and pastries.
The home's generous gathering places, indoor and out, the wine, beer, and cider available for post-hike refreshment, and other like-minded guests make the Indigo House a fun place to just chill.
And when you're ready to venture out, Stephanie and Kyle know where to guide guests for dog-friendly dining, drinking, and playing, even on rainy days. Owners can leave a dog unattended for up to two hours (if you must, if you can bear to, and if the dog can bear to be without you!).
Dog-friendly dining and drinking
Exploring all of Nelson County could possibly be done in a season. We had less than 48 hours, but we made the most of it.
Brewing Tree Beer Co.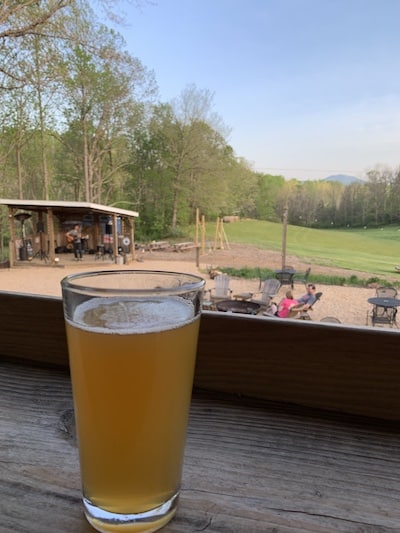 Given Brewing Tree Beer Co.'s provenance, it had been on my radar for a while. As a beer writer, I knew Mark Thompson as the founder of Starr Hill Brewery, in 1999. Starr Hill grew – it now boasts several satellite locations – and Thompson stepped away. But it wasn't long before he announced a new brewery, one that was small but mighty.
Brewing Tree capitalizes on his training and experience in brewing. An on-site food truck, Scratch Kitchen, uses Gina Thompson's (Mark's wife) culinary training and experience. The public area is as impressive as the beer and food: inside seating, a covered deck, a large patio with a performance stage, dedicated kids' play area, and lawn … and, down the hill, an expansive pastoral meadow and beer garden beside a rocky, gently flowing creek.
Flying Fox Vineyard
Flying Fox Vineyard piqued my interest because it includes vermouth on its lineup, along with a range of wines from dry to sweet. The vermouth series is seasonal, infused with local fruits and other botanicals, fortified with locally stilled grape brandy – like strawberry and rhubarb with dried wormwood; white peaches with wild heather, elderflower, and angelica root; dried orange peel, cardamom, ginger, turmeric, and persimmon; and apple, pear, cinnamon, and pomegranate.
The Flying Fox tasting room is dog-friendly indoors and out.
Blue Mountain Brewery
Naturally, dinner was at Blue Mountain Brewery. Blue Mountain has been serving beer and food since 2007, and their restaurant has been expanding since then – most notably adding plenty of outdoor seating to take advantage of green spaces and an inspiring view of the mountains. The brewery has a range of beers, from the Classic Lager to A Hopwork Orange IPA to Dark Hollow bourbon barrel-aged imperial stout.
In fact, Dark Hollow has been one of my favorite beers for years. Not only does it provide a masterful balance of roasted malt and bourbon with tender notes of sweetness, it's a big beer – 10% ABV – available in a drinkable 12-ounce bottle that won't fill me with regrets.
As a full restaurant Blue Mountain also offers cider and wine along with its full menu of pub food such as sandwiches, burgers, and pizzas plus salads and apps.
Hazy Mountain Vineyards and Brewery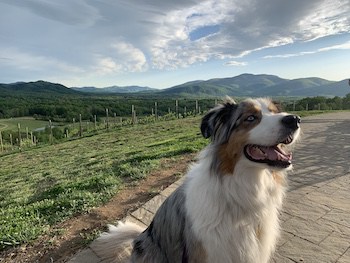 My Indigo House hosts introduced me to one of the area's newest craft beverage producers, Hazy Mountain Vineyards and Brewery. The aesthetics alone are worth the visit. Your expectations rise with the drive up the mountain to the tasting rooms, stone-and-stucco buildings with Spanish tile roofing with a Mediterranean flair, surrounded by stone walkways and patios. The view fully meets those expectations: an unblemished, 180-degree view of the mountains in the distance – with a mountain pass pulling the eye even farther. This kind of view is what makes this entire area such a wondrous place to visit!
The winery manages 86 acres of vineyards, representing two Virginia AVAs, Monticello and Shenandoah Valley, and produces Riesling, Chardonnay, Chenin Blanc, Petit Verdot, and blends. I didn't take the opportunity to try the wine, beer, or food (flatbreads and shareables), but I took home a bottle of the 2019 Petit Verdot and thoroughly enjoyed it. I will be back for more!
Hazy Mountain is dog-friendly at designated outdoor areas.
Pro Re Nata Brewery
Pro Re Nata Brewery was an easy drive away and on our way out, just off of I-64. The sprawling complex of indoor and outdoor tasting areas was super dog friendly and offers a wide selection of clean, to-style Pro Re Nata beers plus Virginia hard ciders along with wine, canned cocktails, and an on-site food vendor, Dino's Pizza & Grill (bowls, wraps, and other options besides pizza).
Outdoors with Newt
No weekend visit to the area can capture all of the county's bounty, but we did well for our limited time and passing thunderstorms.
The Indigo House is near Rockfish Gap Appalachian Trail, Blue Ridge Parkway, Three Ridges Wilderness Area, and Shenandoah National Park, in addition to hikes like Crabtree Falls (one of my long-time favorites), Spy Rock, and Montebello Nature Trail.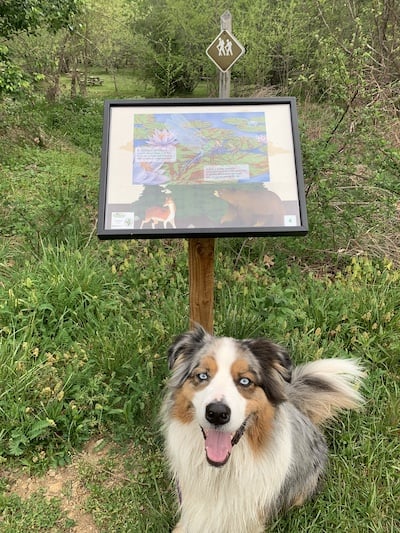 Before the storms rolled in, Newt and I enjoyed an easy run along the Rockfish River Trail, part of the Rockfish Valley Trail System. The flat nature trail offers interpretive signage, a native meadow, benches, and soft pathways.
The trail parallels Rockfish River for much of the loop, offering plenty of chances for a hot dog – or person – to cool off in the water.
Later, we took in the scenic, historic Blue Ridge Tunnel. The 4,273-foot-long tunnel (that's nearly a mile long!) was hand-bored through Rockfish Gap in the 1850s. The longest railroad in North America at the time, it was built by Irish and enslaved craftsmen and laborers using hand drills and black powder. Its construction methods and challenges have made it a National Historic Civil Engineering Landmark.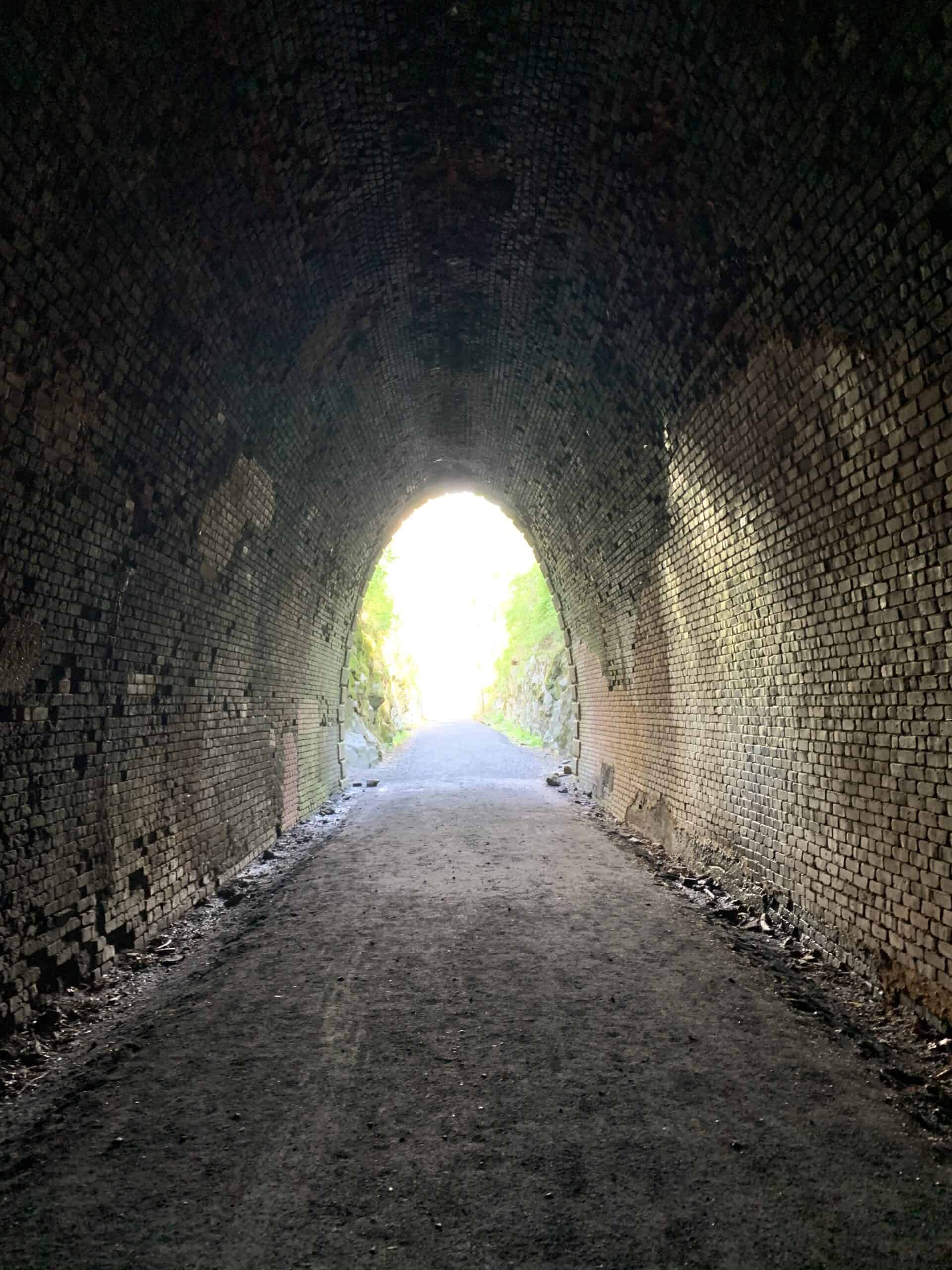 Two trailheads offer access for the 2.25-mile-long walk to and through the tunnel – the eastern trailhead is easily accessible from Nelson County (and offers flatter access than the western trailhead near Waynesboro).
Signs along the trail provide historical insights. The tunnel isn't illuminated, so take a flashlight or headlamp. Besides illuminating the dark path, the light can show the construction marks and differences between east and west sections of the tunnel – fascinating! While Newt marched ahead, I got word from fellow travelers that one of their dogs was initially hesitant to go in.
Surrounded by the incredible restaurants, breweries and wineries of the Nelson 151, visitors to the Indigo House are well-positioned for days of exploration.
---
FEATURE IMAGE, TOP: The view from Hazy Mountain Vineyards and Brewery, with Newt in the foreground.