Elizabeth Olsen Talks About 'WandaVision'
| June 14th, 2021
Answers to burning questions – and what about a season 2?
---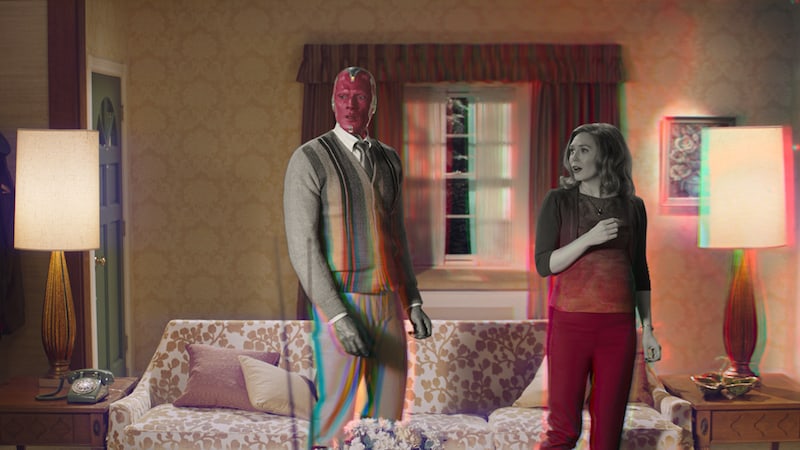 In the movies that comprise the Marvel Cinematic Universe, Elizabeth Olsen (Wanda) and Paul Bettany (Vision) are parts of the larger Avengers ensemble – but in Disney Plus' limited series "WandaVision," they took centerstage.
In the conversation between Kaley Cuoco ("The Flight Attendant") and Olsen for Variety's Actors on Actors series, Olsen said the creative minds behind "WandaVision"– head writer Jac Schaeffer, director Matt Shakman and Marvel's Mary Livanos – "almost included Paul and I like producers."
But as such, she mostly ruled out returning to more "WandaVision" episodes in the future, despite the show's popularity. Wanda's arc will next Olsen her to the "Doctor Strange" sequel, "Doctor Strange in the Multiverse of Madness," which is scheduled for release on March 22, 2022. She began filming the movie in London days just after wrapping "WandaVision."
"It's definitely a limited series," Olsen said.
"Well, we said that, too," Cuoco pointed out, referencing the fact that HBO Max's original plans for "The Flight Attendant" were for it to be a limited series as well. (It was renewed for a second season after it became a hit on the streamer.)
Olsen replied: "I mean, I'm saying that. I don't know. I mean, with Marvel, you can never say no."
"I would be shocked," Olsen said.
Highlights as Elizabeth Olsen talks about 'WandaVision'
"WandaVision's" weekly drops last spring inspired many a fan theory – and a tonnage of memes.
"What about the 'what is grief' scene?" Cuoco asked about a scene in "WandaVision" in which Vision delivered a now-famous line. "Did you know that was going to be a whole thing?"
"What's the 'what is grief' scene?" Olsen replied. "Oh! Yeah, '… if not love persevering' – that's so funny."
Olsen connected that episode – the penultimate one of "WandaVision" – in which Wanda and Agatha (Kathryn Hahn) take a tour of Wanda's past flashbacks in "The Flight Attendant." "Both of our shows do this – we talk about characters that have immense trauma."
"I actually was very worried about that episode," Olsen said. "We replay these moments that we actually haven't seen in the MCU. Some of them we reshot, and I just didn't know how we were going to piece it together. It all felt like, 'Oh, God, are they going to be with us?'
"I thought about that when you guys were exploring the relationship that she had with her father and her brother and the accident," Olsen said to Cuoco.
"You either have your audience or you don't, is what I think," Olsen said. "And you just swing for the fences and just hope that people are moved by it, or understand something on a deeper level."
Unique challenges
Of course, working within the massive machine that is Marvel Studios has its own complications – especially when something on "WandaVision" would touch upon larger elements in the MCU.
"Marvel projects are always an adjustment," Olsen said. "There are constant rewrites all the time." Such changes made life stressful for Olsen, a self-described "theater school over-preparer," who wants "my lines memorized a week before, at least."
For instance, with "WandaVision" character Monica Rambeau (Teyonah Parris), she's scheduled to appear in the upcoming movie "The Marvels," and could possibly appear in the future Disney Plus series "Secret Invasion."

Monica's MCU plan, therefore, had to be mapped out as much as possible. "We launched her character on 'WandaVision,' and so Marvel was getting more information about what they wanted to do with her character while we were filming," Olsen said. "It was, like, a whole thing moving. Because we were doing seven pages a day at least, we were just going full speed ahead. It was such chaos. We just couldn't really stop and ask too many questions."
She added: "We all just were trying to survive by going as quickly as possible. The only time we would slow down is when we get into Marvel Land. Marvel's just such a strange beast. It's the biggest stakes in the entire world: The world's going to end. Humans are going to die! But it's all about character," she said with a laugh.
© 2021 Variety Media, LLC, a subsidiary of Penske Business Media; Distributed by Tribune Content Agency, LLC