Exercise That Excites
| June 20th, 2017
Making physical fitness fun
---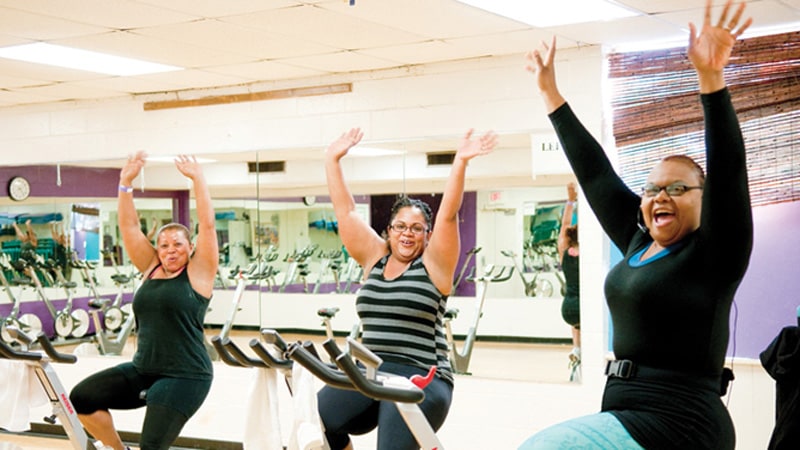 In our 20s and 30s, health is often an afterthought. Our bodies seem to take care of themselves, bouncing back from minor injuries and quickly metabolizing whatever food and drink we give it for fuel and pleasure. In truth, even a young body benefits from a healthy lifestyle, but our aging bodies more quickly recognize the value of eating right and staying active.
Regular physical activity produces long-term health benefits for the body and for the mind. Maintaining a basic level of fitness can help us continue to take part in things we enjoy and to stay independent – two important elements for maintaining mental fitness as we age. Staying active can reduce the risk of developing some diseases and disabilities and treat many chronic conditions. By attending to our cardio endurance, strength, balance and flexibility, we can feel years younger.
Too often, "exercise" is considered a distasteful pill to swallow, a task without immediate payback. However, by weaving fun and social interaction into your physical activity, fitness can become a hobby rather than a chore. Throughout the Richmond area, boomers have found enjoyable ways to stay active. 
Pedestrian, pedal and paddle groups
Replace "I have to get my exercise today" with "I get to go hiking with friends today!"
In Richmond area Meetup.com groups, find like-minded people to share favorite active pursuits with, like hiking, paddling, cycling and orienteering. Throw a touch of nature therapy into the mix for just what the doctor ordered.
If running is your thing (or you want it to be), find an area running group (such as Richmond Road Runners Club and RVA Runners – All Welcome on Facebook) or a training team (Sports Backers or Race Team RVA). Companions make the miles go by so much faster!
Join the diverse members of the James River Hikers to "explore some of Richmond's … nature and history, get exercise … and meet a diverse group of locals that may become your new friends." Meetup.com/James-River-Hikers/
 Do your heart good
There's nothing like a canine companion for motivation to walk on days that are dreary or cold – you may prefer slippers to walking shoes, but Scout's eager face and wagging tail get you out of the lazy chair.
No worries if you don't have a dog to walk – volunteer organizations often have opportunities that will keep you active while supporting the health of another living, loving being.
Richmond Sports Backers offers volunteer opportunities through Kids Run RVA, Bike Walk RVA and Keep It Moving.
Volunteers for the Richmond SPCA Running Buddies can walk or run dogs that are waiting for adoption, providing them with exercise, socialization, health benefits and a chance to burn off excess energy – not to mention tail-wagging joy. Some dogs run the 3.1-mile route while others prefer a leisurely stroll. RichmondSPCA.org/runningbuddies
To lend your mobile power to people instead, check out Sportable. The Richmond-based nonprofit helps those with physical disabilities and visual impairments take part in training and competitions for 12 adaptive sports programs. Sportable.org 
Mind your mind and body
Consider your health from head to toe, inside and out. Activities such as Tai Chi and yoga address the needs of the whole person and help release the mind from life's daily stressors. Participate in an activity that reaches into the depth of your being. Breathe, relax and enjoy!
Qigong (pronounced "chee gong"), a 3,000-year-old Chinese health practice, involves special breathing, slow coordinated movements, meditation and other guided exercises. Benefits include increased circulation and assisted recovery from chronic conditions such as cancer, arthritis and heart disease, says Phoebe Antrim, local Qigong group leader. Find Antrim's class and other local Tai Chi classes at RVAtaiji.wordpress.com.
Yoga, for everyone and every body, improves posture, balance, breathing and muscle tone, says Kathleen Baker, the owner of Glenmore Yoga, and can assist with restoring and maintaining mobility and range of motion in the spine and joints. Various styles of yoga allow you to find a class that fits your needs. On a budget? Check out Project Yoga Richmond, a nonprofit that offers donation-based classes and outreach programs. GlenmoreYoga.com & ProjectYogaRichmond.org
Join a gym
The options are practically endless at today's gyms, where you can work out solo or with a gaggle of gym rats from hardcore to relaxed: pop in the ear buds for a trip on the treadmill or a few rounds of weights; hop in to a high-powered spin class; swim lazy laps in a pool; or take advantage of creative classes (ever heard of BollyX, Zumba or PiYo?). Your health or retirement plan might even offer the SilverSneakers Fitness program.
And hey, if you have special skills, consider being an instructor!
The Richmond YMCA has been part of our community since 1854. With 17 area locations, the Y provides resources for all ages, with equipment and programs to build the body, mind and spirit. YMCARichmond.org
Team up in a community group
Local governments as well as private businesses and groups offer opportunities for camaraderie and active pursuits, for learning new skills or honing those you've mastered, for rejuvenating the competitive juices of youth or just having fun.
In Henrico, Hanover, Richmond, Chesterfield and beyond, area parks and recreation departments provide a full slate of activities for residents of all ages. Check out local government websites for program guides.
Other local resources include Richmond Volleyball Club, dance studios, Meetup groups and Sports Center of Richmond (SCOR). You're bound to find the people and activities that float your boat.
For all ages and skill levels, pickleball combines elements of tennis, badminton and pingpong. Greater Richmond Pickleball on Facebook
As with other localities, the Chesterfield Parks & Recreation department offers a wide variety of individual and team activities, including 50+ Active Lifestyle programs, offering golf, horseshoes, tennis and more. Chesterfield.gov/parks