Feast Your Eyes and Mind at 'Whistler to Cassatt'
| April 14th, 2022
New exhibition at VMFA
---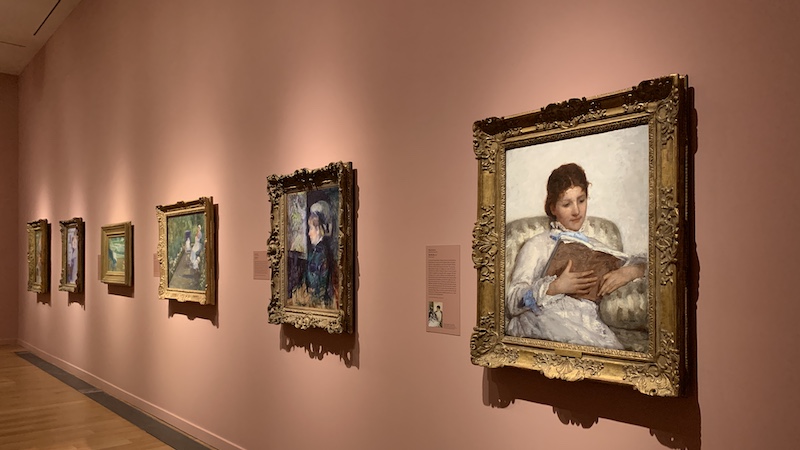 This traveling exhibition can be enjoyed simply as a treat for the eyes, a collection of more than 100 paintings from American artists between the late 19th and early 20th centuries. But Whistler to Cassatt: American Painters in France also provides nuggets of fascinating insights into these artists, the French and American art worlds, the growth of styles, the struggles and achievements of female artists, and more.
The exhibition will be on view at the Virginia Museum of Fine Arts in Richmond from April 16 to July 31, 2022. It highlights more than a dozen artists who traveled to France to train in their craft, then returned home to continue their work. They changed American art. And the America they returned home to changed them, too.
Many of these artists moved away from the conservative values emphasized by art academies of the time. They embraced new and different styles, including Impressionism, and subjects, such as America's rising middle class and its leisure activities.
Besides the two artists in the title, Abbott McNeill Whistler and Mary Cassatt, you can take in works by a dozen other artists, including Maurice Prendergast, John Singer Sargent, Frank Weston Benson, Winslow Homer, and Cecelia Beaux. Maybe, like me, you will find a new favorite artist – Childe Hassam's "The Bridge at Grez, France" (1910) and "Entrance to the Siren's Grotto, Appledore" (1902) practically sparkled in the lights of the exhibition hall.
The image representing the Whistler to Cassatt exhibition, "Sunlight" (1909) by Frank Benson, was chosen as "an uplifting metaphor for America," says Susan Rawles, Elizabeth Locke Associate Curator of American Decorative Arts. "A young woman stands high on the horizon under the bright light of a clear day. Peering out across an ocean separating the old world from the new, she braces against adverse winds, yet stands strong. Despite all the tension and discomfort that has accompanied America's growing pains – both physical and philosophical – her youth and spirit signal optimism."
That's an attitude we could all benefit from these days. Perhaps in addition to appreciation and enlightenment, you will draw optimism from the exhibition as well.
Whistler to Cassatt: American Painters in France
April 16-July 31, 2022
Virginia Museum of Fine Arts
200 N. Arthur Ashe Boulevard, Richmond, VA
---
'Louis Draper and the Kamoinge Workshop'