Feed Your Belly and Your Mind in Williamsburg
| December 13th, 2019
Distinctive and delectable experiences to wine, dine and indulge … just down the road
---
Got a rumble in your belly? Take your taste buds 50 miles east and give them a whole new arena to explore. Williamsburg has a plethora of ways to pamper that palate – and we're not just talking about their unusually high number of pancake restaurants.
Richmond's next-door neighbor boasts many appetizing endeavors: food and libations provide not just satiation but a well-rounded gastronomic experience. And they'd just love to show you all the unique ways you can explore their edible offerings.
THE COMFORT FOOD WAY
Like any good town south of the Mason-Dixon line, Williamsburg wants to make sure you're sufficiently well-fed.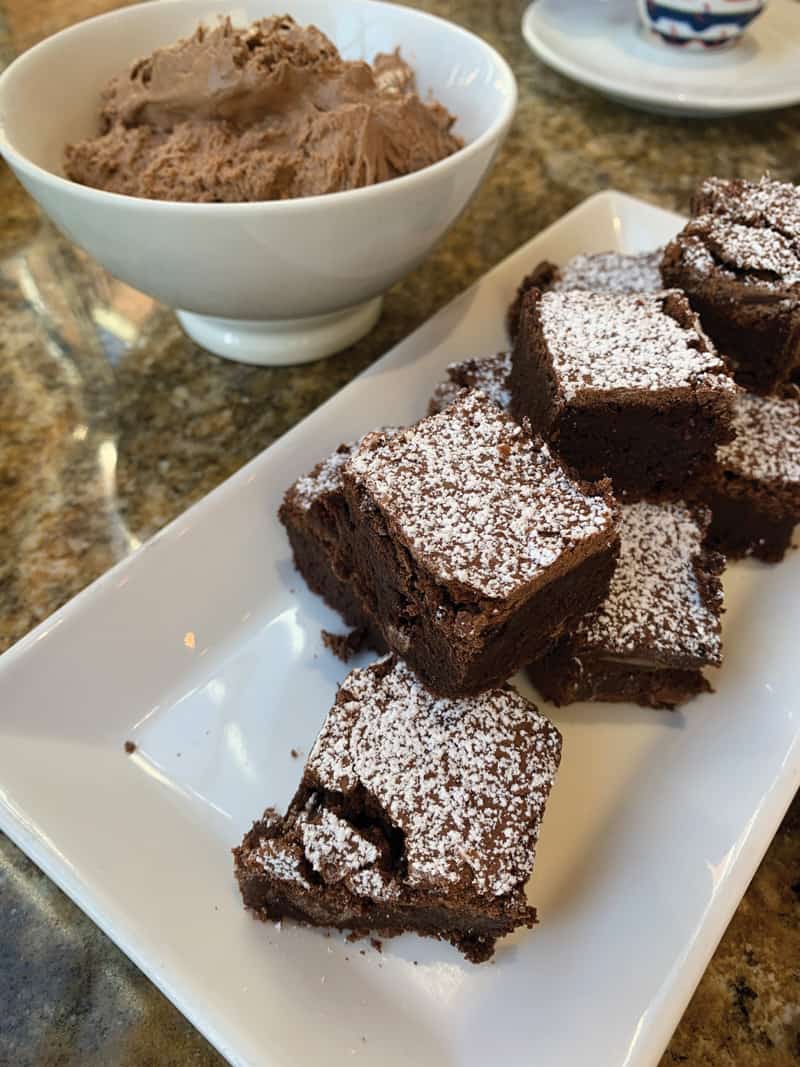 Darlin', meet Old Chickahominy House: this 60-plus-year-old dining staple serves up a full and consistent menu of hearty Southern comfort food, from Brunswick stew to chicken 'n' dumplings and from-scratch ham biscuits whose recipe predates everyone's memory.
And if the food isn't enough to make you feel like you're dining in your grandmother's kitchen, the home-like atmosphere will: a healthy dose of warmth and hospitality with a side of "did you get enough to eat, baby?"
But to enjoy "the comfort food way" with a French twist, bring yourself (and a healthy appetite) to Blue Talon Bistro. This European-inspired restaurant aims for both extravagant and affordable, with menu items ranging from escargots bourguignon to dense Southern-style mac and cheese.
Just save belly space for their renowned chocolate mousse, scooped straight into your bowl until you say "when." What? You're not allowed to leave hungry.
THE OLD-FASHIONED WAY
Because if anyone knows old-fashioned, it's Colonial Williamsburg (or "CW" as the locals and in-the-know visitors call it).
Take a DeLorean-free time-hop back to the Colonial days to experience 18th-century dining. Historic Foodways, a branch of CW that researches and re-creates foods and ales of the era, regularly provides live demonstrations of meals consumed by Colonial Virginians (wealthy Colonial Virginians, in any case).
Incorporating fruits, vegetables and herbs from on-premise gardens, dishes are created using recipes from historic cookbooks, with 120 actual Colonial cookbooks from which to pull, and utilizing replicas of cooking utensils from centuries back (copper pot over an open flame, anyone?).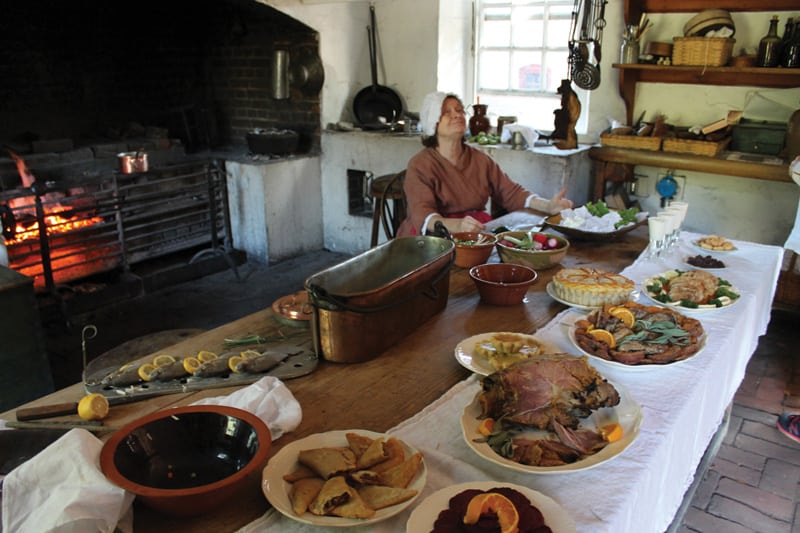 Though the recipes and cooking methods predate the FDA and are therefore off-limits, guests can get a real (and FDA-approved) Colonial culinary experience at one of CW's four 18th-century taverns.
Each of the pubs – Chowning's, Shields, Campbell's and King's Arms – brings its own distinctive traits to the table: from an upscale meal at King's Arms to a "common man's" experience at Chowning's.
Though all are unique, each provides an authentic peek into Colonial dining. Find replicated plates and utensils in each dining room, in buildings reconstructed based on archaeological digs. The menus themselves are put together based on historic evidence, with food selections such as shepherd's pie, savory beef pasty, rum cream pie and "turkey trenchers."
Taverns also feature bars stocked with drinks paying homage to the beers, wines and spirits enjoyed by early Virginians.
THE SPIRITED WAY
Take a break from eating and explore the area in sippable form. The Williamsburg Tasting Trail consists of over a dozen breweries, wineries, distilleries – and one meadery. Drink up in spots like Alewerks Brewing Company, Copper Fox Distillery and Williamsburg Winery. And if you're feeling extra ambitious, grab a Tasting Trail brochure and get a stamp at each location – earn a prize for nine stamps!
THE ENTERTAINING WAY
What's the best part about cooking shows? Watching the cuisine preparation, of course. What's the worst part about cooking shows? Not getting to sample the aforementioned product, of course.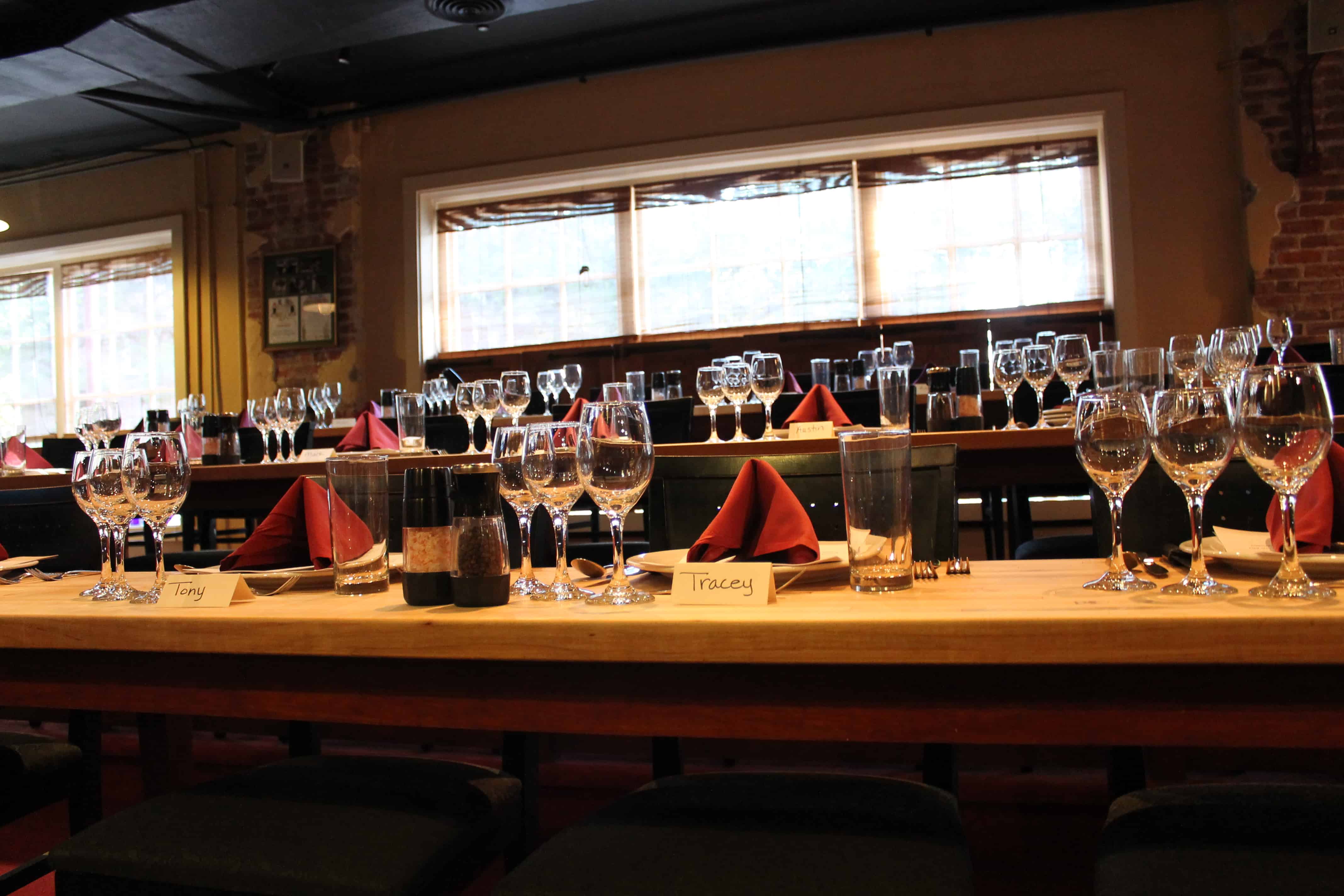 What's the solution? A Chef's Kitchen – of course. This 15-year-old brainchild of Chef John Gonzales allows guests to watch a live cooking show put on by Gonzales himself – with the assistance of a sous chef, a server and the occasional piano player. Guests receive a plate of the multiple courses as they're prepared, with correlating wines to complement most dishes.
And just like a televised cooking show, Chef Gonzales demonstrates how to make each course – then sends every guest home with recipes from the evening. Watch, learn, imbibe, repeat.
Even Barefoot Contessa can't offer you that much.
THE GOUDA WAY
No culinary trip to Williamsburg – or any type of trip, for that matter – is complete without a visit to the Cheese Shop.
As you may have guessed from the name, this business touts hundreds of different artisanal cheeses, carefully selected and constantly rotating. The rest of the shop consists of a wide variety of products that complement any cheese counterpart – we're talking products like crackers, jams, nuts, spreads, olives, dips, charcuteries and chocolates.
But what's the most fun thing to pair with cheese? Well, wine, naturally. That's why the entire downstairs of the Cheese Shop is filled with shelves of different vinos: purchase by the bottle, or enjoy a glass on site.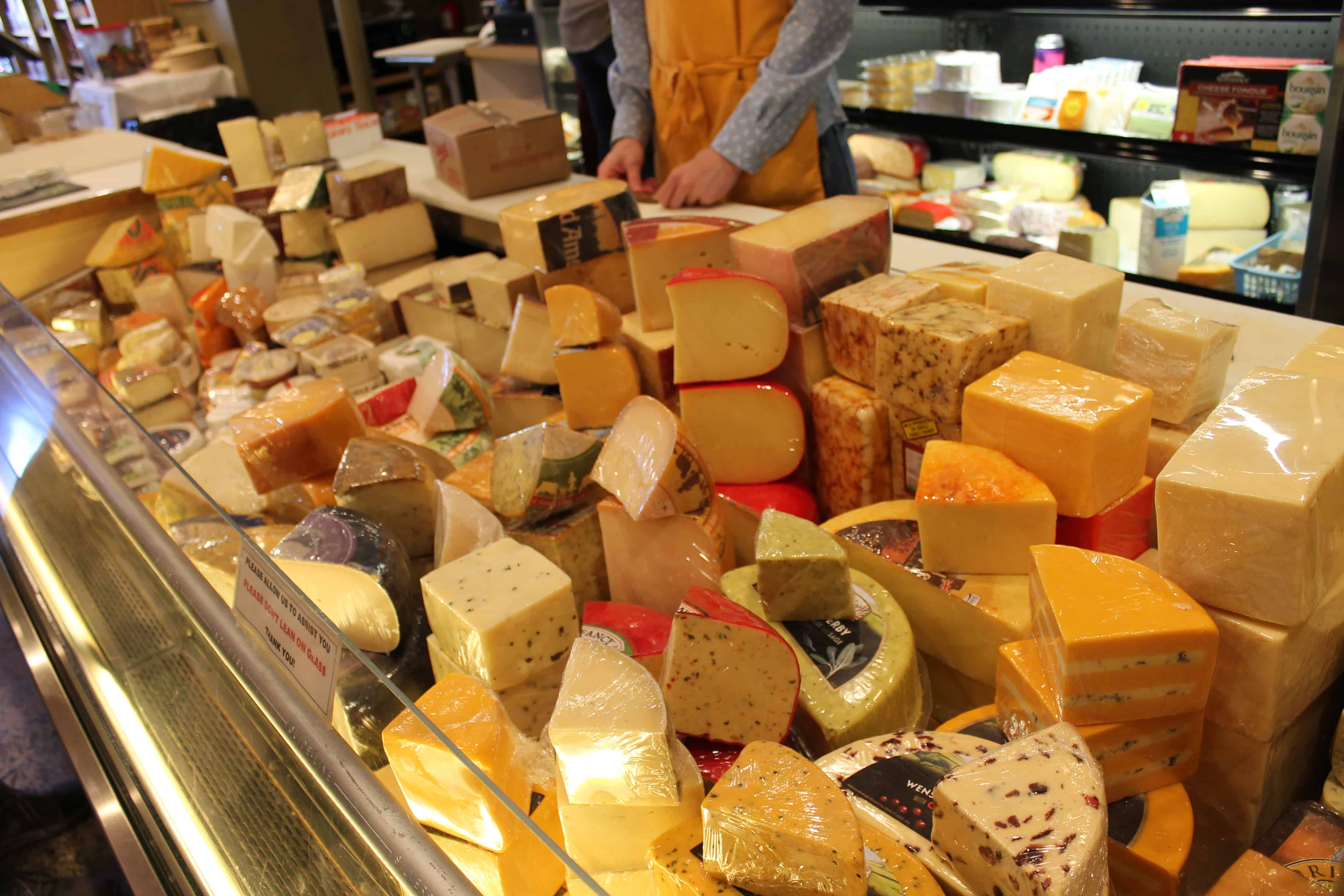 THE GLASS-HALF-FULL WAY
Or all the way full. We understand.
Finish out your day in Williamsburg with a set of purple teeth at the Williamsburg Winery. This 320-acre vineyard opened in 1985 and has only gotten sweeter (and more tannic) since.
Grab a glass, bottle or tasting among the dozens of carefully crafted whites, reds and dessert wines. Then enjoy the passion of the winemakers against the backdrop of a panoramic landscape. Or time out your visit to soak in one of the many events hosted onsite: from concerts to festivals to special dinners.
And, fear not: if the fine wine gets the better of you, book a room at the on-premise (and simply charming) boutique hotel, Wedmore Place.
There are so many more culinary experiences to explore tomorrow, after all.