Finding Meaning in 'Finding Neverland'
| January 31st, 2018
Broadway in Richmond brings us the story behind Peter Pan
---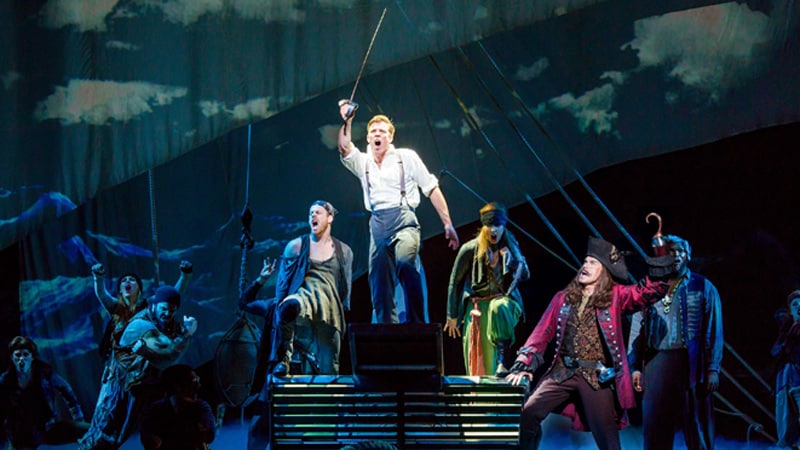 I went into Finding Neverland with high hopes – after all, Disney's Peter Pan holds a dear spot in my childhood memory, and Hook holds an even more treasured spot as a movie I enjoyed with my kids. And as a person who values being mature but somewhat "childlike," the Peter Pan theme resonates with me. The production did not disappoint.
As a peek behind the making of Peter Pan, Finding Neverland is sort of a Paul Harvey "The Rest of the Story." It's the tale of Scottish playwright and author James M. Barrie and his relationship with widow Sylvia Davies and her four young sons, of how Barrie finds his missing muse in Davies' son Peter, and in Barrie's own fun-loving view of life.
The stage musical is based on the Academy Award-winning Miramax motion picture by David Magee and on the play The Man Who Was Peter Pan by Allan Knee. And, of course, on Barrie's original character, born in a book in 1902 and brought to the stage in 1904 London in Peter Pan, or The Boy Who Wouldn't Grow Up.
The strength of the play is the adult storyline, balancing poignant moments with laughs, featuring themes that resonate with many, such as the value of meaningful relationships over the superficialities of social expectations, the tension between being responsible and playful. Sprinkled throughout are potential inspirations for the original Peter Pan, such as the hook, the clock, Tinkerbell, the alligator and even Neverland.
Woven throughout is the magic of the imagination, contributing values beyond the fun times of childhood. With four child actors, appearances by pirates, an adorable dog, an amusing costumed dog and a costumed crocodile, Finding Neverland can find appeal to children, too (recommended for age 7 and older).
Catchy songs, energetic choreography and whimsical sets help engage the attention of young and old alike. Though it's not a musical with back-to-back hits, a few especially memorable scenes will stay with you long after the final curtain. And the chance to hear angelic children's voices is always a plus – especially the touching duet with Mr. Barrie and young Peter, two of the show's best voices (played by Will Ray and Turner Birthisel, respectively).
Finding Neverland transports the audience into the heartwarming story of J.M. Barrie and the Davies family. More than merely an entertaining musical, it's a meaningful story for kids at heart.
For more information and tickets for the Richmond production at the Altria Theater, visit Broadway in Richmond. The musical runs through Feb. 4.