A Lifetime Filled with Flights of Fancy
| November 21st, 2017
The stork delivers a reminder of decades of hilarity
---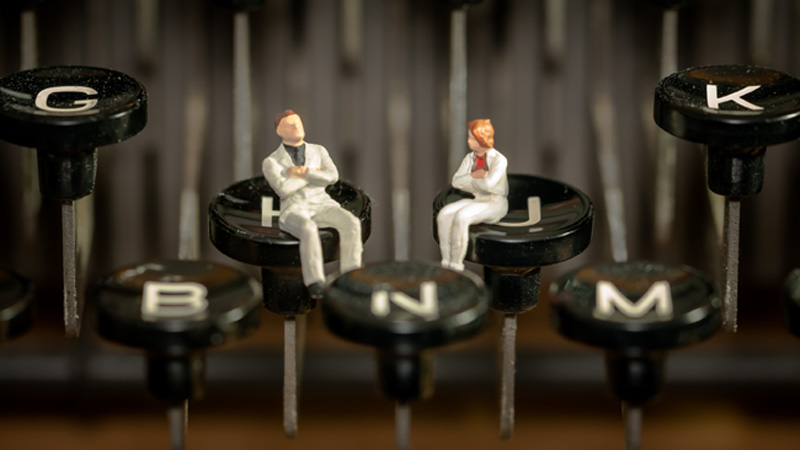 I have heard it said that writing a book is a lot like giving birth to a baby. It's a long process that involves growing and learning. It's full of joy, excitement, misgivings, insecurities and anticipation. And there's a good deal of labor involved for sure.
At my house, the past nine months have seen a flurry of book-birthing activity as Flights of Fancy, the new (and first) Fitzgerald opus, was being prepared for publication. The book is out this month and, I might add, available for purchase either at one of the speeches Barb and I give around town or at a number of area bookstores.
THE FITZGERALD METHOD OF CHILDBIRTH
As for the comparison between birthing a child and birthing a book, I personally think the latter is pretty easy. If I may advise those of you who are contemplating a book of your own, the way to avoid all the drama and hassle is to announce to your wife one morning, "Now that I'm retired, I think I will finally pull together that book of columns like I've been meaning to for 25 years."
Then you promptly have a heart attack, an emergency quadruple bypass, an aortic valve replacement and, two months after all that – just to make sure your diminished work capacity has not gone unnoticed – you throw in a stroke.
Then you relax and get well for the next few months while your wife pulls together the book for you, writes the introduction and chapter commentaries throughout, retypes all the columns she has chosen to include, adds a few articles of her own, lines up the illustrator, proofreads and ultimately gives birth to that baby.
TOO MUCH FUN
When Ray McAllister, my publisher, said I would never in my lifetime have had a book published without Barb, I had to agree. And I'm overjoyed with what she has accomplished. When I finally sat back and read the whole book just before it went to press, I laughed my way through it. Sometimes – pardon me – I cackled! I could not believe so many funny things had happened to us in our years together. We've been really lucky to have so much to laugh about, and I've been lucky to have columns for all these years in which to share our funny stories. Now the columns are like a journal of our life together.
If you read the book (and I hope you will), you may well ask if we really once met the Queen of England? And then, in a parking lot in Nashville, Willie Nelson?
Did I lose a Pepsi truck I was driving for a summer job? Did I once flood the house, doing thousands of dollars in damage? (That episode would thereinafter be known as "Hurricane Randy.")
And – did Barb back the car over my Martin guitar? Did she spend $125 on adult lingerie for her 70th birthday? Did she once upend a gravy boat at Thanksgiving into her purse as a former Virginia governor watched from a nearby table?
Perhaps, did my accountant brother once give away his wife's car? Has our love story actually been featured in a Good Housekeeping article?
YES TO ALL OF THAT
… And to many more uncommon happenings – all of those recorded in (I hope) humorous columns over the years, plus other stories never before shared but now revealed in Flights of Fancy.
I hope life continues to bring Barb and me fun times and good surprises, and I hope to continue to write about them for many years to come.
On one of my emergency room visits this year, Barb and I had an out-of-control laughing fit over some silly something as I waited to be assigned a hospital bed. We were so tickled that our laughter must have been heard at the desk, because a nurse came in and politely said we were having too good a time. My best hope for this book is that, if you read it, someone has to come in and tell you the same thing!
---
Randy Fitzgerald was a longtime public relations director at the University of Richmond and columnist for The Richmond News Leader and later the Richmond Times-Dispatch. He taught modern American literature at Virginia Union University until he retired in 2012. Contact him at rfitzger@gmail.com.
---
As an Amazon Associate, Boomer Magazine earns from qualifying purchases from linked book titles.