'The Great Wright Road Trip'
August 19th, 2021
Explore the legendary architect's career in Pennsylvania and New York
---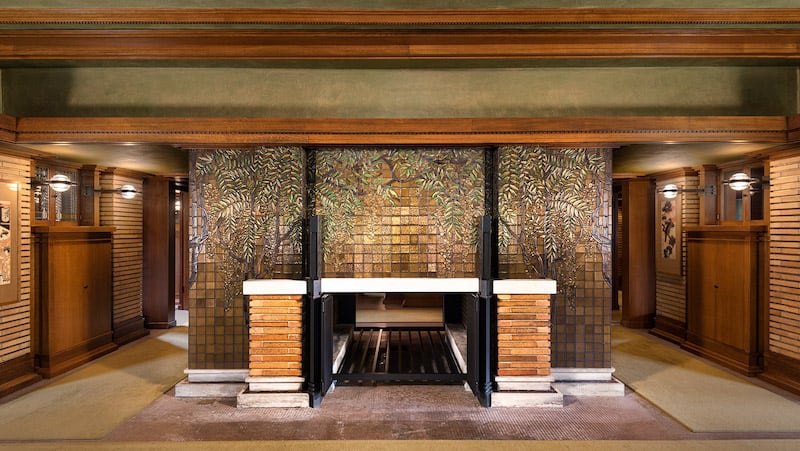 Take a Frank Lloyd Wright road trip to nine classic sites in Western Pennsylvania and Western New York designed by the renowned architect. A consortium of Wright sites located in Western Pennsylvania and Western New York have joined forces, launching a road trip that illustrates the legendary architect's career.
The nine sites of the Frank Lloyd Wright road trip are located within an easy four-hour drive. It was in the Laurel Highlands of western Pennsylvania and on the edge of Lake Erie in and around Buffalo, New York, that Wright found two of his greatest patrons and advocates: the Kaufmann family of Pittsburgh and the Martin family of Buffalo. Their support nurtured, sustained, and inspired him to create some of the most innovative work of his career – classic designs that have been protected, preserved and restored for public enjoyment.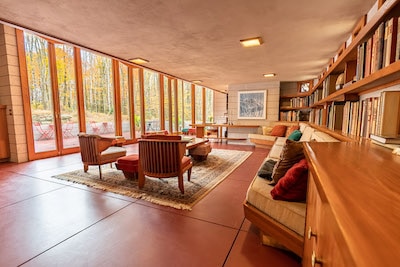 The Great Wright Road Trip incorporates one of the most representative and inspiring collections of his work in the United States. It illustrates his groundbreaking Prairie Style of the early 1900s, his visionary development of organic architecture in the 1930s at Fallingwater, and the breathtaking Usonian house of the late 1950s. Besides marveling at the creative exteriors, visitors can take in much of the stunning interior architecture and design with original furnishings and art.
Wright's San Francisco office has been reassembled and installed as a permanent exhibit at the Erie County Historical Society-Hagen History Center in Erie, Pennsylvania. There, visitors can experience the working environment where he created many of his late-career designs.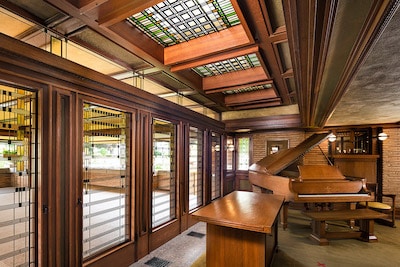 "Martin House, Graycliff, and Fallingwater in particular represent significant designs created during very different time periods of Wright's career working for clients who enabled him to create remarkable pieces of American architecture," said Mary Roberts, Executive Director of the Martin House.
"As you travel between these architectural landmarks, which are regarded as some of Frank Lloyd Wright's greatest works, you'll explore the richness and breadth of the architect's work and gain an appreciation for the beautiful landscapes that inspired his designs," said Justin Gunther, Director of Fallingwater and Vice President of the Western Pennsylvania Conservancy.
The Great Wright Road Trip is a shared legacy of architectural landmarks as well as their original furnishings and decorative art, spanning nearly five decades. Iconic designs are joined by recently constructed projects not realized during Wright's lifetime and those rescued through their relocation.
Partnering sites & locations
Pennsylvania
Fallingwater, Mill Run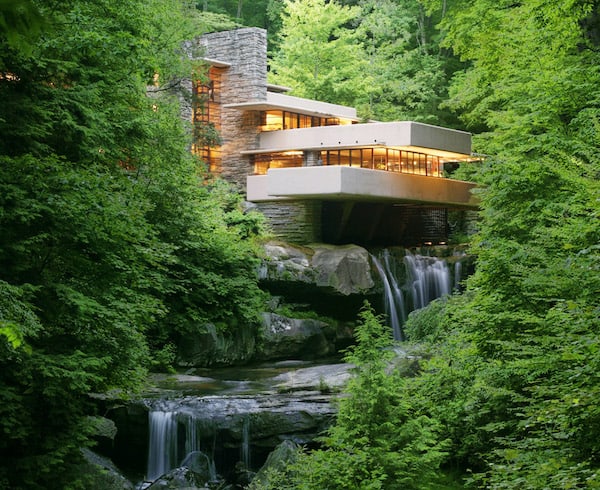 Designed in 1935, Fallingwater is one of Wright's most widely acclaimed works and best exemplifies his philosophy of organic architecture: the harmonious union of art and nature. The house, on the UNESCO World Heritage List, is considered a masterpiece of 20th-century architecture. Fallingwater was also named the "best all-time work of American architecture" in a poll of American Institute of Architects members.
---
Take a deeper dive into the natural connections at Fallingwater and Kentuck Knob
---
Kentuck Knob, Chalk Hill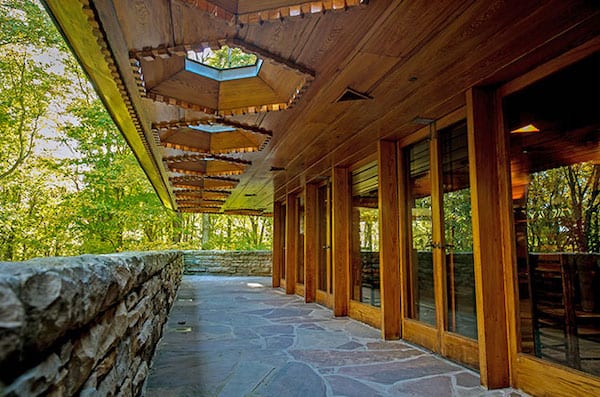 Completed in 1956 for the Hagan family, Kentuck Knob is an example of Wright's "Usonian" style, a group of approximately 60 homes he designed from the mid-1930s onward. These homes are characterized by native materials, flat roofs, and large cantilevered overhangs. Situated just below the crest of a hill, Kentuck Knob's construction materials of native sandstone and tidewater red cypress blend naturally with the surroundings. Stretching to the east, just beyond the back terrace, is a panorama of the Youghiogheny River Gorge and the Laurel Highlands mountains.
Polymath Park, Acme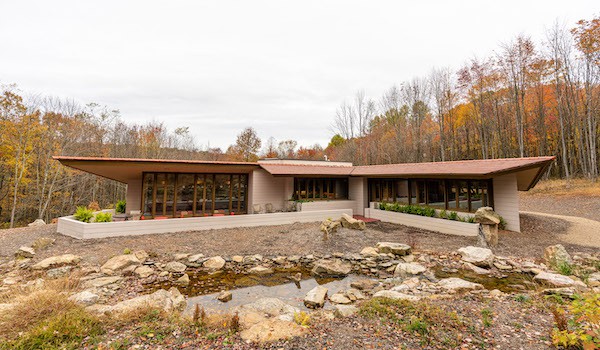 Explore two Wright-designed homes as well as two designed by Wright apprentice Peter Berndtson at Polymath Park, a 125-acre park-like setting. Berndtson's Balter House and Blum House are original to the location, while Wright's Duncan House and Mäntylä House were moved from other locations and reconstructed on-site.
Frank Lloyd Wright's San Francisco office at the Hagen History Center, Erie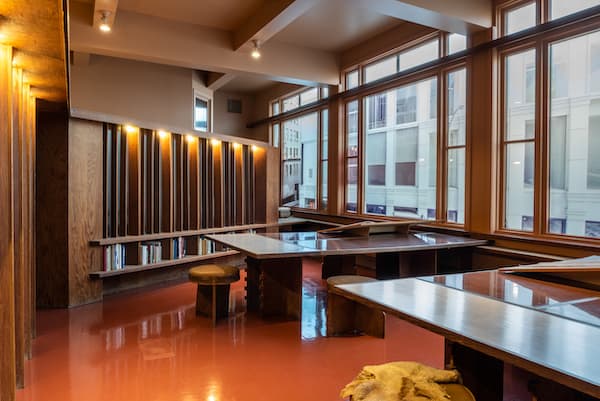 The office exhibit was reconstructed in a building specifically designed for it. When visitors enter, they feel as if they have entered after the staff stepped out for lunch. Tall windows, in what was a second-floor office, look out on a scene that replicates what clients and Wright himself would have seen. Wright's 1930 Cord L-29 Cabriolet is also on display at the Hagen History Center.
New York
Martin House, Buffalo

In Buffalo's Parkside neighborhood, the Martin House was built between 1903-1906. The 1.5-acre residential estate features six distinct but interconnected structures: the main Martin House, the Barton House, a conservatory, carriage house, gardener's cottage, and a 100-foot-long pergola. Wright referred to the Martin House as a "domestic symphony" and a "well-nigh perfect composition."
The Filling Station at the Pierce-Arrow Museum, Buffalo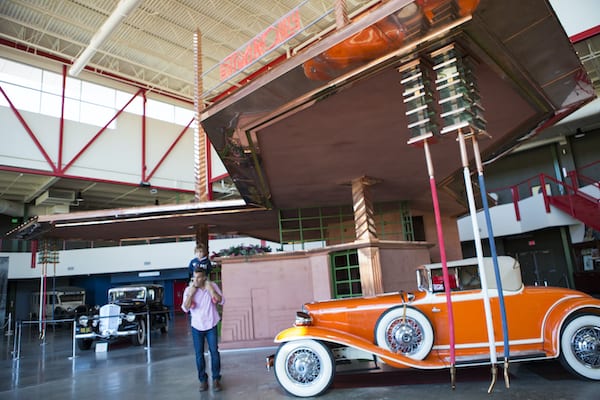 In 1927, the Filling Station was intended for a site just blocks from where it now stands. It wasn't constructed until 2014 as an exhibit at the Buffalo Transportation Pierce-Arrow Museum. The station's most striking features are an extensive copper roof and two 45-foot poles that Wright called "totems." The museum's collection is highlighted by the magnificent Pierce-Arrow motor cars that were manufactured in Buffalo until the company's demise in 1938.
Blue Sky Mausoleum, Buffalo
Located in Forest Lawn Cemetery, Blue Sky Mausoleum was commissioned in 1928 by the Martin Family. The Great Depression put an end to the project, which was eventually completed in 2004.
Fontana Boathouse, Buffalo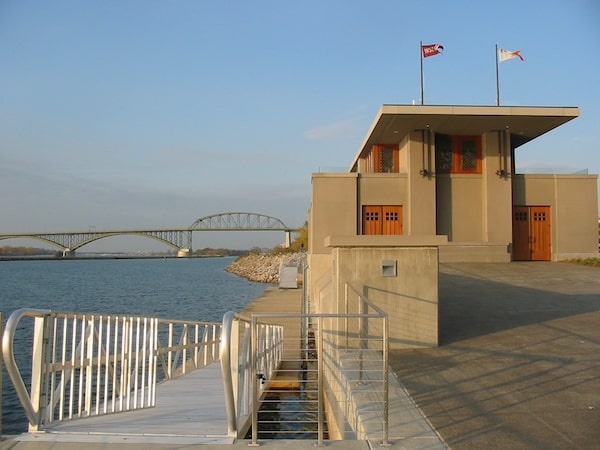 Designed in 1905 for a site at the University of Wisconsin but never built, this working boathouse found a home in 2007 at Buffalo's West Side Rowing Club overlooking the Black Rock Canal and Niagara River. Open by appointment.
Graycliff, Derby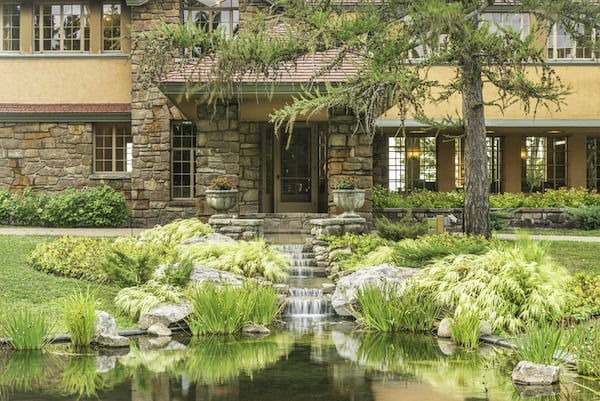 This summer home was built between 1926-31 for Isabelle R. Martin, wife of Darwin Martin, the Buffalo businessman who was one of Wright's greatest patrons. Located 30 minutes from Buffalo, Graycliff overlooks Lake Erie. The home's design contains elements that would be given fuller expression later at Fallingwater.
While on your Frank Lloyd Wright road trip …
The nine sites are scattered through miles of scenic countryside, hosting vineyards, roadside farm stands, regional food specialties, small towns, and more. Bookmark this page for quick reference to the sites, then explore New York's Buffalo Niagara region and Pennsylvania's Laurel Highlands.
In Western New York, visitors can explore the Buffalo Niagara region's reinvigorated waterfront, restored architectural treasures, festivals, museums, and epic food scene (authentic Buffalo wings, anyone?).
Western Pennsylvania woos travelers with the magnificent mountains of Laurel Highlands. The four-season destination offers spectacular natural scenery, outdoor recreation, historic sites and attractions, family activities, and world-class resorts.
For a Frank Lloyd Wright road trip trail map and more information on the trail and its Frank Lloyd Wright sites at the Laurel Highlands visitors website.
Cover image: Wisteria mosaic fireplace at Martin House. Photo by Digati