The Gallery at First UU Comes Alive
| September 12th, 2022
The making of the annual juried art show in Richmond, VA
---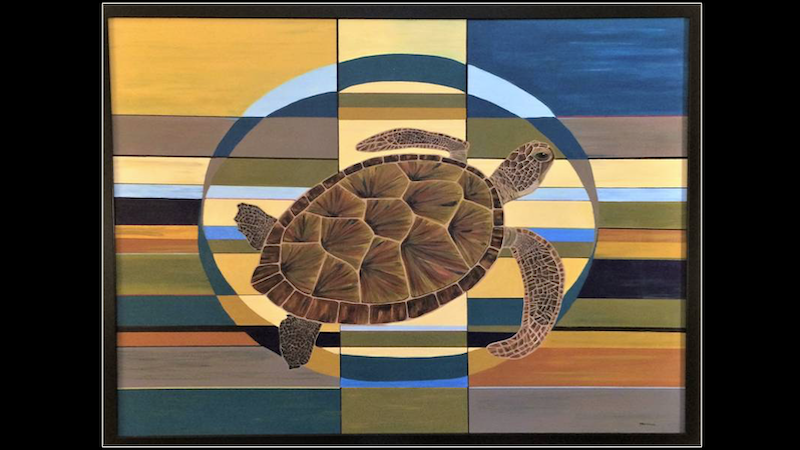 In 1966, an artist parishioner of the First Unitarian Universalist Church of Richmond, Virginia, held the belief that art should be accessible to everyone, to view and to own. The Gallery at First UU was born, with 22 artists showing and selling their works. This year, the 55th year of Gallery, more than 150 artists are participating, offering pottery, oils, mixed media, watercolor, furniture, sculpture, fiber arts, jewelry, stained glass, and more! Ginjer Clarke, Boutique Director, describes the work that goes into making the Gallery a reality each year.
---
To make something beautiful happen, first we take it all apart. Every year, First Unitarian Universalist Church of Richmond is transformed from a gray, modernist, cinder-block building into a colorful pop-up art gallery full of creativity, conversation, and collaboration. On the Thursday evening before the show opens on the following Wednesday evening in late September, a team of volunteers gets to work. We put away much of the existing church furniture, take everything off the walls, and move into place all of the necessary setup to display thousands of pieces of unique art. It's quite a mess, and requires a lot of muscles and effort, but the process moves efficiently. After putting on this art show and sale for 55 years (with the exception of the last two pandemic years), we have the system down to a science. Yet each year is different, and this one will certainly present its own challenges.
The volunteer gallery directors meet year round. The next year's process begins officially by jurying interested artists in May for acceptance into that year's show. Making the painful but necessary decision in 2020 to cancel the show after we had already juried new artists was one of the low points of the early pandemic. Even a hurricane, a tornado, and a badly leaking roof hadn't stopped the show in prior years, but this virus halted us in our tracks. Yes, it's only an art show, but it's one of the high points of the year for many of us. Not only do the church and the many artists from all over Virginia depend on the income from this art show and sale, but it is a very popular and loved event for all who participate. So this year we're determined to come back, while still mindful of the continued need to provide a safe environment for our volunteers, artists, and customers.
The artists at the Gallery at First UU
After the dismantling and setup process is completed, it's time for the artists to arrive. They come largely from Richmond but also from all around Virginia. Some were recruited from other art shows, some hear about the show from fellow artists, and some are church members. They all seem delighted to be there but sometimes a little confused if they are new.
One aspect that makes this art gallery different from other art festivals and shows is that the artists don't have to be present throughout the show to sell their artwork. They deliver it to the church over two days, and eager volunteers greet them to inventory the items, discuss the process, and in many cases to catch up as old friends.
As longtime Gallery artist Kris Taylor states, "This will be my 20th year exhibiting at Gallery! I love that I can drop off my oils, etchings, and jewelry at the Gallery and leave them. The delightful and very friendly show staff welcome me and do an incredible job of displaying for the public many of Virginia's diverse artists in their expansive Gallery. And opening night is always an opportunity to run into friends."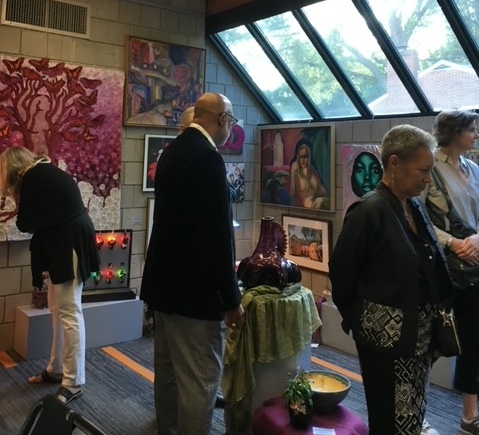 Once all of the paintings, sculpture, pottery, metalwork, woodwork, lamps, furniture, collages, stained glass, prints, fabric art, and wearable art such as jewelry, scarves, and hats are checked in, the design magic begins. Another team of volunteers displays all of the varied art on the walls, on tables and shelves, in jewelry cases, hanging in windows, and in every nook and cranny of the upstairs part of the church. It is all done with a professional hanging system and an interactive design aesthetic. Art is grouped thematically rather than keeping a single artist's work together. This encourages show attendees to look at everything, to see connections among the various art pieces, and to discover art they might not have otherwise encountered.
Artist Susan Singer says, "The best thing – the thing I absolutely love! – is that I drop off my work, it gets displayed exquisitely well, and then a few days later I pick up the remainders and a lovely check! It's like Christmas with the anticipation of what's to come! I also love seeing all the other artists' works. It's my favorite show of the year because the work is so beautiful, and it's displayed so beautifully."
The essential work of volunteers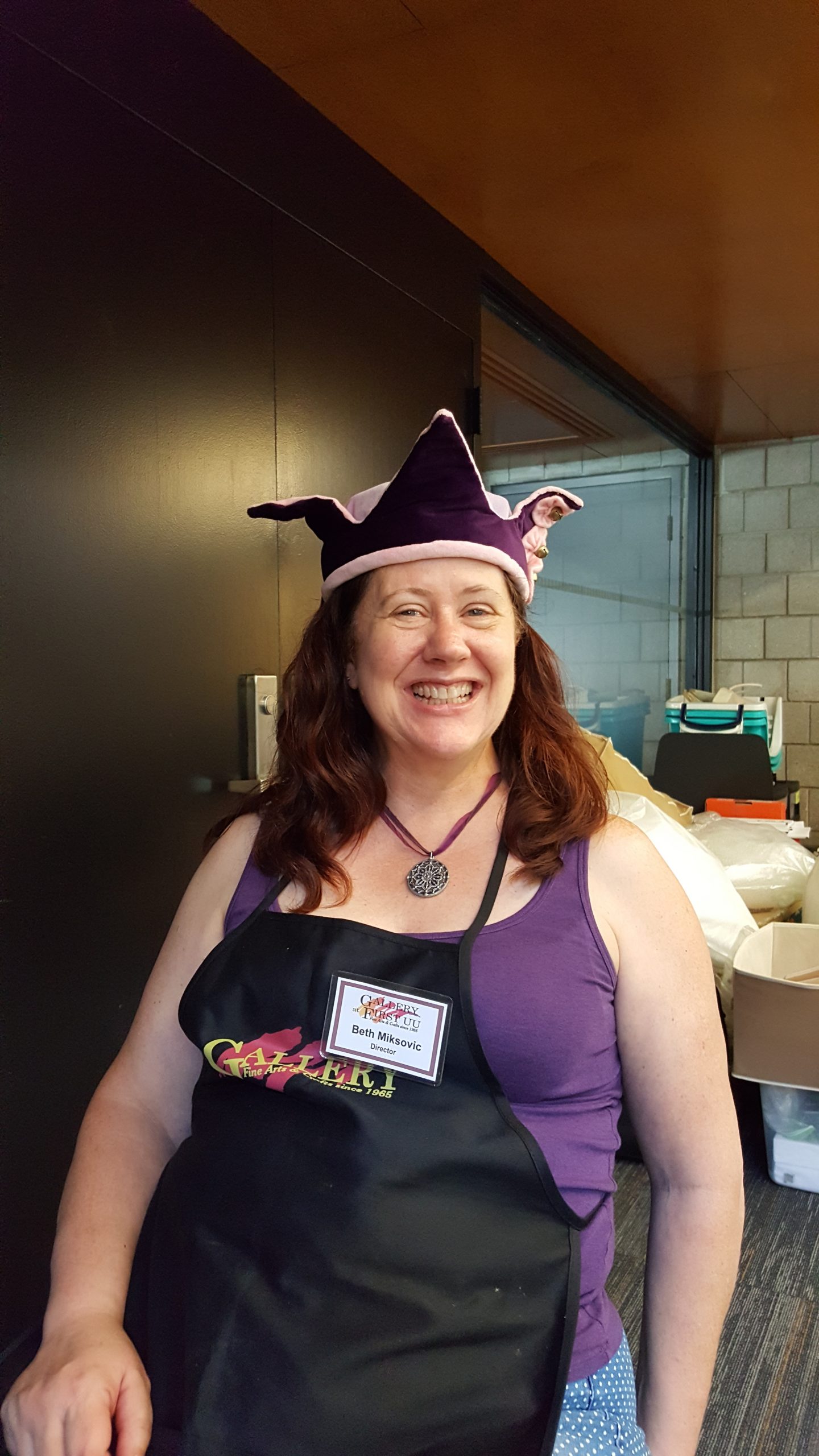 The show is designed over the course of four frantic but fun days. The design team practically lives at the church as we are consumed with the labor of love that is getting another Gallery show ready. Church members – and even their family and friends who get conscripted – solve myriad problems and devise creative solutions while enjoying each other's company. In the past they have worked through injury, illness, hunger, exhaustion, and lots of weather challenges. At the same time, other volunteers spend many hours of labor inputting all of the information on each artist and artwork into Gallery's homegrown database system. This provides a careful inventory to keep track of everything that is brought in and then what is later sold. Each piece gets a unique inventory number, all of the wall art is labeled, and portfolios of art are placed. Finally, it's showtime!
Opening night is just like any art gallery opening, with many of the artists present to discuss their work with each other and the attendees, many people dressed up for the occasion, and anticipation in the air for everyone to experience the show. Art collectors, professional interior designers, avid art lovers, and supportive community members all wait outside eagerly for 5 p.m. on Wednesday so they can be the first to see what new pieces they will fall in love with and buy. The pace for the many volunteer order-takers, delivery people, cashiers, and wrappers is steady, sometimes even frenzied, but always exciting.
Gallery continues to run for four more days, through Sunday evening. The art on the walls stays in place to be picked up by its new owners on Monday. It is such a major effort to put the show together that we don't take it apart until it closes. Smaller pieces of art, as well as all wearable art in the separate boutique, are allowed to go home on the day of purchase.
Finally, after purchased art has gone home, the artists come pick up their checks and any remaining art. Volunteers are present at every stage of the process to help the show run smoothly. On the final day, we put all of the gallery materials back in storage, replace the church furniture and decorations, and shed a few tears to go back to gray walls again. But we are always happy that this event happens, even when we are sad that it's over. For now, we are eagerly preparing and promoting this year's show and want to remind everyone to come out to see it.
Fabric artist Kathy Benner says it best: "My first Gallery experience was as a member of the UU church. I went and thought, this is like no other church art and craft show I've ever seen! It always made me think of how I experienced Christmas as a child – an ordinary space I am very familiar with is transformed into a beautiful, dazzling space filled with wonderful, magical things. When I was first accepted as a Gallery artist many years ago, I felt that I had really made it. I was right, and I still feel honored to participate in this quality show made possible by the vision and energy of many passionate volunteers from this church community."
Gallery at First UU 55
First Unitarian Universalist Church of Richmond, 1000 Blanton Avenue, Richmond, Virginia
Sept. 28, 5 to 8:30 pm
Sept. 29 and 30, 3 to 8 pm
Oct. 1 and 2, noon to 5 p.m.
Art pickup is on Oct. 3, 9 a.m. to 5 p.m. There is no fee to attend, and all are welcome. Follow the Gallery at First UU on Facebook and Instagram.
Feature art, at top: Sea turtle by Terri Mayo Huffman, Que Sera Art, who will be displaying at the Gallery at First UU.