Golf Communities Are Making a Comeback
| June 7th, 2023
An unexpected trend in retirement living
---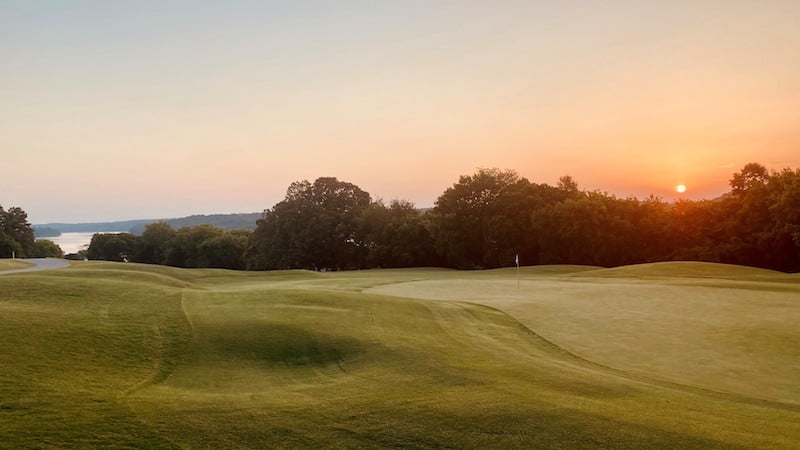 The pandemic fueled a resurgence of people playing golf, which is also driving a migration to golf communities, including retirement communities.
---
Golf is seeing a pandemic-fueled resurgence that's breaking records at courses across the country. According to the National Golf Foundation 37.5 million Americans played golf in 2021, and a record number, 3.2 million Americans played the game for the first time. According to a study by Golf data tech, rounds were up 18% in 2021 compared to pre-pandemic data from 2019.
Golf pros say there are several reasons why golf may be seeing a comeback. The pandemic forced us all outdoors for socially distanced, pandemic-safe activities. Few things are more COVID-safe than golf: It's outside, you can comfortably be six feet apart, there's no necessary contact, no shared equipment; but you are still able to compete, exercise, and benefit from the social interaction and both mental and physical stimulation the sport provides.
Americans are traveling less amid high gas prices and soaring flight fees. That means more people are staying home and making the most of local opportunities. Chris Sikes, former director of golf at Tennessee's Tellico Village golf community, says these factors led to record-breaking numbers. Tee times fill up fast and waiting lists for lessons and clinics are longer than ever before.
---
Why Retirement Is the Perfect Time to Start Sailing
---
The pandemic also afforded people extra time, and those trends are sticking post-pandemic. As businesses continue to shift to more remote working, millions of Americans are kicking their commutes – freeing up hours on calendars every week. Flexibility allows for more leisure time, sending droves of people to the links.
When other sports were forced to take a break during the height of the pandemic, golf was able to flourish. And one of the best things about the game is that you can start at any time. Sikes says they've initiated new golfer programs that fill up quickly and they have even had to adjust tee sheets to accommodate different levels of play. There was so much interest in middle and high school participation, the Tellico community golf team had to create three teams, instead of its normal one, to keep up with the demand.
Though more Americans are playing golf across all age groups, people over 50 are helping to drive the trend on and off the course. As 10,000 baby boomers move into retirement age every day, they're changing the game of what life after work looks like. Rather than winding down, seniors are ramping up. For today's boomers, leisure is less about relaxation and de-stressing and more about engagement, connection, and activity, according to the Merrill Lynch study, "Leisure in Retirement: Beyond the Bucket List."
Many seniors dream of golfing their way through retirement. Forbes reports that private golf club communities are seeing a surge in the pandemic/post-pandemic world. East Tennessee's Tellico Village golf courses reported a banner year in 2020, with record volume.
---
10 Unique Retirement Communities
---
Sikes says, "People are flocking here because they can golf in the great outdoors in a place as beautiful as Tellico Village right at foothills of Smoky Mountains on the lake. It's safe, and the views are unbeatable."
Golf communities in Florida and the Carolinas saw similar trends. Ideal-Living Magazine, a real estate publication aimed at retirees, reports half of retirees they surveyed are looking to move to a golf community, or somewhere close to golfing. And a November 2020 Golf Life Navigators survey of people looking to join golf clubs found that by the end of 2020, 80% of its clients combined their search for a new home and new golf club.
For many seniors, joining a golf club may be outside of their budgetary constraints, which is another sell for golf communities. Some of these communities offer memberships for free or at a major discount for homeowners.
Golfing seniors looking for more up-scale living at a reasonable price are flocking to southern states like Tennessee because of the affordable home prices, lower taxes, and cost of living. Tennessee recently earned the number-one spot among top retirement states in a Bankrate.com study, which ranked states by data such as climate, tax rates, and cost of living.
And as the retiree population continues to grow, those in the golf industry are hoping the resurgence of the sport and the lifestyle that goes with it will continue to flourish.
---
Beth Kuberka is the marketing director of Tellico Village, a planned active adult community in Tennessee. She oversees all communications, marketing, sales and first impression initiatives for the village. She has nearly 20 years of experience in planned senior community marketing. She spent 8 years at Rarity Bay, working her way up to marketing director before joining Tellico Village in 2012. Kuberka has extensive knowledge of the workings of senior living communities. She has developed several programs, and currently manages an alliance of 88 village-based businesses. She earned a Bachelor in Informational Science from the University of Tennessee in 2004 with a focus on advertising and business marketing.