Why Retirement Is the Perfect Time to Start Sailing
May 13th, 2022
Six reasons to take up sailing as your new hobby
---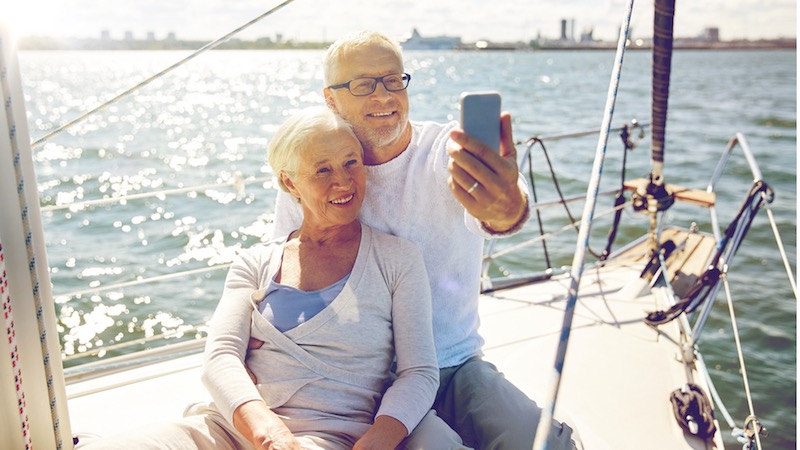 If you are planning on retiring sometime in the near future, you may be on the hunt for new hobbies and adventures to fill your newly acquired (and much deserved) free time. If you're already thinking of travelling the world like many people aspire to do in their retirement, now may be the perfect time to consider sailing as a fun and venturesome pastime, to start sailing in retirement. Even if you've never skippered a vessel before, you'll be pleasantly surprised at how straightforward it can be. Today, we look at 6 reasons why retirement is the perfect time to start sailing.
Start sailing in retirement because …
Sailing builds confidence
Too many people are under the impression that new adventures are something that should be saved for the youth. We're here to tell you that is simply not the case! If you start sailing in retirement, the experience can be an incredible confidence booster because it takes skills, knowledge, and instinct to master.
A great way to start your sailing journey is to opt for a light craft such as a power catamaran from ILIAD. A light sailboat is perfect for a sailing newbie as it will immediately let you know what you're doing right and/or what you could improve on. Such feedback can make a huge difference in your learning journey and aid in building your confidence one sail at a time.
Sailing keeps you fit
Worried about becoming less active in your retirement? Well, you'll be glad to know that sailing is a great way to keep yourself both physically and mentally fit. The various tasks associated with sailing (pulling lines, hoisting sails, etc.) are great ways to maintain and even improve your agility, flexibility, and hand-eye coordination skills. Sailing also has a tremendous impact on your mental health and wellbeing, can improve self-esteem and confidence, and reduce tension and stress.
You'll never be bored
The great thing about sailing is that you'll never be bored. With so many places to visit and so much to see, you can spend as much or as little time as you please setting out on new adventures. Unlike your bog-standard holiday, sailing will open you to a whole new world of different ports, each of them representing a new exploring ground. You'll learn how to fish, cook tantalising new dishes, meet locals, snap incredible photos, and so much more on each and every sailing journey. This is what makes sailing such an enriching and fulfilling experience.
You can enjoy being part of a community
If you start sailing in retirement, you'll discover it is a great way of meeting new people from all around the world. New interesting people are waiting for you in every port, and you'll make brand new friends every time you set sail. Learning new sailing skills, exploring different cultures, and sharing your experiences with other travellers to open your mind are just a few of the benefits you stand to gain when you join the sailing community. You can even join a local sailing club that offers plenty of opportunities to socialise while sharing your love of boating with others.
You can reconnect with friends & family
One of the biggest gifts that retirement offers is the newfound ability to spend precious moments with friends and family like never before. A sailing trip is a bonding experience unlike any other that will help bring friends and family closer, making it the ultimate way to spend some quality time with those you care for. Make arrangements with those nearest and dearest to you for a fun time out on the boat, filled with laughter, joy, good food, wine, and so much more. These are the moments that will last a lifetime.
You will experience peace and quiet
If you've grown weary of the hustle and bustle of city life, nothing will be more relaxing or peaceful than a trip out on your boat. Nowhere else will you find the tranquillity that exists when you're out at sea with nothing but horizon in front of you. Sailing can be the perfect solution for recharging your mental batteries, especially if you've spent your entire life working hard. Receive a sense of freedom and disconnect from everything else in your life by listening to water splashing and birds chirping, even if it's just for a short while.
Learning new skills, meeting new people and boosting your confidence are just a small fraction of the many reasons why you should start sailing in retirement – it's the perfect time to begin. Once you start, you can never go back.
---