Sailing on a Schooner Through British Columbia
| February 18th, 2019
An off-the-grid adventure on the Passing Cloud schooner
---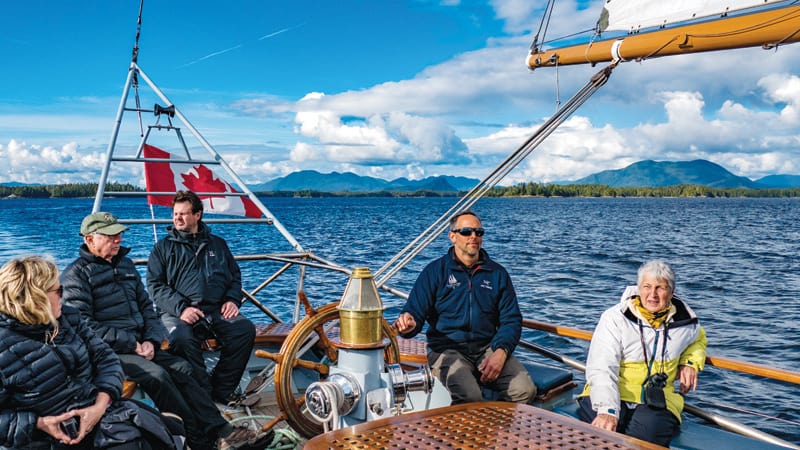 Don't expect spas, shuffleboard courts and dressing up for dinner! The local spa treatment is standing high on the bow as Passing Cloud eases up under an icy waterfall that cascades down a sheer rock face. The only shuffling you'll do is along leafy bear trails and over slippery rocks, quietly keeping a watch for bears. Dressing for dinner means removing the waterproof clothing and warm layers you've been bundled up in all day. There is absolutely no glamour involved.
A far cry from what most people consider a cruise ship, Passing Cloud is a classic 70-foot schooner based in British Columbia, Canada. She is beautifully appointed with a full crew comprised of skipper, mate, chef and onboard naturalist. An eight-day trip took me and five other guests through the Great Bear Rainforest, a vast and remote area on the northwest coast of British Columbia that is famous for the rare Kermode, or white spirit bear, black and grizzly bears, whales, wolves, seals, eagles and spectacular scenery.
Until recently, the area was threatened by logging and mining interests, but in February 2016, the historic Great Bear Rainforest Agreement placed nine million acres off limits to logging and millions more acres under strict forest management guidelines. The British Columbia coast is the only place in the world where these plans were agreed to by both the indigenous people and the state. And it's an area where you are completely off-the-grid, with no way to contact anyone other than via radio and satellite telephone.
This cruise epitomizes a way of traveling that eschews the traditional forms of tours and travel and which some might consider inappropriate for people "of a certain age." Unlike traditional tours and cruises, Passing Cloud personalizes experiences, considering guest preferences, weather and perhaps, most importantly, wildlife sightings. The onboard specialist provides a cultural aspect, sharing lessons about the indigenous people and historical sites.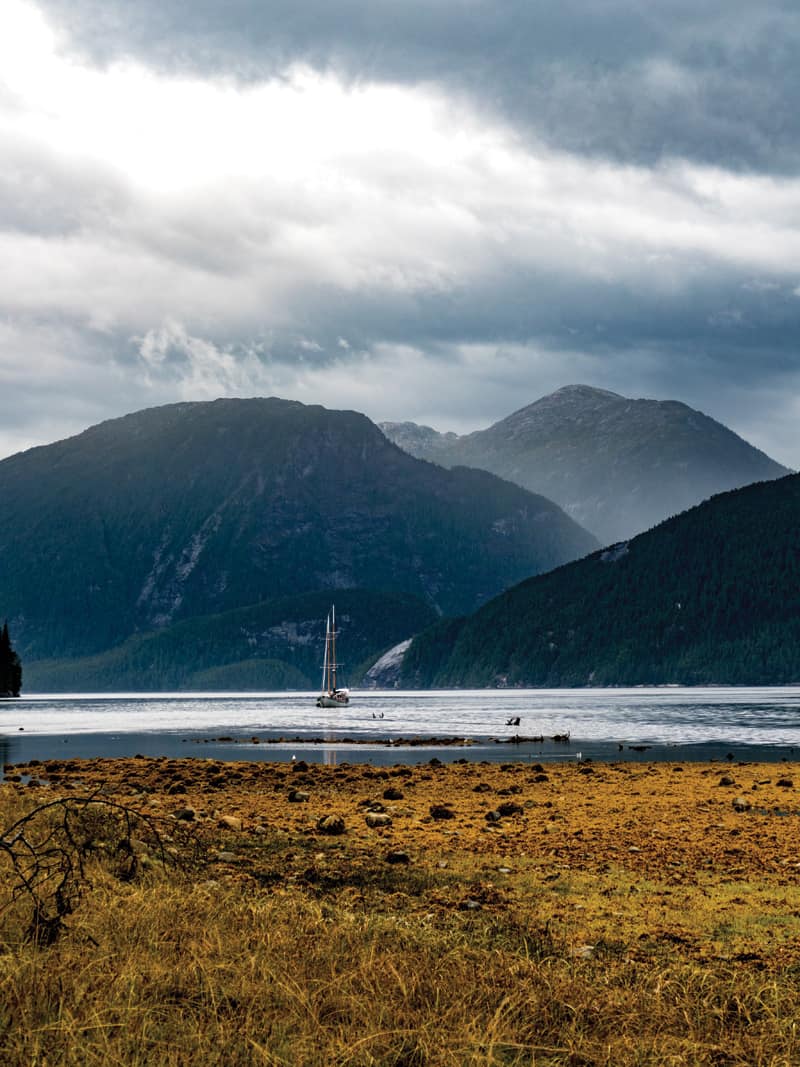 EXPANSIVE EXPERIENCES
Two couples from Canada and South Africa, a single lady from England and I made up the guest list aboard the Passing Cloud. An international, AARP-age group, we flew into remote Bella Bella, British Columbia, to join the Passing Cloud.
From the moment we left the dock in Bella Bella, we were exposed to the magnificent and dramatic scenery of the Great Bear Rainforest, which is one of the largest tracts of unspoiled temperate rainforest in the world. Enormous 1,000-year-old western red cedar trees and towering Sitka spruce grace the land, with forests of hemlock and cedar hugging the shorelines of the hundreds of islands, estuaries and fjords that make up the cruising grounds. Secret channels branch off the main channels, begging to be explored.
Our days started early, with fresh-brewed coffee available first thing, a most important feature! Meals were exceptional, as our chef, Erin, is Canadian Red Seal certified and has many years of experience in restaurants. She prepared dishes from local ingredients, often going ashore with Briony, our naturalist, to forage for local plants that would be featured in future meals.
After breakfast, we geared up for shore explorations or for a leisurely cruise along the dense shoreline. As bundled up for the weather as we were, it was quite a mission getting everyone off the mothership and into the inflatable dinghy alongside. It meant clinging to and climbing down a metal-runged ladder into the bouncing dinghy, to take a seat on the tube. Forget about any sort of dock to land on once we reached shore! Liam, our first mate, jumped overboard and hauled the boat up onto the usually rocky shore. Wearing the obligatory knee-high gum boots, we swiveled our butts around, swung our legs over the side and slid down into the very chilly water, to wade – very carefully – ashore.
Always accompanied by Briony, and either skipper, Russ or Liam, we ventured into the forests, following invisible bear trails. Briony is a highly respected scientist and a veritable encyclopedia of local knowledge, and we were treated to minilectures on the use of native plants by the First Nation people.
OH, THE THINGS WE SAW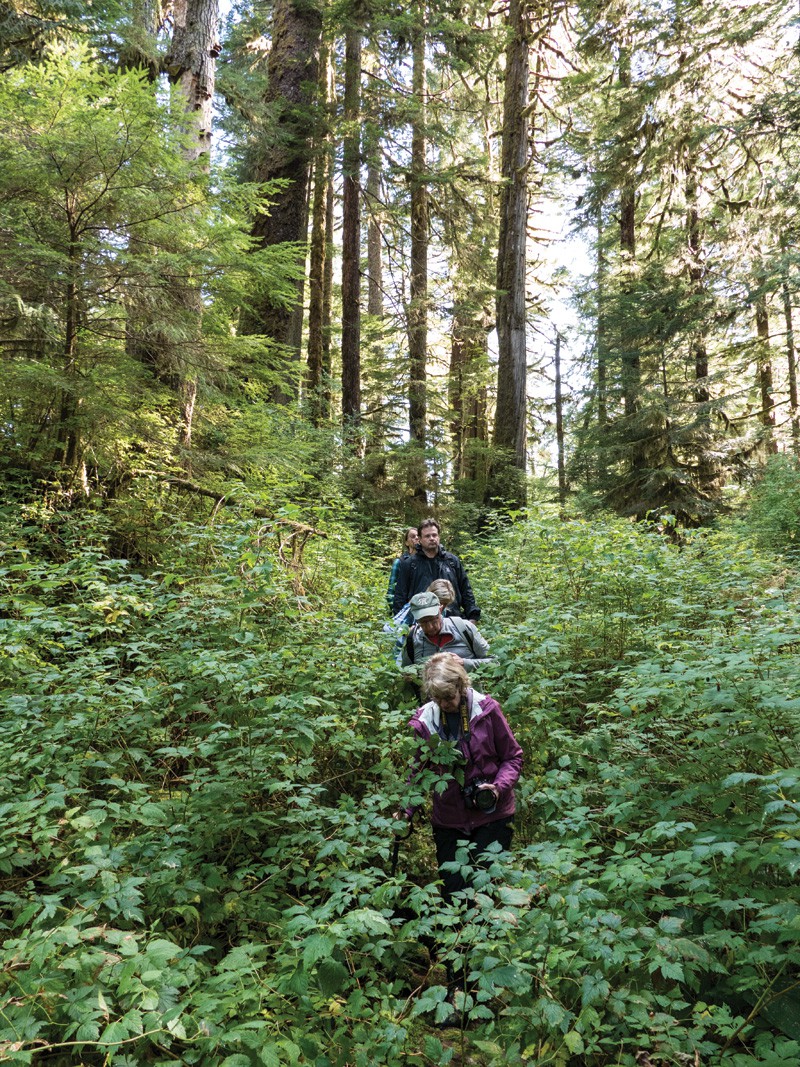 With no guarantees of seeing any wildlife, our shore excursions produced wonderful results. We were privileged to watch a black bear fishing for salmon in a pool beneath a waterfall. He was aware of us, perched silently on a bank above the pool, but chose to ignore us and get on with the business of feeding himself. On a different excursion, we watched a mother grizzly bear and her three cubs foraging for crab apples and then swimming across the river to forage along the island shore, watched by more than two dozen bald eagles that dotted the trees like Christmas decorations.
On the water, the most memorable occasion, at least for me, was when a pod of humpback whales surrounded the Passing Cloud as we hove to in the middle of a channel. They blew and sounded and circled us, passing under the boat to surface on the other side, giving us all ample opportunity to photograph the huge animals. It was breathtaking being so close.
There are numerous options available to break out of the restrictive trips and tours generally touted to our age group. Adventure cruising is just one way boomers are breaking from traditional vacations. For the not-quite-so-intrepid travelers, crewed charter boats in accessible areas like the Bahamas and Virgin Islands are an attractive option. By choosing nontraditional travel, you can expect experiences beyond your wildest dreams.
---
Susan Colby is an award-winning photojournalist specializing in boating and travel, with a new passion around craft distilling. She is currently location independent and a full-time housesitter.