Gray Divorce
| September 18th, 2017
The 50 shades of a growing phenomenon
---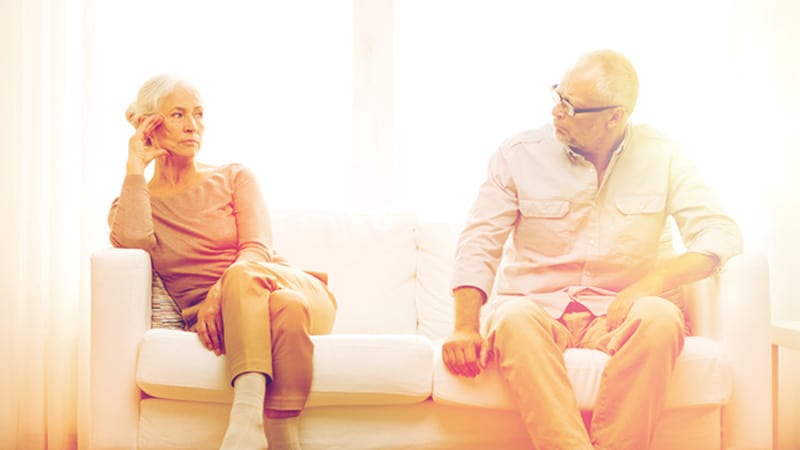 Years ago, when two people married, it was "till death do us part." Divorce wasn't a popular alternative to marriage woes. But times, norms and attitudes change. Today, divorce doesn't carry the stigma it did, and that opens a new door for many struggling couples, especially baby boomers and beyond.
"Looking at the research, divorce for couples 50 and over is more likely today than it used to be," says licensed professional counselor Mark Loewen, founder of LaunchPad Counseling. "Some people that wouldn't have done it before now feel empowered to do so."
Society often looks at marriage in the context of length rather than happiness. If someone has been married 30 years, for example, "they get applause," Loewen says. "No one is saying that the marriage is good. Often people who are older don't feel like they have to stay together for the kids anymore."
REVEALING RESEARCH
According to the Pew Research Center, "gray divorce" is on the rise. Among U.S. adults ages 50 and older, the divorce rate has roughly doubled since the 1990s.
In 2015, for every 1,000 married persons age 50 and older, 10 divorced – up from five in 1990, according to data from the National Center for Health Statistics and U.S. Census Bureau. Among those age 65 and older, the divorce rate has roughly tripled since 1990, reaching six people per 1,000 married persons in 2015. Remarriages, which may be less stable than first marriages, partially account for the rising numbers.
Attorney Ed Barnes of Barnes & Diehl is seeing more clients over 50 seeking a divorce. "I have represented someone as old as 85 in a divorce," he says.
COMPELLING CAUSES
The reasons for divorce vary, everything from infidelity to a lack of commitment.
"Marriages are like a bank account," says Margaret Norman, licensed marriage and family therapist at Margaret Norman & Associates in Henrico. "How well have you invested? Is there a rich relationship you can depend on? Sometimes when people get older there is not a richness in the relationship that holds them together. My job is to make sure I help them understand all those factors."
Often people get divorced by default, she adds. "They divorce due to what is not in the marriage and then don't inventory or appraise what is in the marriage, like security and some kind of companionship."
There are points in a marriage when a couple has to reinvest in the relationship. One of those pivotal times is when the kids go off to college. "That's a sensitive time," says Loewen. "It can make or break a marriage."
Attorney Nancy Cook of Family Law Associates of Richmond has seen quite a few people "who have stayed together in a not-so-good marriage for the sake of the kids," she says. "When they are empty-nesters, they decide they don't need to put up with it any longer."
Retirement is another life-changing event. The new day-in-day-out togetherness can be smothering. "One spouse may have been staying at home raising the kids and the other working long hours," Cook says of the time before retirement. "Now they are driving each other crazy. They find they have nothing in common."
Less common but sometimes an issue after the age of 50 is a spouse admitting to being gay. "It's more likely for men to say they have been gay," says Loewen. "They knew before but grew up with the imprint of 'this is wrong.' They would get married and have children. Once you have children, you don't want to disappoint everybody."
FINANCIAL FALLOUT
Often couples over 50 thinking about divorce haven't considered all the financial implications. "Let's say a woman is 55 and has never worked outside the home," Barnes says. "She has always depended on the income of her spouse. She becomes worried about how she will make it financially after the divorce."
Women who haven't worked are faced with becoming their own primary wage earner. "They think, 'What am I going to do for the next 25 years?'" says family law attorney Terrence Batzli of Batzli Stiles Butler. "The greater the disparity between what they are able to earn compared with their spouse, the more spousal support becomes involved."
Often the challenge is that both spouses are retired and living on a fixed income. "They have what they have," says Batzli.
Many people believe their retirement fund is their own, but in Virginia any retirement fund incurred during the marriage is a marital asset and can be divided. "The non-earning spouse can only get up to 50 percent of it," says Cook. "If the retirement account is divided, it doesn't go as far. You don't have as much time to recover."
Spousal support and health insurance also play into the settlement. "Health insurance is a big issue," says Cook. "If a wife has been on her husband's policy, now she has to get her own."
HIDDEN ISSUES
There are many social aspects to be considered when divorcing, everything from dating to loneliness.
"Often people don't understand how alone the isolation that can happen after a divorce feels," says Norman. "It's harder to find a partner later in life, and so you are often moving into a more individual phase of life."
Loneliness "is a powerful reason to stay together," says licensed professional counselor Brenda Murray of First Light Counseling.
Dating over the age of 50 can be difficult, especially for women who look for emotional well-being in the relationship.
"Men are more likely to date again," says Loewen, adding that past friendships based on the couple can be lost. "It's harder for people who divorce later in life to make new friends and find people to confide in."
After divorce, a person can focus on volunteer opportunities and search for meaningful organizations or social activities to help find purpose and fulfillment.
AN ALTERNATIVE
Some people who are thinking about divorce decide to stay together in their home but lead separate lives. "They become more like roommates," says Norman. "They can live together and they may vacation together or be grandparents together, but they don't share an emotional connection. They may be getting the emotional connection from friends and family. A lot of marriages are OK like that."
SUPPORTING GRANDKIDS WHEN THEIR PARENTS DIVORCE
Baby boomers whose adult children who are getting a divorce may need to provide their grandchildren with support.
There are two things that grandparents can do in this situation. "First, they want to remain as neutral as possible and be prepared with a lot of hugs," says licensed clinical social worker Nicole O-Pries, adding that grandparents can be a great support to their grandchildren. "You want to listen and normalize the feelings the kids are having."
It's OK for grandparents to check in and see how their grandchildren are doing, but "there is a line that grandparents don't want to cross where they are searching for more information," O-Pries says. "You are not playing detective or psychotherapist. You are lending a supportive ear."
---
Award-winning writer Joan Tupponce writes about a variety of subjects – from business to celebrity profiles – for publications that include O, The Oprah Magazine, AmericanWay, U.S. Airways magazine and AAA World.