The 2016 Great Adventure, Pt. 2
| October 14th, 2016
Of Stunning Sights & Surprises
---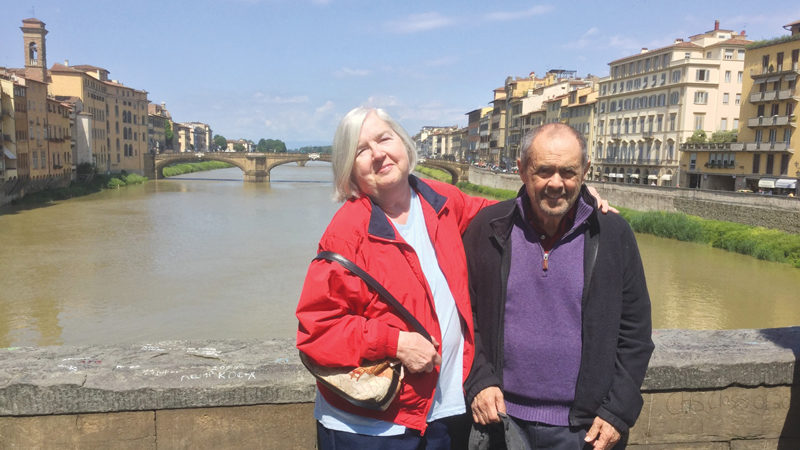 In the weeks since our "Great Adventure 2016" travels to five countries abroad, Europe has become a more troubling destination. Only a matter of weeks after Barb and I journeyed along the dazzling Promenade des Anglais in Nice, France, for instance, a cargo truck roared down that beautiful expanse on Bastille Day and wiped out 85 innocents, injuring more than 300 others.
Before leaving the country, we had signed up for State Department Travel Alerts, but our only dangerous moment in a month of travels was a runaway taxi in Barcelona that plowed into a sidewalk café as we stood a few feet away reading the posted menu.
Barcelona, an absolutely gorgeous city even in four days of rain, provided one of our favorite sights on the trip – Sagrada Familia is so remarkable that when our foursome got out of the cab, we all stood open-mouthed and rooted in front of it, and Barb said, "Oh my word. If Hogwarts had a cathedral, this would be it." The outside is like Gothic architecture and sculpture on steroids, and the inside is a sacred forest, blinding gorgeous color, Escher-like staircases – an overwhelming experience. You do not leave it unmoved.
The stunning thing about this year's trip, in fact, was that every country, every city, every sight we visited, seemed better than the last and impossible to top. I never expected to find anything more stunning than the Alhambra in Granada, but for me, Sagrada Familia was it. And if the South of France was glorious, then Italy was heaven. And if Florence was unbelievably lovely, Venice was magnificent!
Of course, the pleasure of travel is not just the places you go but the people you meet. If we're traveling farther from Richmond than Crozet, we like to be with our world-traveling cousins from New Jersey, Marva and Norm, who guide us around and know the best places. And on the early cruise part of this trip, among a dozen or so new friends, we met and enjoyed the company of Terry and Coleman from Midlothian. Imagine: 3,700 passengers, and we find a couple not only from Midlothian but who also love to play trivia!
A ROMANTIC ENDING
Now before I leave the subject of Great Adventure 2016, I have to tell you about our last night in Venice. I think I'll just copy this description from Barb's journal because I know that's a safe way to recount what happened:
The culmination of the trip in more ways than one was our gondola ride. That's what everyone does in Venice, of course, and it's something you never think you'll get to do when growing up on a farm at Keswick or sitting in class at Venable Elementary in Charlottesville. But here we were, and on our last night in Venice, our romantic gondola ride would be something to always remember. The gondoliers are garbed in very distinctive striped shirts and straw hats, and the most romantic gondolas have either blue or red velvet interiors. We got a blue one, settled in, and drifted lazily through the narrow canals of this great city.

The sights were window boxes with colorful flowers, little arched bridges of all shapes and designs, just high enough for the standing gondolier to pass below, a house where Mozart had visited (hear the piano?) and white doves on the eaves. I was aware of water lapping against the foundations of ancient buildings, the bells of St. Mark's in the distance, soft voices wafting across narrow alleyways, the occasional bird call or a moment of laughter from an open window. The sun was about to set, with that incredible Venetian light, and it was as romantic and serene a moment as life can provide.

Our gondolier at some point began to talk softly in his beautiful Italian – I felt sure he was reciting poetry to us because of his tone and inflections.* Remembering the legend that if you kiss beneath one of the bridges, you will return to Venice, we leaned in to ensure our return as we approached one that was particularly lovely – and a pigeon crapped exactly on the center of my forehead!

To complete the romantic end of an unbelievable first visit to Venice, the gondolier said, 'Issa gud et notta seagull. Then you needa da shower.' 
*In the interest of honesty, I must say I thought he was talking into his cell phone!
Read about the first part of Fitzgerald's journey here.