His and Her Bedrooms
| January 17th, 2019
Real estate trend helps couples sleep better – apart
---
Just because you love your partner dearly and can rattle off a list of his or her finest traits does not guarantee that your sleep needs and preferences are compatible. One's a night owl and the other, an early bird; one tosses and turns, waking the partner who now can't get back to sleep; one likes a frigid bedroom and the other a sauna; or one snores so loudly that the windows rattle and the bedmate has pondered alternative uses of a pillow.
"In a recent survey, 25 percent of couples admitted to sleeping in separate rooms," architect Deryl Patterson says in Builder magazine. "Key word: Admitted. Many aren't willing to discuss their sleeping habits out of fear that it suggests a lack of intimacy."
Fortunately, architects and homebuilders have identified both the problem and the solution.
"Since we all change as we age," Patterson says to fellow architects, "acknowledge and accept the changes by designing homes that respond to how the 55-plus buyer really lives."
Dubbed a "second master suite," "his and her bedroom," "VIP guest suite" or "snore room," new homes reflect a national real estate trend. Two separate master bedrooms can remove unnecessary relationship stress and enhance sleep – thus enhancing physical and mental health.
WHAT'S OLD IS NEW AGAIN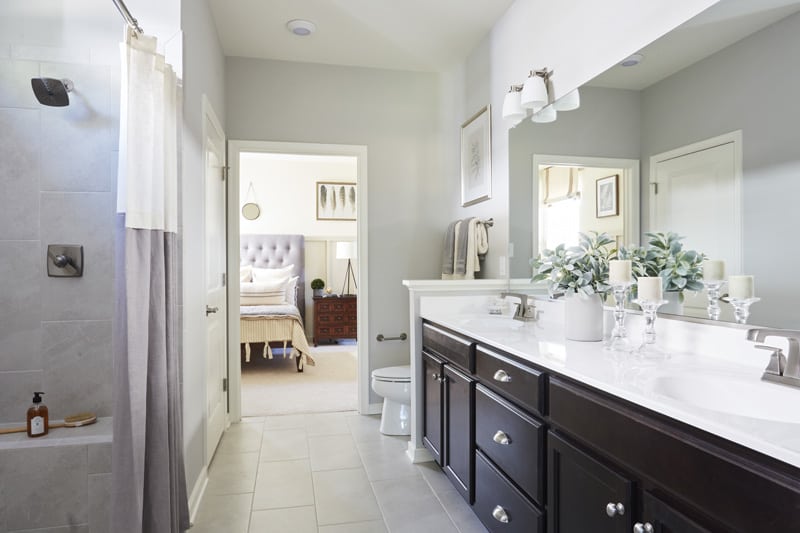 The idea of separate bedrooms seems anathema to contemporary couples raised in an age of romance.
However, historic homes and the stories of their owners reveal that love and a good night's sleep can co-exist. For example, at the sprawling, opulent Biltmore mansion in Asheville, North Carolina, Mr. and Mrs. Vanderbilt's chambers are separated by a spacious sitting room, and each had his and her own bathrooms as well. Yet George and Edith Vanderbilt had a "loving partnership," says Biltmore.com, adding that the couple "spent many years of happiness at Biltmore and at their other residences in Paris and Washington, D.C."
LOCAL SOLUTIONS
Despite decades of new homes built with one master bedroom, couples have spent many hours sleeping apart. For years, the sofa has served as refuge – or exile. New solutions, including those from developers in Central Virginia, ensure that both parties can sleep in comfort and style, with neither feeling like Napoleon on Elba.
"StyleCraft Homes dedicates ample time to talk to our homeowners and then incorporate that input into our floor plans," says Kathryn Catherwood, director of sales and marketing for StyleCraft. "In doing this with our 55-plus segment, one of the themes we consistently hear about is sleep – wanting an ideal environment to refresh and recharge. So with that feedback and other research in mind, we identified the 'Snore & More' room concept as an option for our homebuyers, to address this need for comfort and convenience."
Three StyleCraft floor plans include a snore room option. In the Shenandoah floor plan, the owner's suite is connected to a flex room via a full bath and closet. With a bed in the flex room, both partners can sleep undisturbed. The Shenandoah floor plan is available at three active adult, 55-plus communities: Villas at Ashford Hill, Villas at Archer Springs and Villas at Rose Hill. In the Westmoreland floor plan, the owner's suite is connected directly to a flex room, which can be used as a bedroom. This floor plan is available at the Landing at Swift Creek. The dual owner's suite option in The Reed floor plan, also available in the Landing at Swift Creek, connects the rooms via the laundry room.
"We've incorporated snore rooms for a while now," says Kirsten Nease, director of marketing at Cornerstone Homes, "connecting the owner's suite with another room so that they can have direct access to another bedroom … so if someone is snoring or having a restless night, they can move to another room." The Washington floor plan, for example, offers a flex room that can be used as a second bedroom, connected to the owner's bedroom through the owner's bath.
Jonathan D. Ridout, vice president of land development for HHHunt Communities, attended a recent National Association of Home Builders (NAHB) International Builders' Show, which covers trends and what's new in home design, real estate and community development. Boomers generally want better use of their space, no matter the size of the home, Ridout says.
HHHunt provides multiuse rooms to ensure the efficient and usable space they seek. "Some [homes] have a snore room in case their partner snores really loud," says Ridout.
So separate your need for a good night's sleep from your commitment to love and devotion – both body and relationship can be the beneficiaries.