Holiday Chex Party Mix
| November 8th, 2023
A few tasty twists make the classic snack perfect for the season
---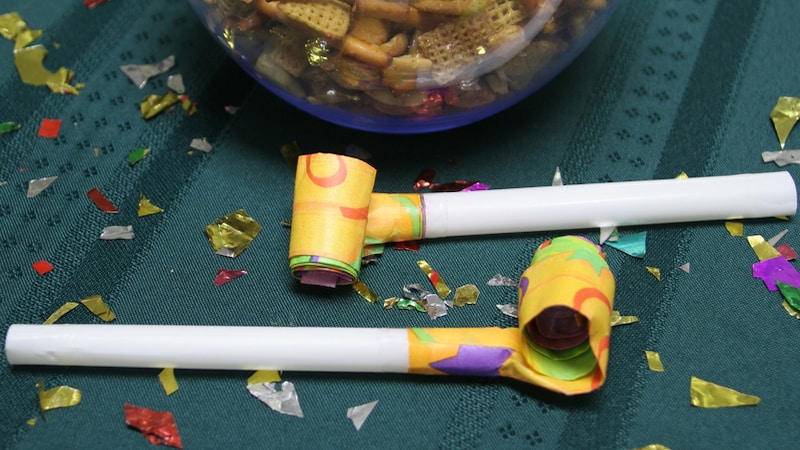 I'd argue that there is no occasion where a bowl of crunchy, salty, cereal-studded party mix isn't welcome. We make big batches for birthday parties and game nights. So when it comes to Thanksgiving and other winter holiday celebrations, a home version of holiday Chex party mix should be on everyone's menu.
You can make a big batch of this snack mix a week before and snack on it while you prepare, cook, or otherwise celebrate (like when your out-of-town in-laws swing by for a game of Risk while you're brining the turkey). Or you can throw it in the slow cooker the day of Thanksgiving and serve big bowls of it for guests to snack on as they arrive.
Classic party mix with a holiday twist
A classic party mix is flavored with savory spices like garlic and onion. While serving that traditional flavor at Thanksgiving would be more than welcome, this holiday Chex party mix has some warming spices, pumpkin seeds, and sweet cranberries added to make this a really special mix. You can swap the traditional cheese crackers for cheese bugles (pretend they are a cornucopia), but feel free to use whatever snacks, nuts, and spices you prefer as long as you keep the cereal and butter amounts the same.
Holiday Chex Party Mix
Makes about 10 cups; serves 10 to 12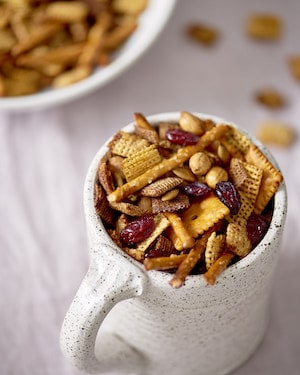 Ingredients:
4 cups Corn Chex cereal (4 1/2 ounces)
4 cups Rice Chex cereal (3 3/4 ounces)
2 cups Wheat Chex cereal (4 ounces)
2 cups pretzel sticks (2 ounces)
2 cups cheese-flavored Bugles, mini breadsticks, mini crackers, or oyster crackers (2 ounces)
1 cup raw peanuts
1 cup raw hulled pumpkin seeds
8 tablespoons (1 stick) unsalted butter, melted
1/4 cup Worcestershire sauce
1 teaspoon smoked paprika
1 teaspoon ground cinnamon
3/4 teaspoon ground nutmeg
1 1/2 cups dried cranberries (8 ounces)
Directions:
Place the cereals, pretzels, Bugles, peanuts, and pumpkin seeds in a 6-quart (preferably oval-shaped) or larger slow cooker. Using 2 wooden spoons, gently toss together, being careful not to crush the cereal.
Whisk the butter, Worcestershire, paprika, cinnamon, and nutmeg together in a small bowl or measuring cup. Pour half over the dry ingredients and toss to coat evenly. Pour in the remaining half and toss again. Place a double layer of paper towels over the top of the slow cooker to catch condensation.
Cover and cook on the LOW setting for 3 hours, stirring every 30 minutes. When it is done, the party mix should look toasty and relatively dry.
Pour the party mix onto a work surface or baking sheets lined with parchment or paper towels. Spread into a single layer and sprinkle with the cranberries. Cool for 5 minutes before serving or storing.
Recipe note: Store in an airtight container at room temperature for up to one week.
---
Try these easy, upscale appetizers and snacks
---
Meghan Splawn was the food editor for Skills content for TheKitchn.com, a nationally known blog for people who love food and home cooking. Submit any comments or questions to editorial@thekitchn.com.
©2023 Apartment Therapy. Distributed by Tribune Content Agency, LLC.