Holiday Happenings from Boomer Magazine
November 17th, 2022
Festive fun in Richmond, Virginia
---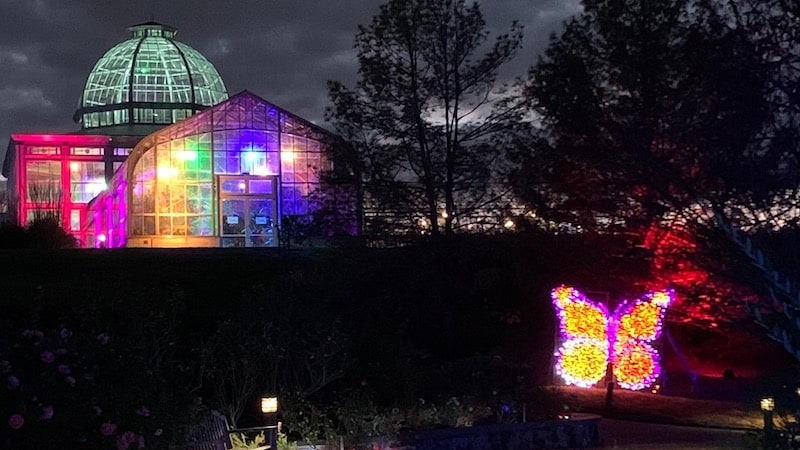 Celebrate the spirit of the season with holidays happenings 2022 in Richmond, Virginia, from sacred music to jolly Santa, sparkling lights to heartwarming plays.
---
Holiday Happenings updated Dec. 22, 2022
Past events deleted, so as not to stir regrets!
Richmond Ballet's "The Nutcracker." New scenery and choreography and refreshed costumes, using the storybook vision from Stoner Winslett's production. Through Dec. 23 at Dominion Energy Center, Richmond.
"Annie JR." Cadence Theatre brings the classic 1930s story to the stage, Dec. 16 to 23 at Libby S. Gottwald Playhouse, Richmond.
Winter Market: Island of Misfit Toys. Shop arts, gifts, and handmade treasures from scores of local artists. Through Dec. 24, 11 a.m. to 5 p.m. daily at Studio Two Three, Richmond.
"Miracle on South Division Street." You know those family legends that turn out to not exactly what everyone thought? The Nowak family does, with resulting heartbreak and hilarity. Through Dec. 31 at Swift Creek Mill Theatre, Chesterfield.
Light Up the Tracks in Downtown Ashland. The historic small town in the Center of the Universe transforms into a vintage Christmas village, with light displays and special events, along with ongoing shopping, dining, and entertainment, Through Jan 1. The holiday weeks include Light the Way on Dec. 31. In downtown Ashland.
Victorian Christmas at the Maymont Mansion. Decked out for the season, the Dooley mansion offers self-guided Christmas-themed audio tours, through Jan. 1 at Maymont, Richmond.
"A Broadway Christmas." A one-of-a-kind holiday performance of timeless Christmas, Hanukkah, and Kwanzaa songs composed for and performed on stage. Through Jan. 1 at Hanover Tavern, Hanover Courthouse.
GardenFest of Lights. The magical display of colorful lights and figures appeals to visitors of all ages. More than a million individual lights join other beautiful displays. Special nights include GardenFest for Fidos Nights, live music, and Santa brunch and dinner. The Garden's restaurant, store, Jingle Bar & Grill, and hot drinks and s'mores kits will be available, too. Through Jan. 8 at Lewis Ginter Botanical Garden, Richmond.
Veritas Illuminated. Stroll through enchanting woods and vineyards twinkling with lights, from the forest floor to the tops of trees. Then relax in the warmth of the winery tasting room. Through Jan. 8 at Veritas Winery, Afton.
"Miss Bennet: Christmas at Pemberley." In the charming sequel to Jane Austen's "Pride and Prejudice," the Bennet sisters celebrate the holidays at the Darcy estate. Through Jan. 1 at Virginia Rep's November Theatre, Richmond.
Made in RVA Holiday Shop at Art Works. Richmond holiday shopping made easy with handmade local gifts, from ceramics, jewelry, candles and soaps to paintings and photography of Richmond's historical landmarks, the river, and unforgettable city scenes. Through Dec. 31, 11 a.m. to 5 p.m. (closed Mondays, Christmas Eve, and Christmas Day, at Art Works.
"A Broadway Christmas." Musical theatre performers celebrate timeless Christmas, Hanukkah, and Kwanzaa songs from Broadway, Hollywood, and Virginia Rep musicals. Through Jan. 1 at Hanover Tavern, Hanover.
Soul Santa. The man in the red suit shows children that the spirit of giving knows no racial boundaries. Registration required. Noon to 4 p.m. on Dec.  17 at the Black History Museum and Cultural Center of Virginia, Richmond.
Santa's Candy Cane Calamity. Drifty returns in this production of Young People's Playhouse for young revelers and their guests. Dec. 17 at Swift Creek Mill Theatre, Chesterfield.
Bike the Holiday Lights Tours. Holiday biking tour of downtown and holiday lights followed by wine, beer, tea, or coffee at Urban Farmhouse. Through Jan. 8, from 3 to 5:30 p.m. at Basket and Bike, Richmond.
The Christmas Carol Experience. Brian Clowdus Experiences puts guests into the story, participating in Jacob Marley's funeral and following Ebenezer Scrooge on his quest. Through Dec. 30 at Lovingston Winery, Lovingston.
"'Twas the Night Before Christmas." A jolly Santa, reindeer on the roof, moonlight on the snow, Ma and Pa in their caps, and sugarplums dancing in the dreams of hopeful children. Suggested for ages 5 and up. Through Jan. 1 at the new Virginia Rep Center for Arts and Education, 4204 Hermitage Rd., Richmond.
"The Polar Express." Embrace the wonder of life in the classic holiday book come to the grandeur of the screen. Dec. 22 at 10 a.m., 2 p.m., and 7 p.m. at Henrico Theatre, Highland Springs.
Elegba Folklore Society's Capital City Kwanzaa Festival. One of the largest Kwanzaa celebrations on the East Coast with performances, kids activities and an African market. Dec. 30, 5-10 p.m. at the Greater Richmond Convention Center, Richmond.